Birding Kashmir, India - 2022
10 October 2022 | Admin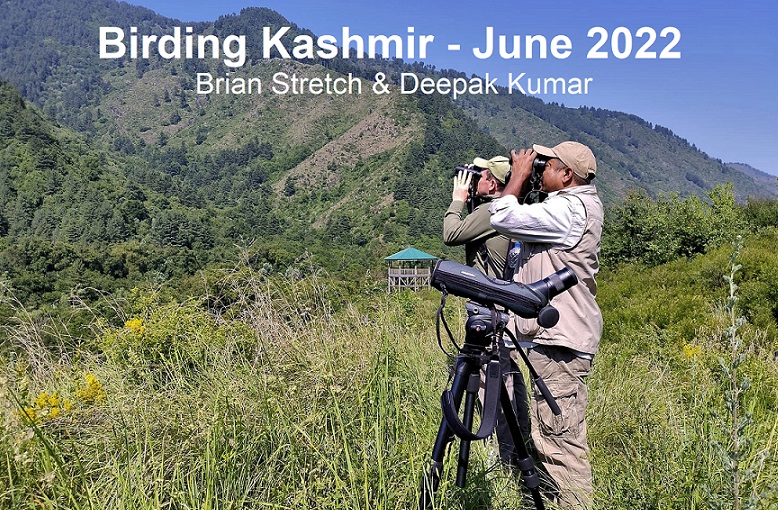 It was great to be birding in India again after two and a half long long years away. Arriving in Delhi during the early hours of June 2nd there was just enough time to catch up on some sleep before heading to the wetlands at Surajpur on the outskirts of the Indian capital. There were a few birds I was keen to catch up with having not seen them during my five previous visits to this amazing country. With my friend, Deepak Kumar, we were looking primarily for Black-breasted Weaver and Bengal Bushlark and both were seen well during the day along with another new bird, Jacobin Cuckoo. It was great also to obtain my best ever views of Greater Painted-snipe, while Sarus Cranes and a whole host of common water birds were enjoyed.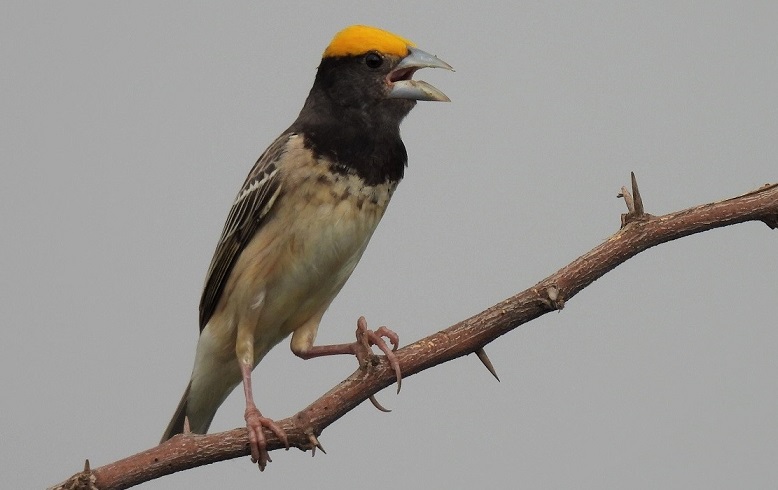 Male Black-breasted Weaver at Surajpur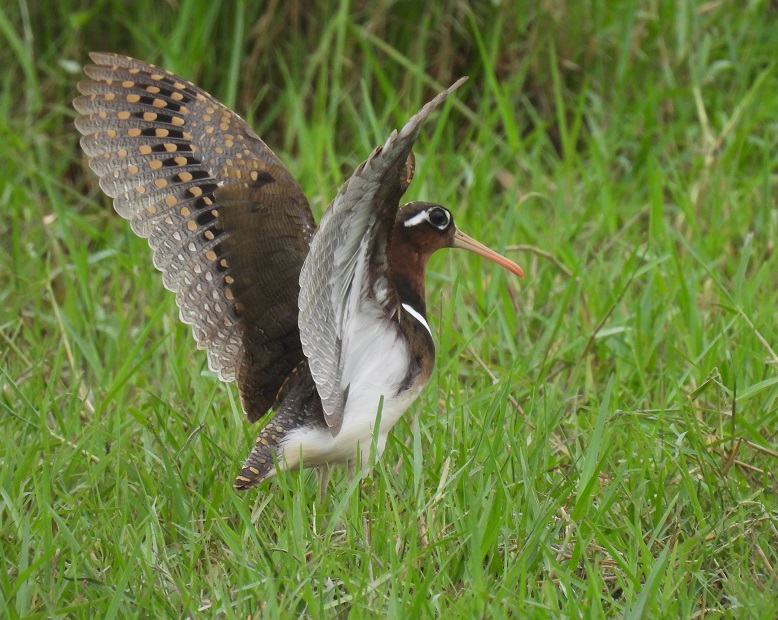 Greater Painted-snipe at Surajpur
The following day it was time to fly to Srinagar, the summer capital of Jammu and Kashmir, a union territory located in the far north of India. Named after the two regions it encompasses, Jammu in the south and Kashmir to the north, its geographical location offers a mix between the palearctic and oriental regions and many species make this corner of the country their only home within India. After a comfortable flight we transferred to our accommodation for the next three nights, a houseboat on the side of Nigeen Lake in Srinagar. This provides the perfect base for a birder and from the seating area at the end of the boat it was possible to undertake some relaxed birding across the lake shortly after we arrived. We saw Black-crowned Night Herons, Indian Pond Herons, Little Egrets, Little Grebes, plenty of Black-eared Kites and House Sparrows while a Eurasian Cuckoo was heard in the distance.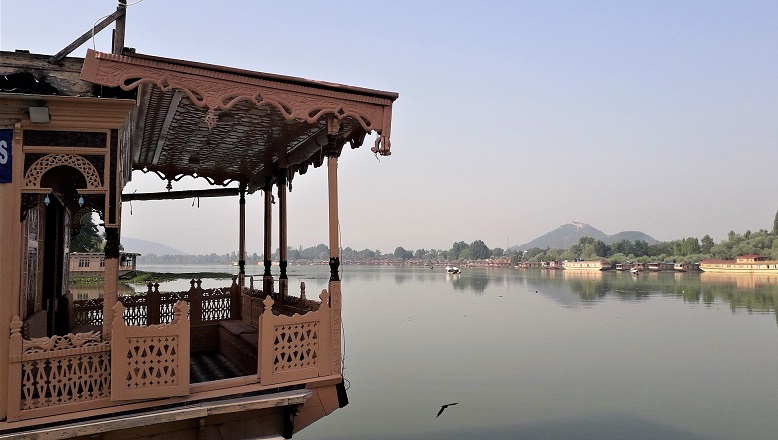 Houseboat at Nigeen Lake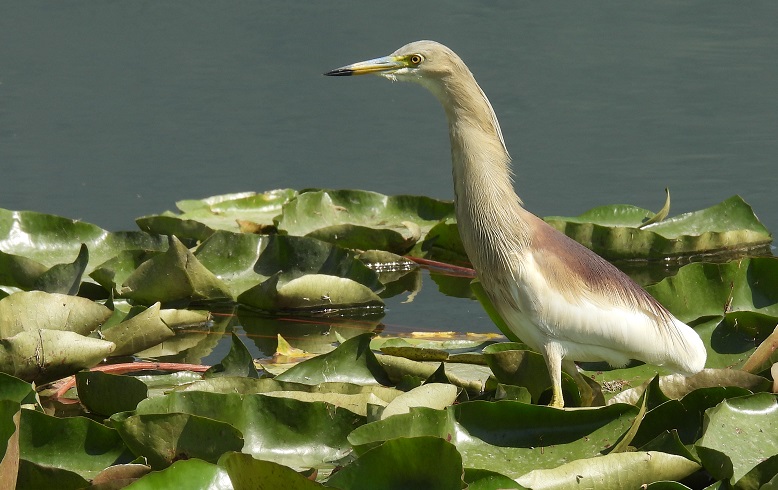 Indian Pond Heron at Srinagar
Our first dedicated birding location was Shankaracharya Hill situated on the edge of Srinagar near Dal Lake. Shankaracharya Temple, a Hindu Temple near the summit, offers far reaching views across the city. During the ascent we saw Brown-flanked Bush Warbler and Western Crowned Warbler with relative ease but our main target was Kashmir Flycatcher. Endemic to the Indian Subcontinent it breeds only in Kashmir. We were well rewarded and saw four, including a stunning adult male. Other birds noted here were Rusty-tailed Flycatcher, Streaked Laughingthrush, Black Bulbul, Rock Bunting, Black-eared Kite and Large-billed Crow. On our return journey to the houseboat we stopped off at Naseem Bagh, one of the largest Mughal gardens in Kashmir, to look for Tawny Owl. Although we were unsuccessful we did see a good selection of birds including a stunning white-morph male Indian Paradise Flycatcher, Tickell's Thrush, Blue Whistling Thrush and our first Western Jackdaws, a common bird around Srinagar.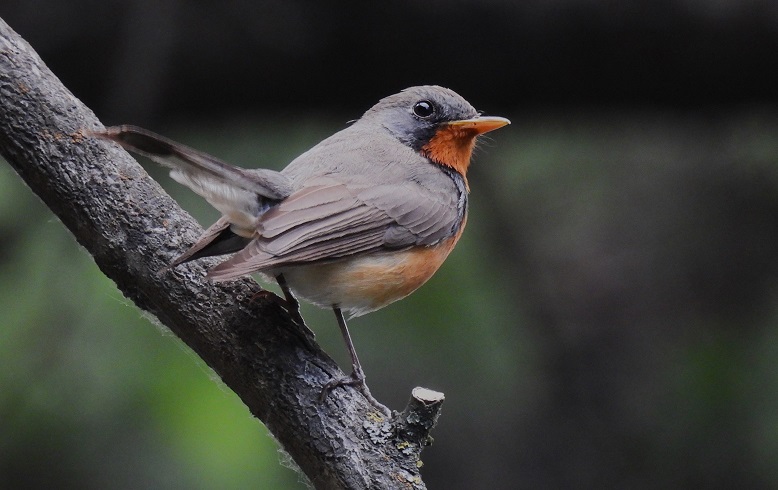 Male Kashmir Flycatcher at Shankaracharya Hill
Early the following morning we spent a relaxing hour birding from the houseboat and in a small reedbed opposite we located two Little Bitterns, a male and female. This species has a very restricted range within India and the lakes in the Kashmir Valley hold the highest numbers. We also saw Pied, White-throated and Common Kingfishers along with some commoner water birds. It was then time to head to Dachigam National Park, just outside Srinagar. A former game reserve of the Maharaja of Jammu and Kashmir, the name 'Dachigam' literally means 'ten villages'. This refers to those villages whose inhabitants were relocated to protect the forest cover. It has remained a protected area since 1910 and Dachigam was declared a National Park in 1981. While we waited for our access permits to be arranged we saw a few common birds around the entrance gate including Black and Himalayan Bulbuls, Ashy Drongo, Common Myna and Blue Whistling Thrush. With a forest guard for company we were driven further up the main valley of the park before walking along a wooded path beside the Dagwan River where we saw Spotted Forktail, Grey Wagtail, Cinereous Tit, Russet Sparrow and heard the call of Kashmir Flycatcher. As we climbed higher the landscape opened up and we spent some time birding an area around a watch tower. From here we had great views of Chestnut-eared Buntings while Brown-flanked Bush Warblers sang all around. Careful scanning of the wooded valley below provided distant views of Dark-sided Flycatcher, Long-tailed Minivet, Indian Golden Oriole together with a few flyover Common Swifts. As we walked back to the vehicle we also had prolonged views of three Yellow-throated Martens.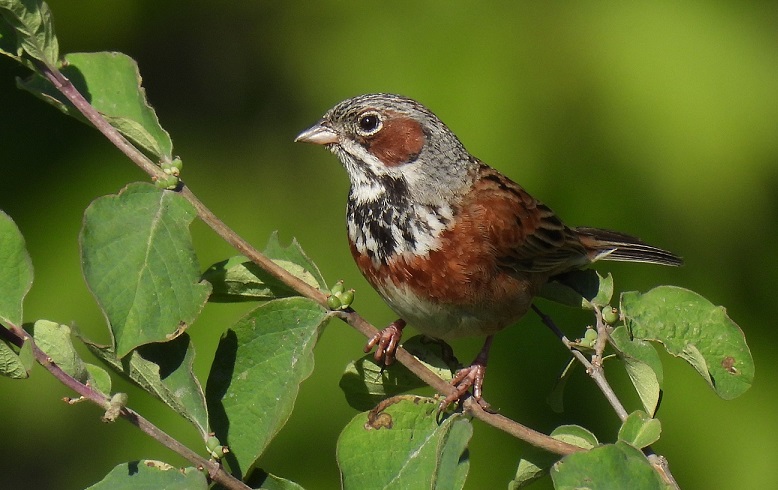 Chestnut-eared Bunting at Dachigam National Park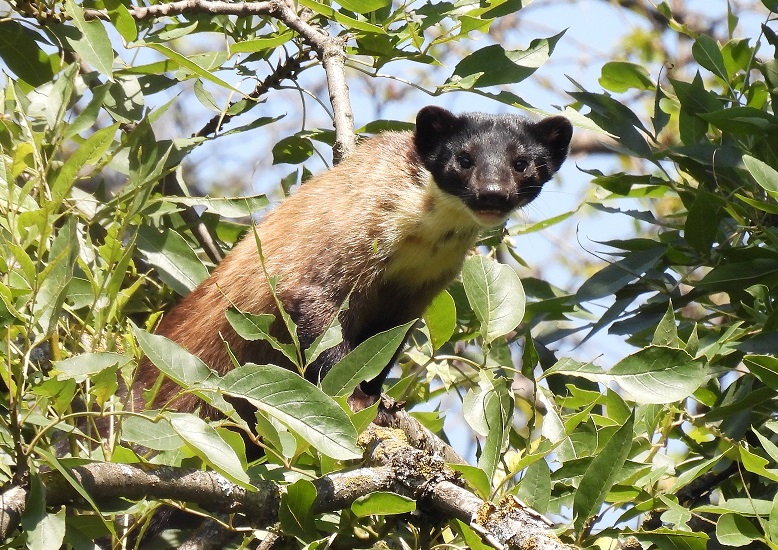 Yellow-throated Marten at Dachigam National Park
Following our time at Dachigam we spent some time birding the mountains above the east side of Dal Lake at Sharab Kul where we found European Bee-eater. Kashmir is at the far south-eastern edge of the breeding range and one of the few reliable areas to see the species in India. Another scarce Indian breeding species that nests only in Kashmir is European Starling and we saw a couple of pairs bringing food to nest holes. Other birds noted here included White-capped Bunting, European Goldfinch and both Brown-fronted and Himalayan Woodpeckers.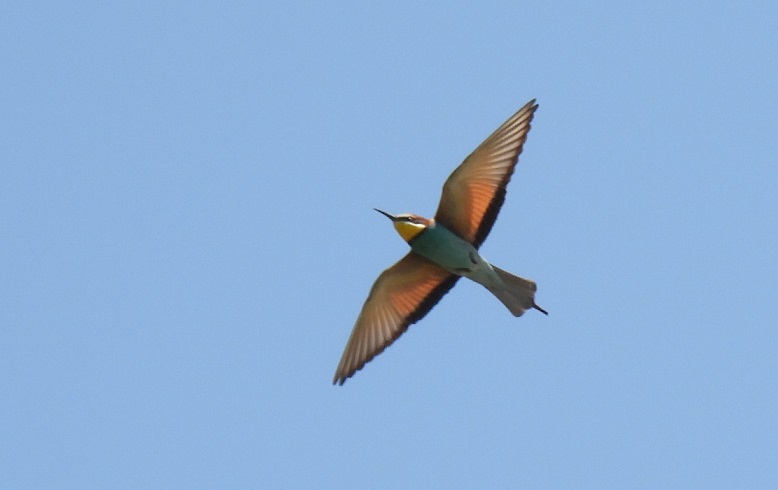 European Bee-eater at Sharab Kul
The remainder of the afternoon was spent birding around Dal Lake where highlights included great views of a female Little Bittern, numerous Black-crowned Night Herons and Indian Pond Herons, duos of Pied, White-throated and Common Kingfishers and an astonishing count of 300 Whiskered Terns! Clamorous Reed Warblers were also much in evidence with a few showing out in the open.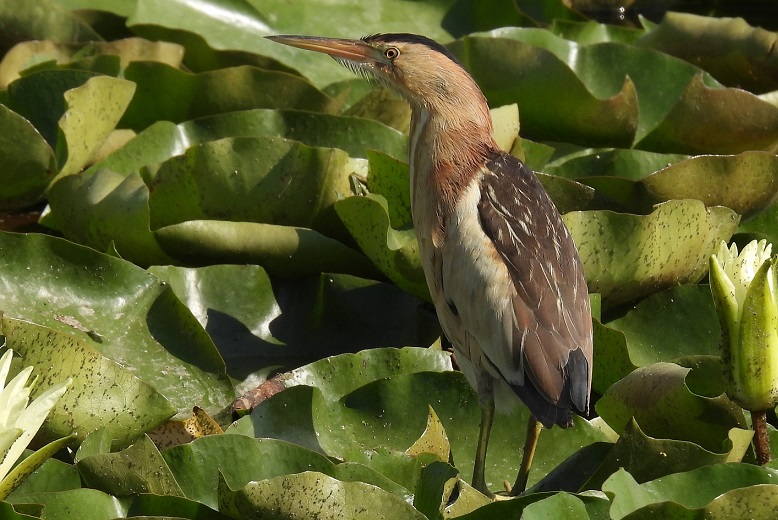 Female Little Bittern at Dal Lake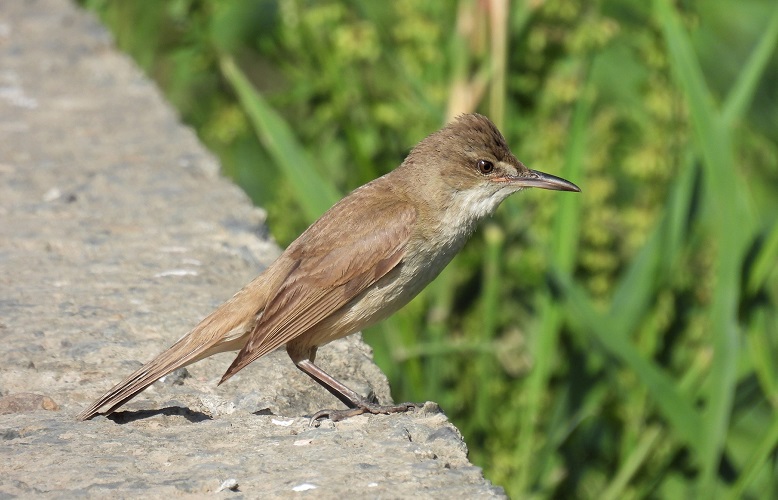 Clamorous Reed Warbler at Dal Lake
Gulmarg is around 32 miles west of Srinagar and lies at an altitude of nearly 2700m in the Pir Panjal Range of the Western Himalayas and is a popular area with tourists. We birded the quieter areas and it was here we searched for two of the special birds of this area; Kashmir Nuthatch and Kashmir Nutcracker. Neither prove easy to obtain good views of in the extensive Deodar Cedar forests where some of the trees can reach 60 metres in height. This leads to increasing neck ache but our persistence was rewarded with good views of both species. Other notable birds here included White-cheeked Nuthatch, Black and Yellow Grosbeak, Variegated Laughingthrush, Collared Owlet, Tytler's Leaf Warbler, Lemon-rumped Warbler, Rufous-naped Tit, Coal (Black-crested) Tit, Indian Blue Robin, Rusty-tailed Flycatcher and Chestnut Thrush.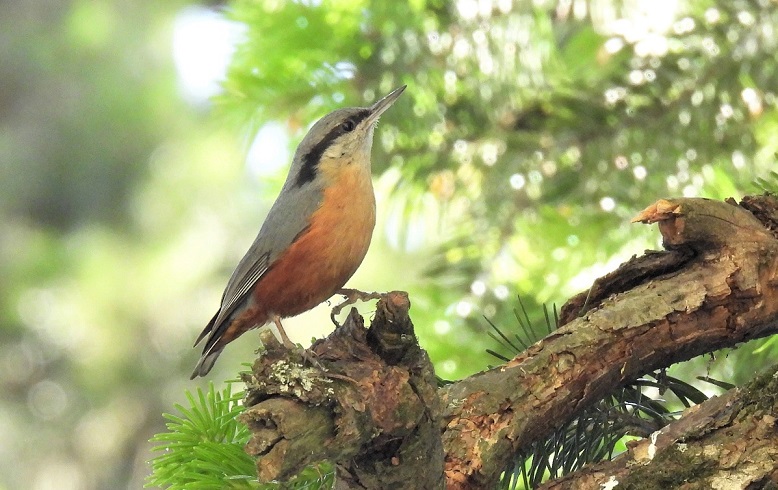 Kashmir Nuthatch at Gulmarg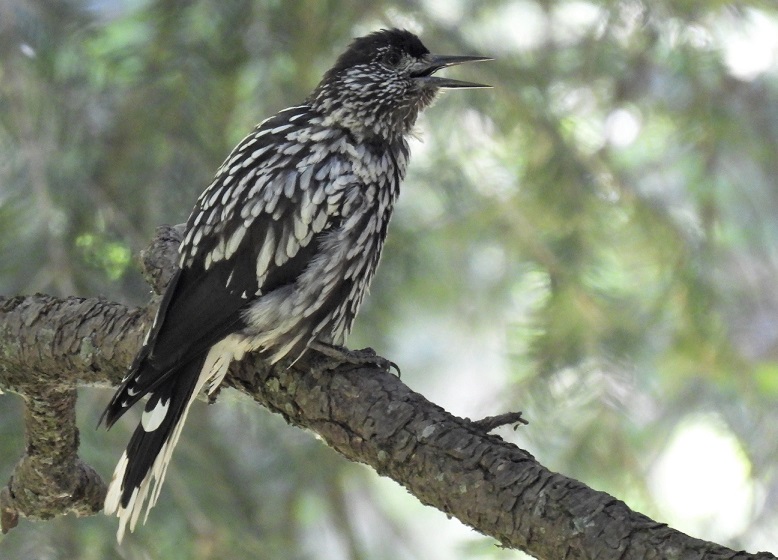 Kashmir Nutcracker at Gulmarg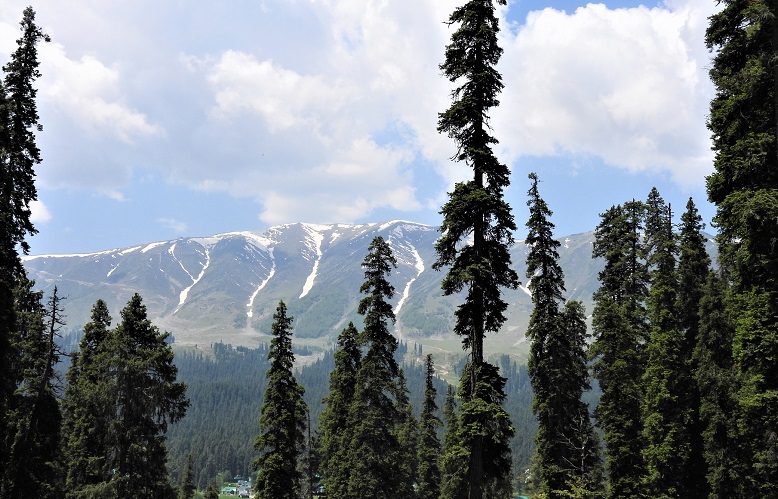 View of Gulmarg
Located around 27 miles south-west of Srinagar, Doodhpathri, in the district of Budgam lies at an altitude of just over 2700m and is a mixture of alpine meadows and conifer forests. We explored the forest areas along the approach road and river and found a good range of species including Kashmir Nuthatch, White-cheeked Nuthatch, Kashmir Flycatcher, Yellow-billed Blue Magpie, Rufous-breasted Accentor, Rufous-naped Tit, White-throated Needletail and good numbers of Tytler's Leaf Warblers. The latter species is endemic to the Indian Subcontinent with the bulk of the breeding population occurring in Kashmir.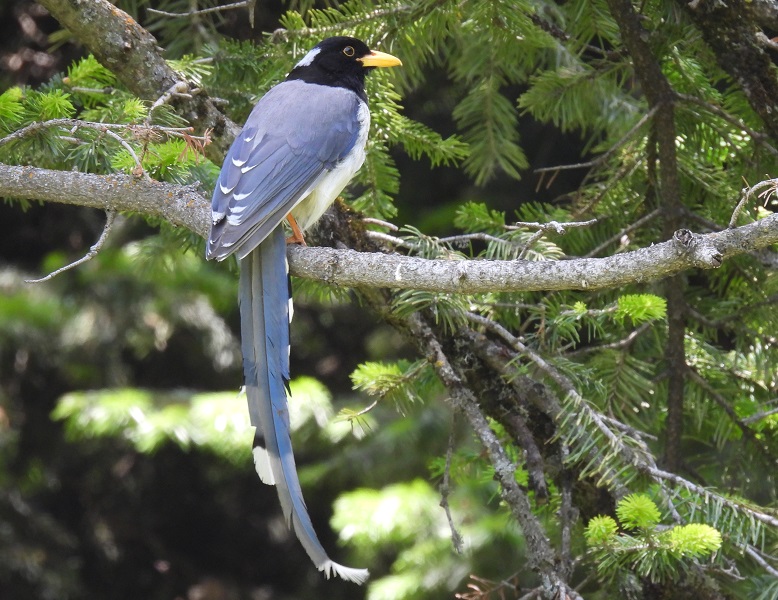 Yellow-billed Blue Magpie at Doodhpathri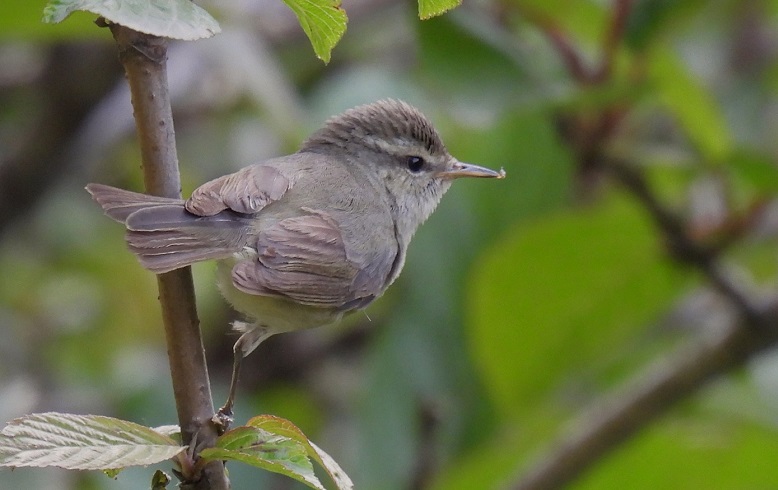 Tytler's Leaf Warbler at Doodhpathri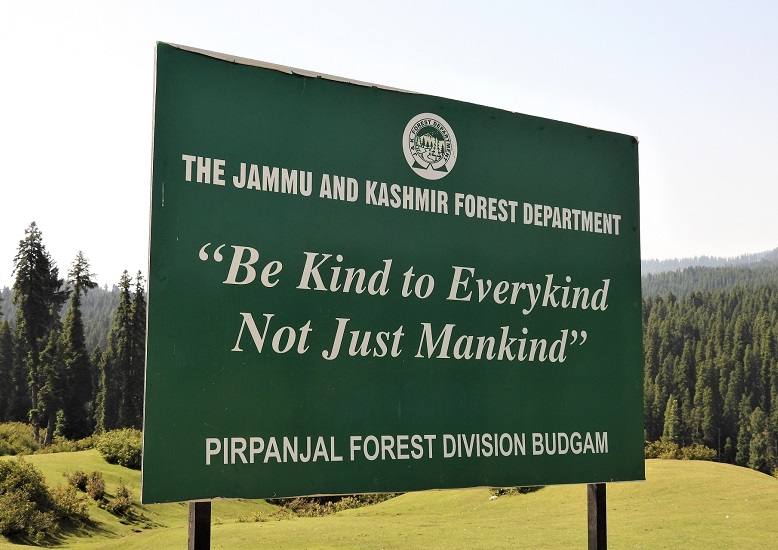 Doodhpathri
It was then time to leave the Srinagar area and drive the 56 miles to Pahalgam. As we travelled south we saw a single European Roller on overhead wires by the roadside. At Pahalgam we spent the first afternoon searching for Ibisbill along the river and it didn't take too long to find one, albeit distantly. We also saw Plumbeous Water Redstart, White Wagtail and our only Grey Heron of the trip. Later in the afternoon we birded an area beside the river just north of the town and saw Dark-sided Flycatcher, Rufous-naped Tit, Long-tailed Shrike and Yellow-billed Blue Magpie amongst many other species.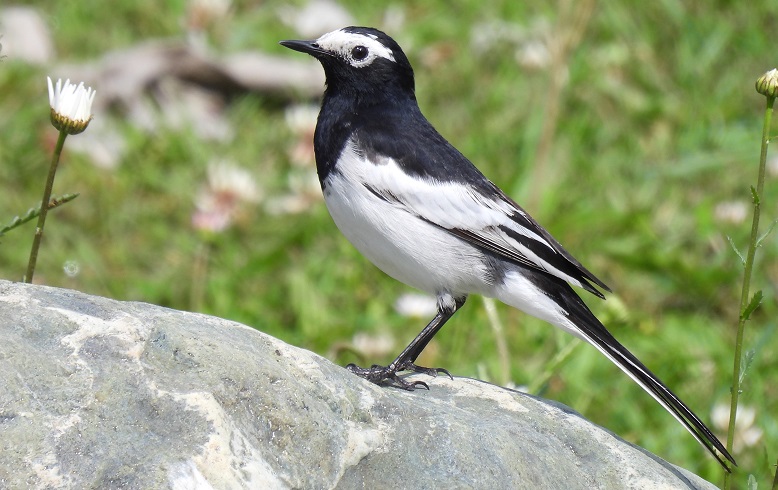 White Wagtail (M. a. alboides) at Pahalgam
The following day we headed to nearby Nalla Awoora to explore the forest habitat above the village. Once permissions had been granted, and accompanied by a forest guard, we walked through pristine habitat and encountered Yellow-billed Blue Magpie, Variegated Laughingthrush, Black and Yellow Grosbeak, Indian Blue Robin, Kashmir Flycatcher, Ultramarine Flycatcher, Long-tailed Minivet and Large-billed Leaf Warbler which appeared to be common here. We then returned to the river and after waiting for a heavy rain shower to pass we were greeted by the sight of three Ibisbill right below where we had parked. They provided us with amazing views and an unforgettable encounter. A little further upstream we birded an area of riverside bushes and found Hume's Whitethroat, Citrine Wagtail, Siberian Stonechat as well as a single Red-wattled Lapwing.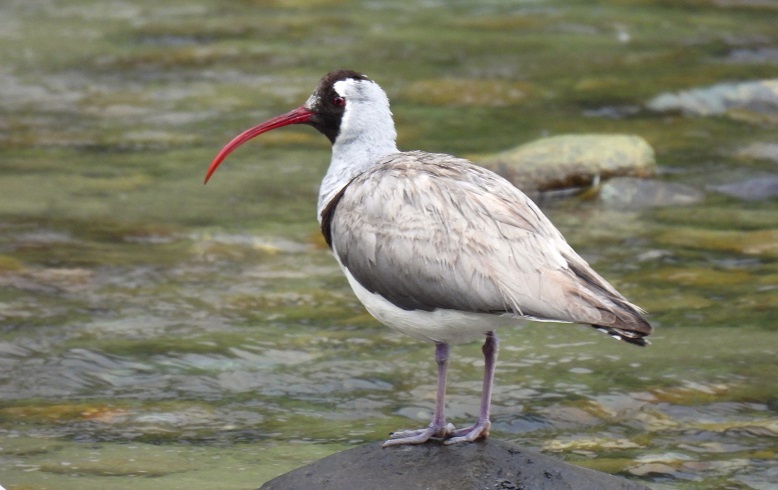 Ibisbill at Pahalgam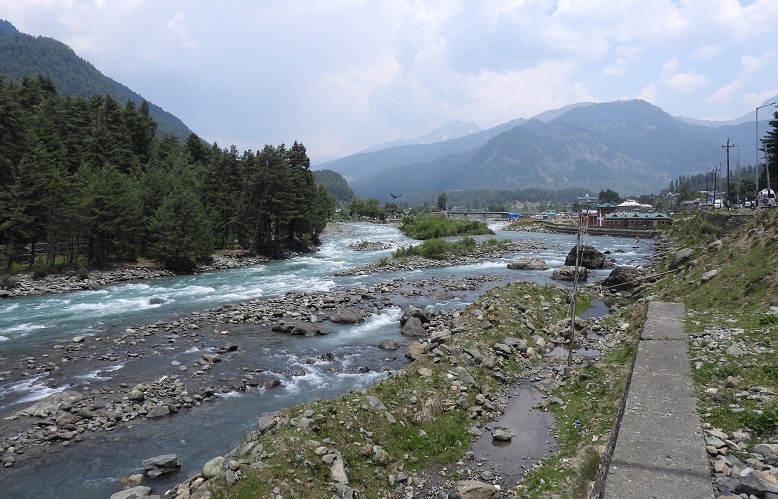 View of Pahalgam
We departed Pahalgam for the long drive to Sonamarg and on the way we decided to stop off at Gagangir situated beside the Srinagar to Leh highway and Sind River. Wooded with a rocky stream running through, it proved to be a productive area. We had great views of Slaty-blue Flycatcher, Kashmir Flycatcher, Indian Blue Robin, Brown Dipper and our only Eurasian Wren of the trip.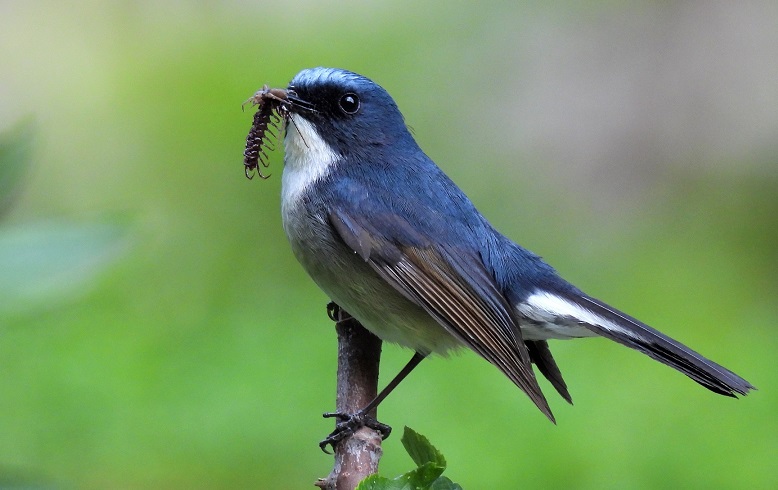 Male Slaty-blue Flycatcher at Gagangir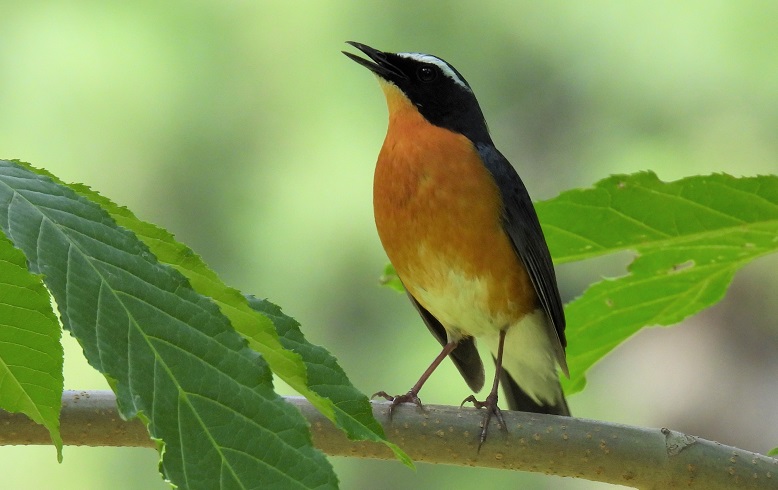 Male Indian Blue Robin at Gagangir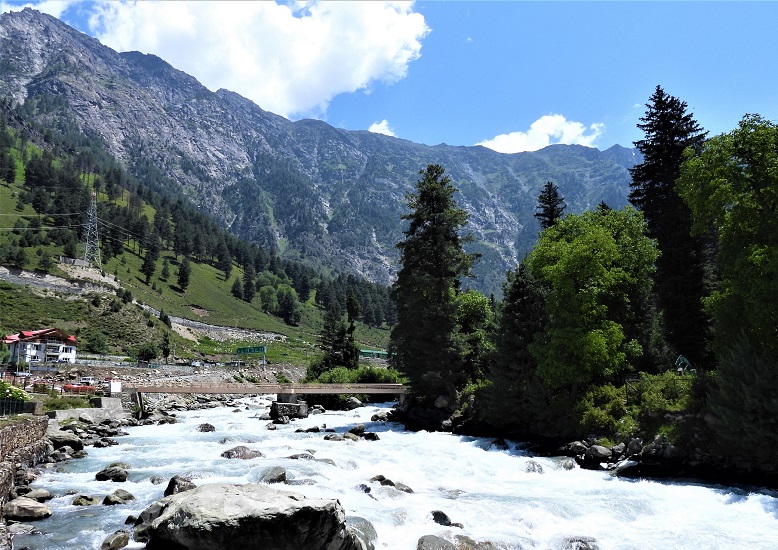 Sind River at Gagangir
We arrived in Sonamarg late in the day so only had a short amount of time for birding. Brown Dipper, Rock Dove, Siberian Stonechat and Citrine Wagtail were seen before the weather deteriorated. The following morning we spent a couple of hours birding around a small settlement a little further up the valley where we saw Black and Yellow Grosbeak, Common Rosefinch, Western Crowned Warbler, White-capped Water Redstart, Dark-sided Flycatcher and heard a singing Large-billed Leaf Warbler.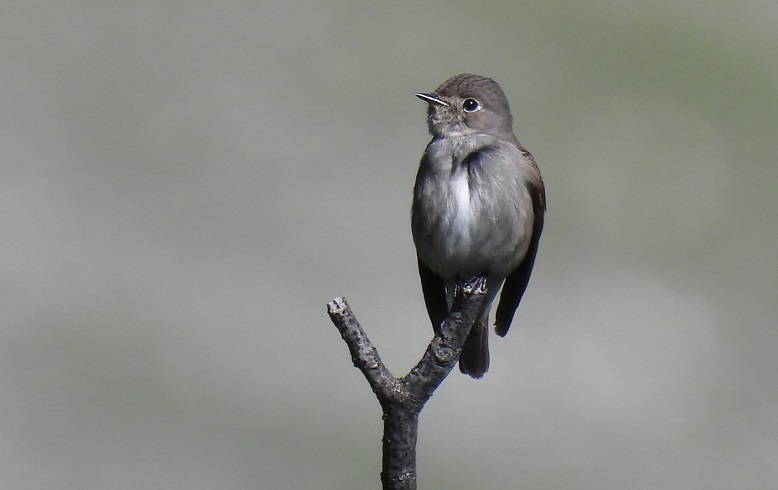 Dark-sided Flycatcher near Sonamarg
The time had now come to move on and negotiate the mighty mountain pass of Zoji La which rises to just over 3500m elevation. As we left Kashmir behind and crossed the border into Ladakh we were looking forward to further birding adventures.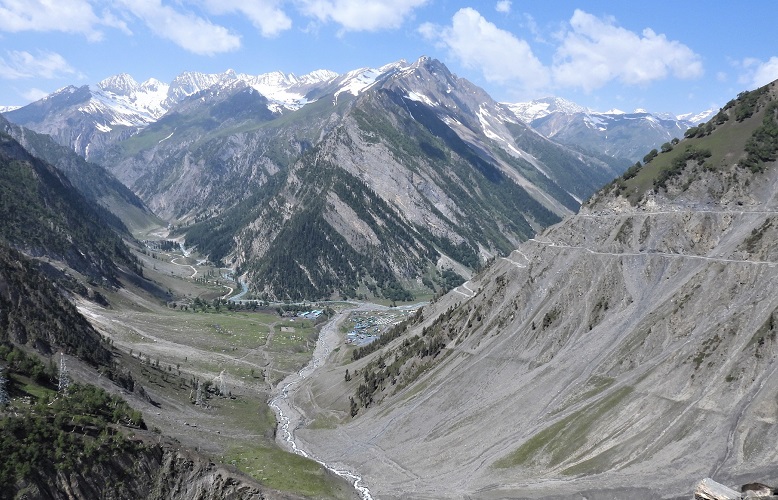 View across to Kashmir from Zoji La
During our week of birding in Kashmir we saw a total of 94 bird species (see list below). Kashmir is a wonderful area of India, full of amazing birds set amongst stunning scenery and I look forward to making a return visit soon!
Written by Brian Stretch
Mallard
Little Grebe
Rock Pigeon
Oriental Turtle Dove
Eurasian Collared Dove
Common Cuckoo
White-throated Needletail
Common Swift
Eurasian Moorhen
Ibisbill
Red-wattled Lapwing
Common Sandpiper
Whiskered Tern
Little Bittern
Grey Heron
Little Egret
Indian Pond Heron
Black-crowned Night Heron
Himalayan Griffon
Black Kite
Collared Owlet
Eurasian Hoopoe
Common Kingfisher
White-throated Kingfisher
Pied Kingfisher
European Bee-eater
European Roller
Brown-fronted Woodpecker
Himalayan Woodpecker
Eurasian Kestrel
Rose-ringed Parakeet
Slaty-headed Parakeet
Long-tailed Minivet
Indian Golden Oriole
Ashy Drongo
Indian Paradise Flycatcher
Long-tailed Shrike
Yellow-billed Blue Magpie
Kashmir Nutcracker
Eurasian Jackdaw
House Crow
Large-billed Crow
Coal Tit
Rufous-naped Tit
Green-backed Tit
Cinereous Tit
Clamorous Reed Warbler
Barn Swallow
Himalayan Bulbul
Black Bulbul
Lemon-rumped Warbler
Tytler's Leaf Warbler
Large-billed Leaf Warbler
Western Crowned Warbler
Brownish-flanked Bush Warbler
Lesser Whitethroat
Streaked Laughingthrush
Variegated Laughingthrush
Goldcrest
Kashmir Nuthatch
White-cheeked Nuthatch
Bar-tailed Treecreeper
Eurasian Wren
Brown Dipper
European Starling
Common Myna
Tickell's Thrush
Chestnut Thrush
Dark-sided Flycatcher
Indian Blue Robin
Blue Whistling-Thrush
Spotted Forktail
Slaty-blue Flycatcher
Ultramarine Flycatcher
Rusty-tailed Flycatcher
Kashmir Flycatcher
Plumbeous Redstart
White-capped Redstart
Blue Rock Thrush
Siberian Stonechat
Grey Bushchat
Rufous-breasted Accentor
House Sparrow
Russet Sparrow
Grey Wagtail
Citrine Wagtail
White Wagtail
Black-and-yellow Grosbeak
Common Rosefinch
Yellow-breasted Greenfinch
European Goldfinch
Chestnut-eared Bunting
Rock Bunting
White-capped Bunting
Learn more about the trip to Kashmir in this webinar kindly hosted by Asian Adventures