Birding Ladakh, India - 2022
14 January 2023 | Admin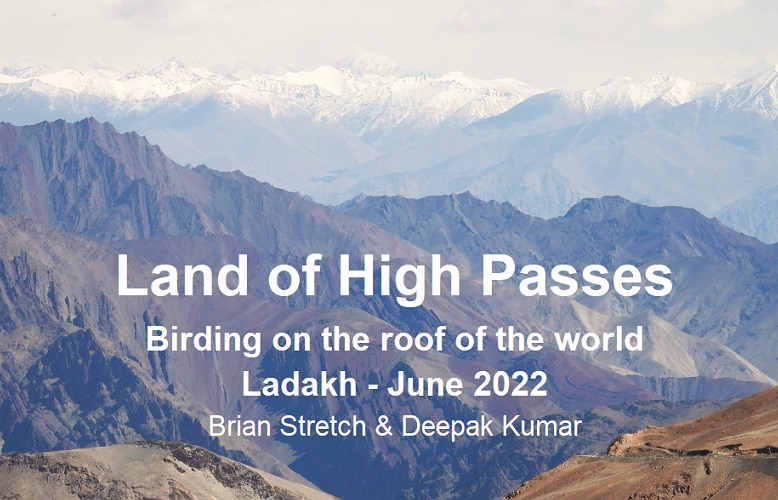 Following a successful week of birding in Kashmir we headed east to the neighbouring Indian Union Territory of Ladakh. Situated at the western edge of the vast Tibetan Plateau, this is a land of rugged mountains, high altitude deserts and marshes. We travelled by road which in summer offers a more leisurely option with great birding opportunities. The quicker alternative is to fly to Leh but at an elevation of 3500m this is likely to require a couple of days rest in order to acclimatise to the higher altitude.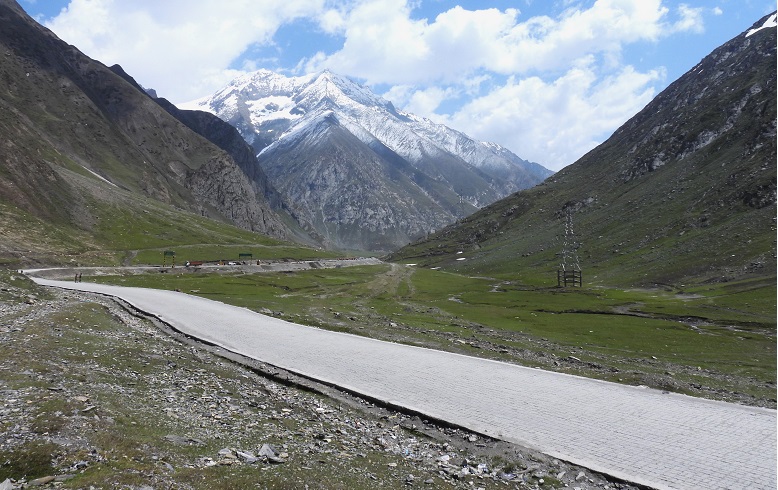 Zoji La - the gateway to Ladakh from Kashmir
Our first destination was Kargil, the joint capital and second largest city of Ladakh. It makes for a convenient stopover being approximately half way between Srinagar in Kashmir and Leh. Once we had negotiated the high mountain pass of Zoji La we saw a good number of birds along the way including Red-billed and Yellow-billed Choughs, Eurasian Magpie, Common Swift, Mountain Chiffchaff, Hume's Whitethroat, Rock Bunting, Plain Mountain Finch, Red-fronted Serin and a Eurasian Hobby.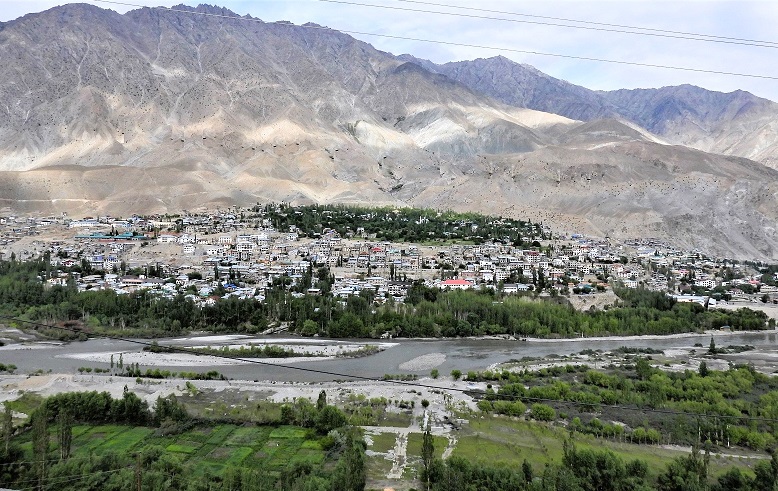 View towards Kargil
The following day we continued on to Leh and again roadside birding was the order of the day. Common Rosefinch and Oriental Turtle Dove were seen frequently but as we travelled further east the birdlife began to change and we encountered a new range of species such as Chukar, Hill Pigeon, Desert Wheatear and Black-winged Snowfinch. Highlight of the day though was undoubtedly the stunning male Pied Wheatear beside the Indus River. Just before reaching Leh we stopped by a small roadside pool where we noted Common Coot, Moorhen, Common Pochard and Red-crested Pochard. Leh is the joint capital and largest city of Ladakh and situated between the two highest mountain ranges in the world; the Himalaya to the south and the Karakoram to the north.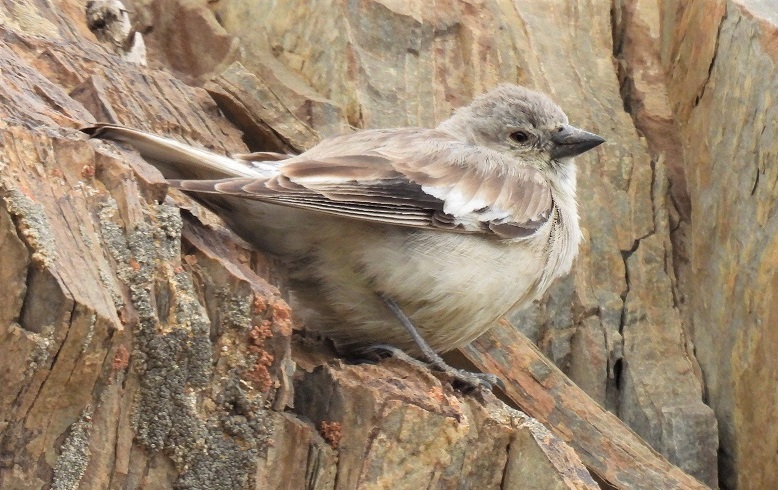 Black-winged Snowfinch at Fotu La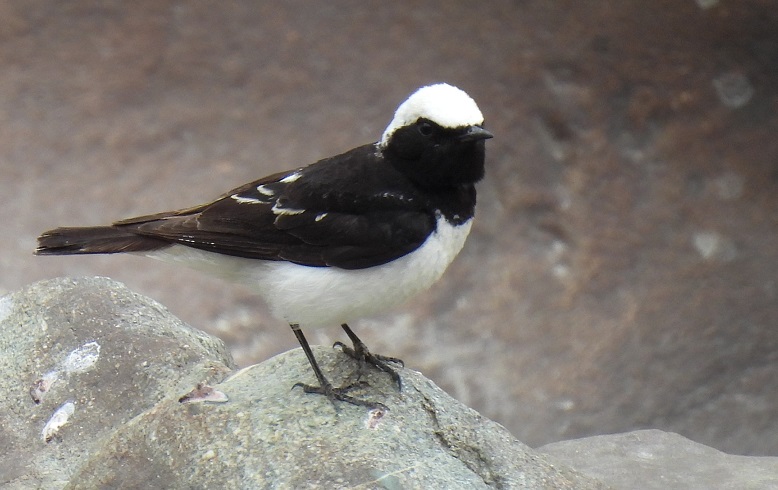 Male Pied Wheatear beside the Indus River
We spent our first day birding in and around the city where Citrine Wagtail, Mountain Chiffchaff, Hume's Whitethroat, Black Redstart, Common Rosefinch and Oriental Turtle Dove are common place at this time of the year. We also ventured to Shey Marshes where we saw a stunning male Bluethroat, two Cattle Egrets and a flock of Mallards. Later in the day we visited an area near Hemis Monastry where we noted Black Redstart, Red-fronted Serin, Plain Mountain Finch, Rock Bunting, Eurasian Magpie and many Chukar.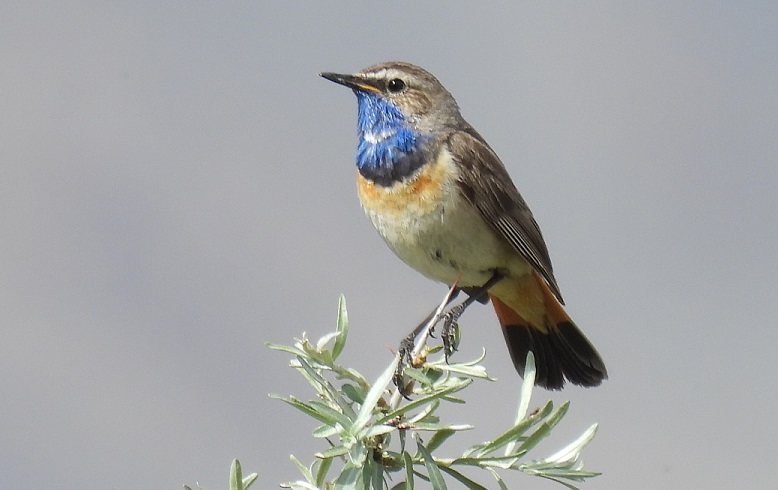 Bluethroat near Shey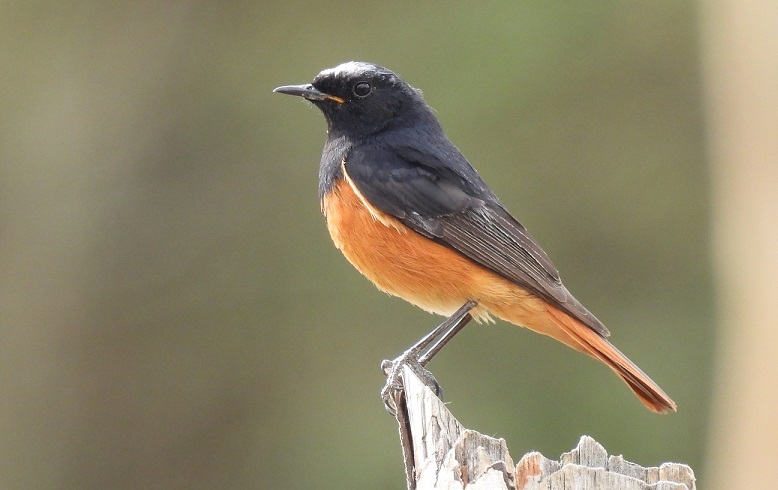 Black Redstart at Leh
The following day we travelled for around one hour to Rumbak Valley, located in the north of Hemis National Park, the largest national park in India. Here we had some spectacular birding with fabulous views of Lammergeier and Golden Eagle along with many other species including Hill Pigeon, Chukar, White-throated Dipper while Himalayan Snowcock called high above us. A good range of mammals were encountered including Blue Sheep, Urial and Himalayan Marmot. Heading back to Leh we noted two Carrion Crows by the roadside, a much scarcer bird in this part of the world than in the UK!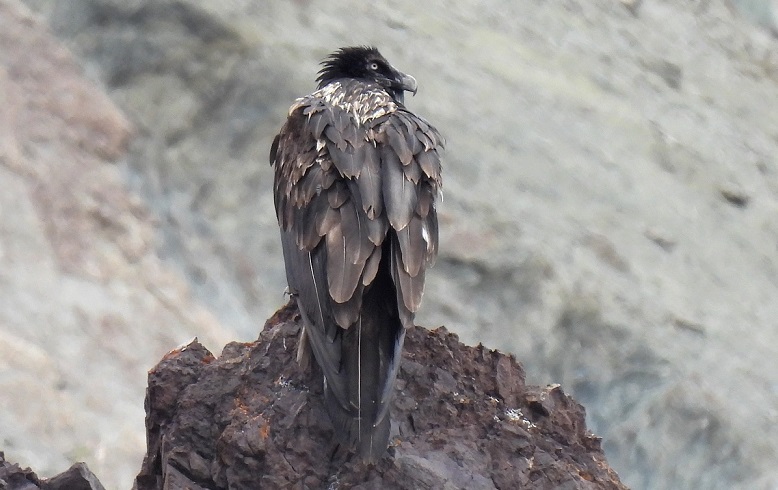 Lammergeier in Rumbak Valley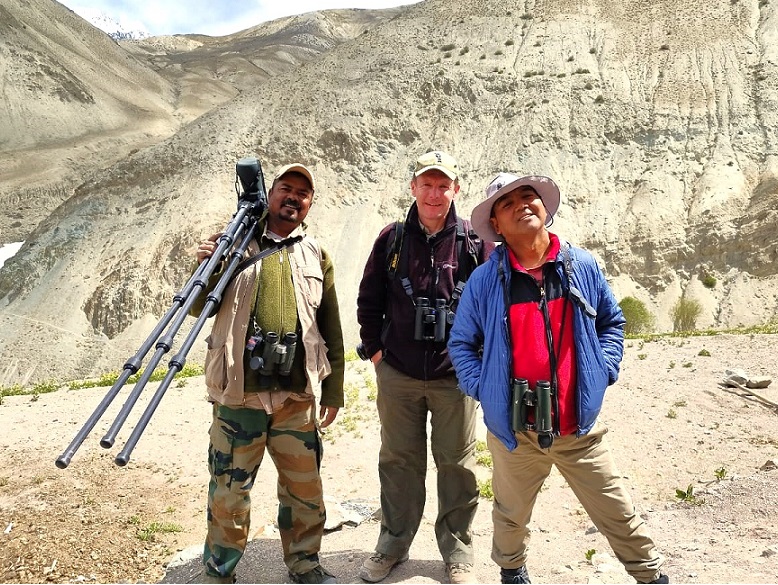 Deepak Kumar, Brian Stretch and 'PT' Phunchok Tsering in Rumbak Valley
Next day we made a very early start departing Leh for the Nubra Valley. We travelled via Wari La, a high mountain pass at just over 5300m, where we had eyeball to eyeball views of Lammergeier, Himalayan Vulture and Golden Eagle while amongst the rocks were White-winged (Güldenstädt's) Redstart, Robin Accentor, Horned Lark, Little Owl, Northern Raven and, best of all, a pair of Tibetan Partridge. We also searched for Himalayan Snowcock and while birds called in the distance they remained stubbornly elusive.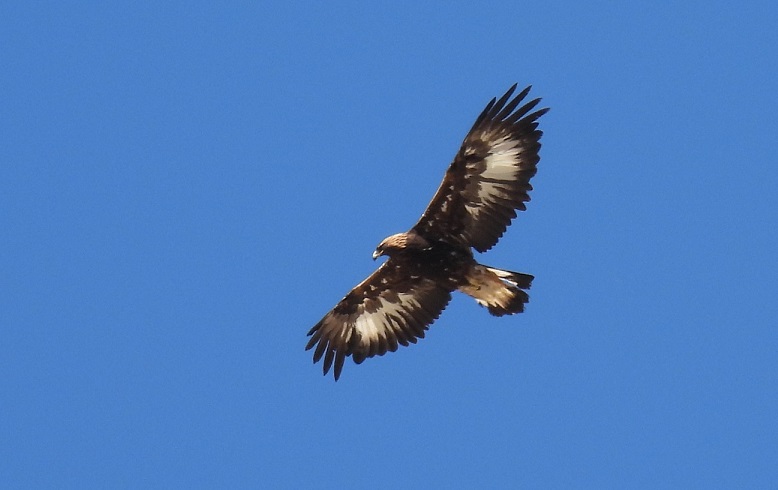 Golden Eagle at Wari La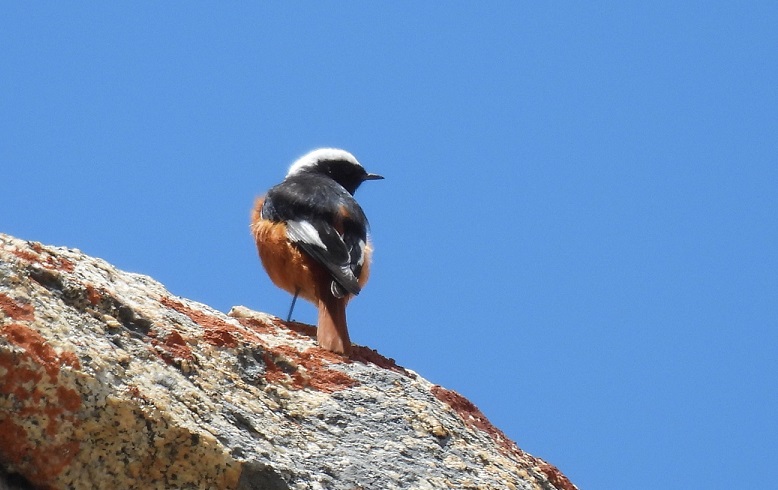 White-winged (Güldenstädt's) Redstart at Wari La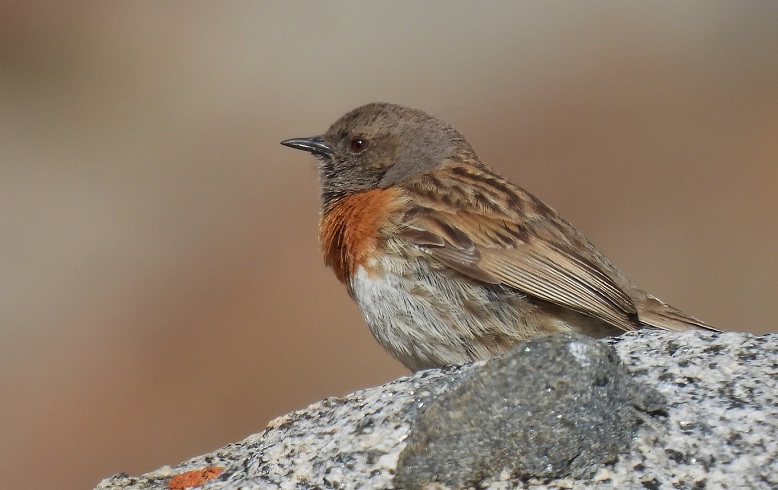 Robin Accentor at Wari La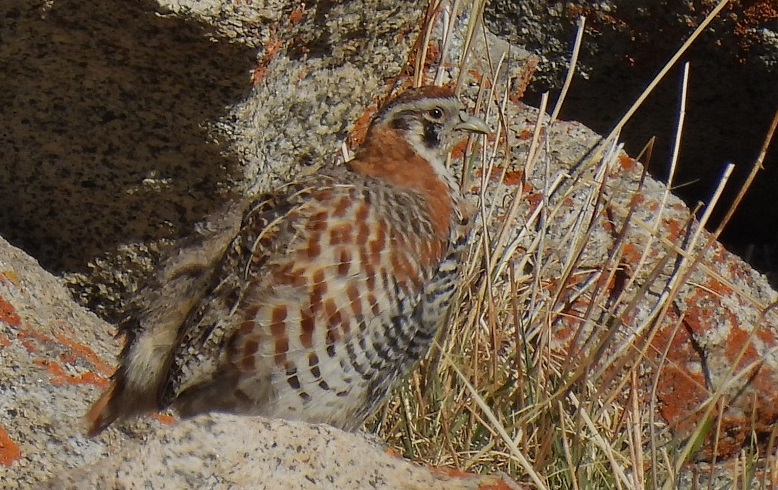 Tibetan Partridge at Wari La
We moved on, descending towards the Shyok Valley where we saw the delightful White-browed Tit-Warbler, a real must see species found in high mountain valleys in this part of the world. Other species encountered here included Tickell's Leaf Warbler, Common Rosefinch, Red-fronted Serin, Bluethroat, Black Redstart and Mountain Chiffchaff.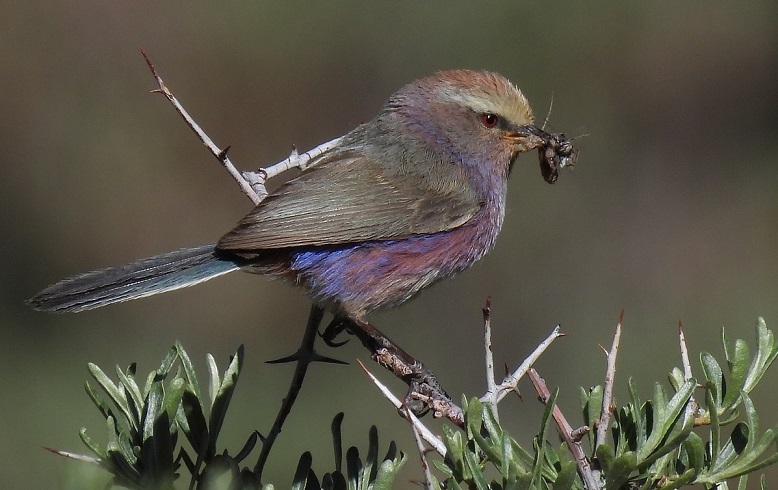 White-browed Tit-Warbler at Shyok Valley
We continued our journey to Sumur located in the Nubra Valley and spent the rest of the day birding the surrounding fields. We found a good range of species including Oriental Skylark, Citrine Wagtail, Common Swift, Rock Dove, Black Redstart, Hoopoe, Alpine Chough, Eurasian Magpie, House Sparrow, two elusive White-browed Tit-Warblers and a singing Indian Golden Oriole. On our return to Leh, again via Wari La, we saw a similar range of species to the previous day but were fortunate to locate a small flock of Mongolian Finch feeding by the roadside.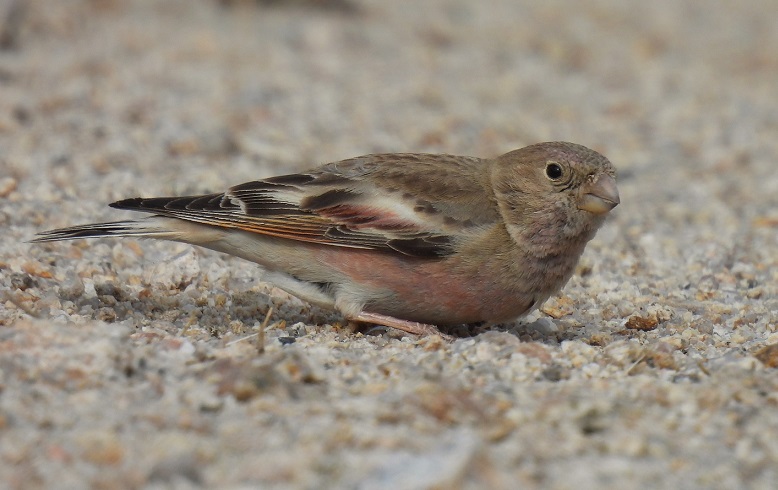 Mongolian Finch near Leh
It was then time to leave Leh and the following morning we travelled 160 miles to the far south-east of Ladakh. The village of Hanle is close to the often disputed Chinese border and for this reason access has been problematic for non-Indian nationals. Thankfully the situation changed in 2022 and foreign birders can now visit this wildlife rich area. Great Rosefinch, Twite, Brandt's Mountain Finch, Horned Lark and Desert Wheatear are all common birds around the village and we enjoyed close views in the immediate vicinity of our homestay accommodation.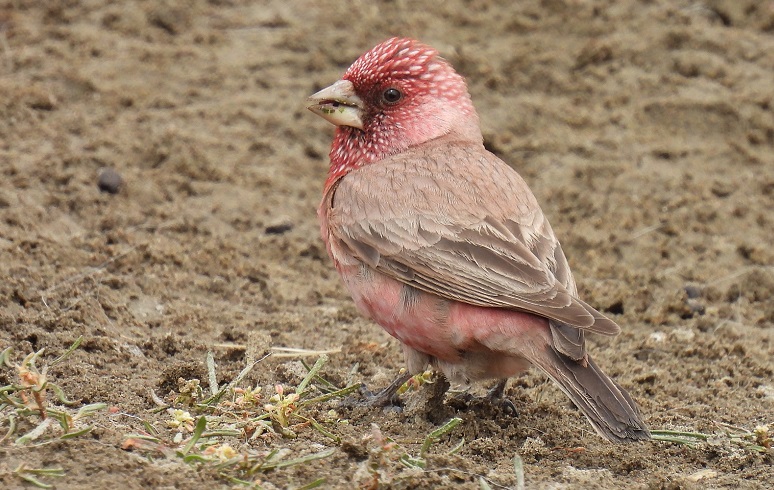 Great Rosefinch near Hanle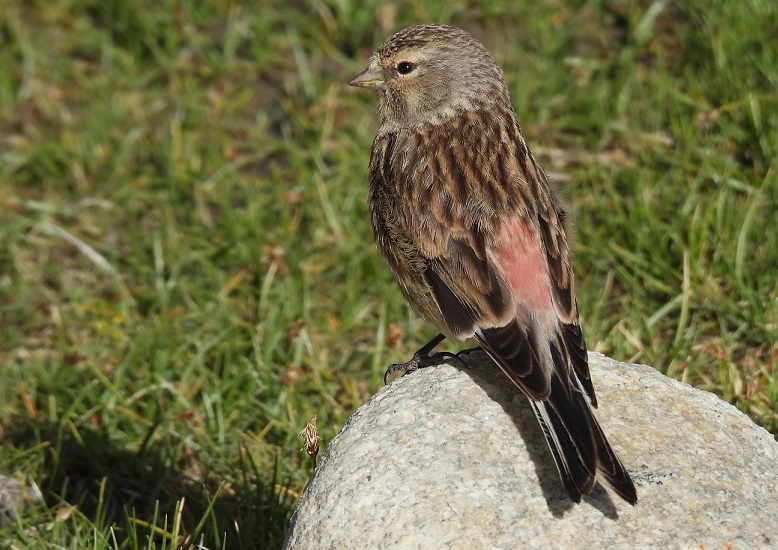 Twite at Hanle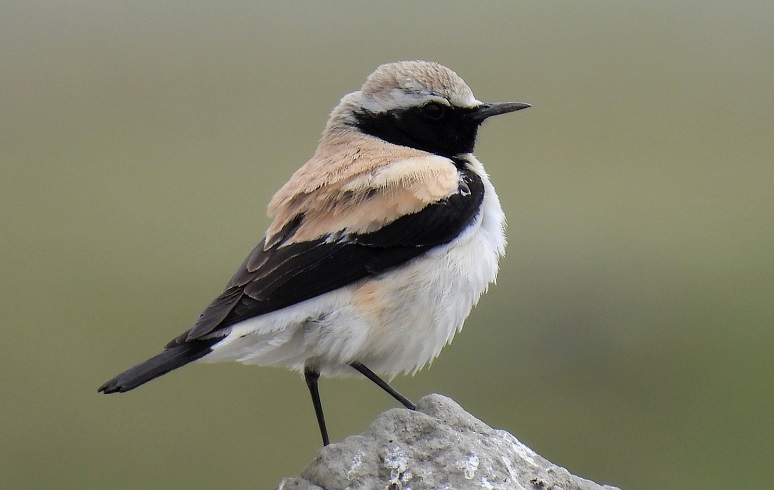 Desert Wheatear at Hanle
However, the main avian attractions are Black-necked Crane and Tibetan Lark so we were up and out early the following morning. The damp grasslands and marshes surrounding Hanle are perfect for both species and we located three pairs of Black-necked Cranes, including a nesting pair. It's a rare breeding species in India, highly revered in Buddhist traditions and is the state bird of Ladakh. Thankfully Tibetan Lark is more numerous and due to its huge size is easy to find around Hanle, the only reliable location in India where it occurs. We saw many males singing from their favoured grassy mounds, flicking their wings as they did so.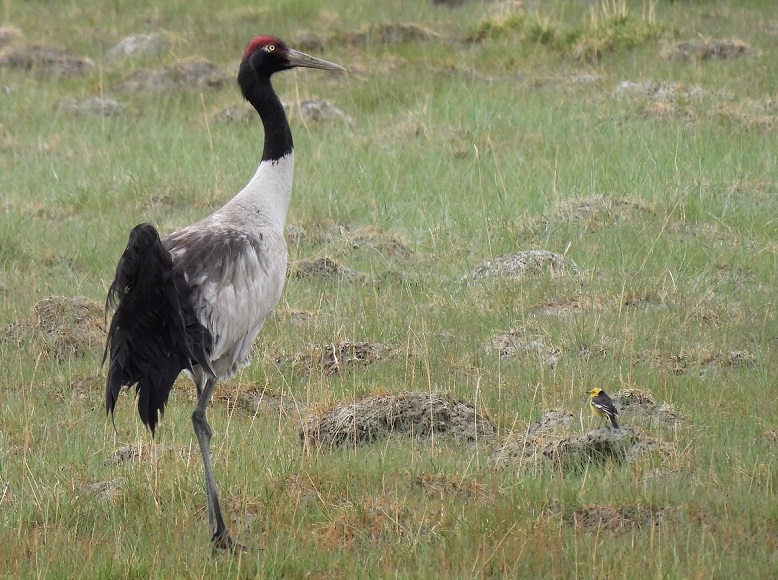 Black-necked Crane with Citrine Wagtail at Hanle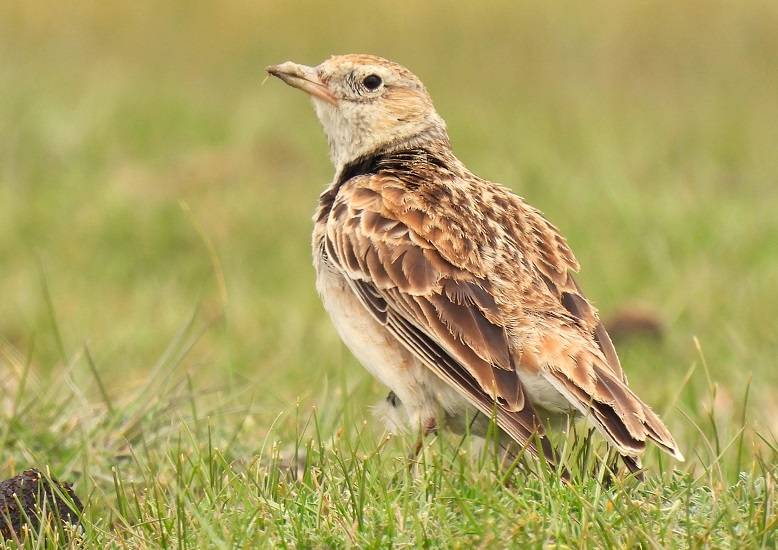 Tibetan Lark at Hanle
Other highlights included two magnificent Saker Falcons, a pair of Eurasian Eagle Owls, the amazing looking Groundpecker, Eurasian Hobby, Hume's Lark and Tickell's Leaf Warbler. While birding in a willow plantation we also found a Grey-bellied Cuckoo, a seemingly rare bird in this part of India. The adjacent marshes held Common Redshank, Ruddy Shelduck, Goosander, Red-crested Pochard and Citrine Wagtail. The rare and elusive Pallas's Cat is often seen around Hanle and although we drew a blank we had a close encounter with a Tibetan Wolf and saw good numbers of Tibetan Wild Ass.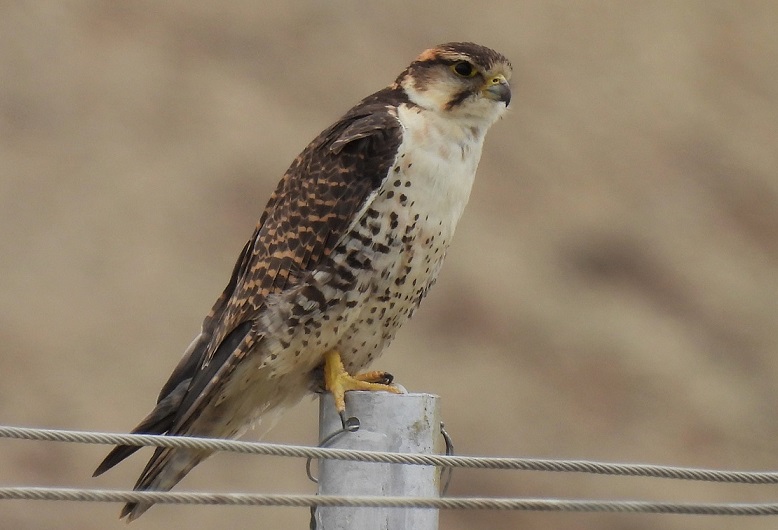 Saker Falcon at Hanle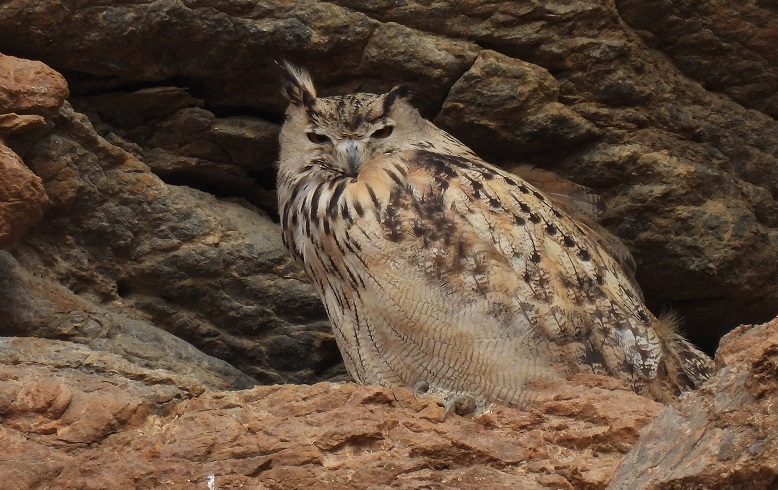 Eurasian Eagle Owl at Hanle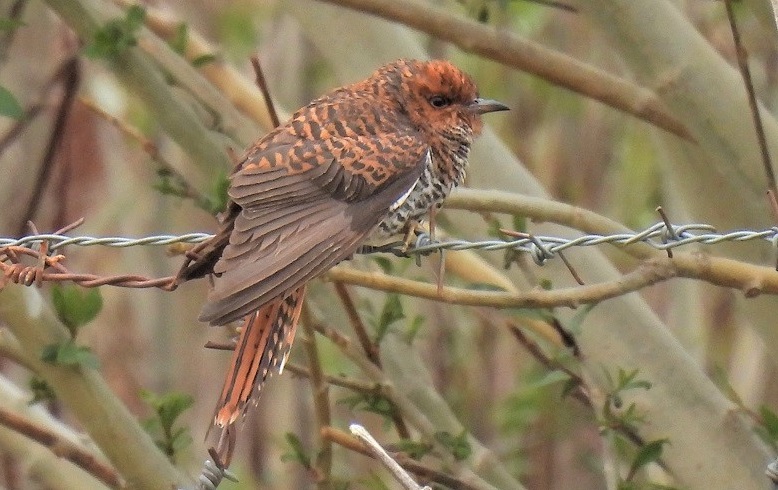 Grey-bellied Cuckoo (hepatic female) at Hanle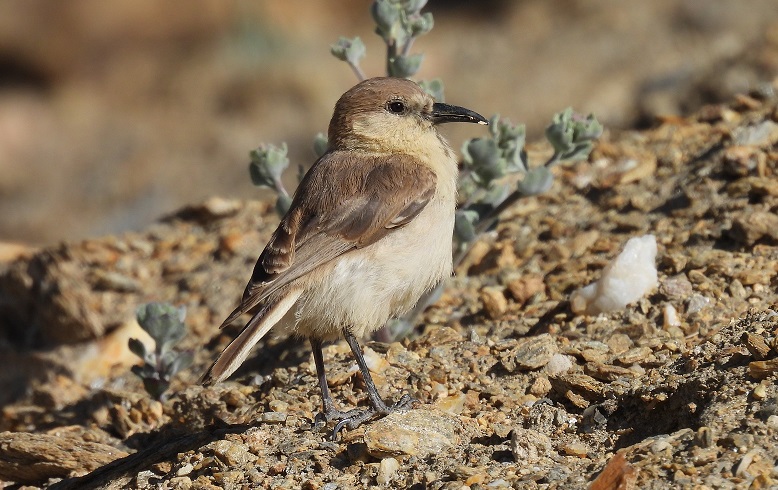 Groundpecker at Hanle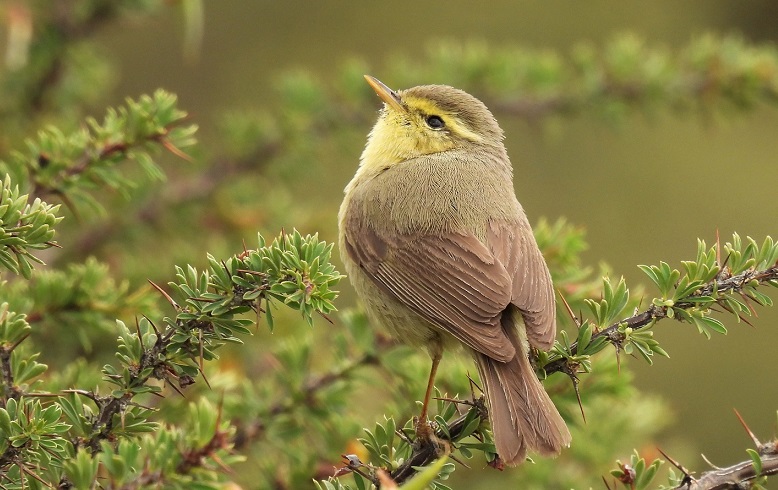 Tickell's Leaf Warbler at Hanle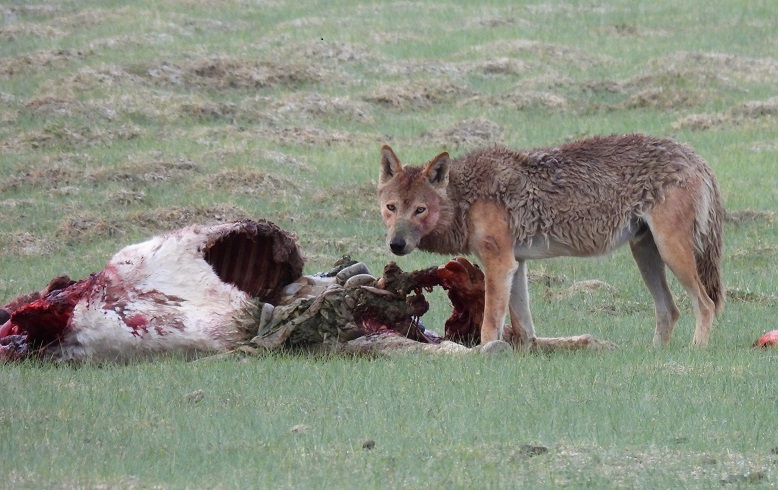 Tibetan Wolf feeding on a Tibetan Wild Ass at Hanle
It was then time to move on to our final destination, Tso Kar, a vast salt lake at an elevation of 4530 metres. First impressions are of a hostile environment with vast swathes of salt surrounded by a desert landscape and snow-capped mountains beyond, as far as the eye can see. There was however a surprising amount of birdlife here and with some searching we found our first key species of this area, Blanford's Snowfinch. We also had good views of Black-necked Crane, Upland Buzzard, Hill Pigeon, Groundpecker, Hume's Lark, Great Rosefinch and Twite amongst others.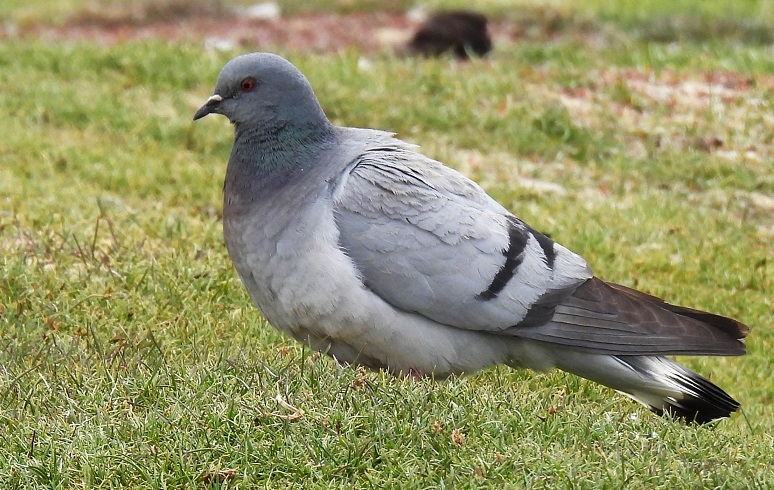 Hill Pigeon at Tso Kar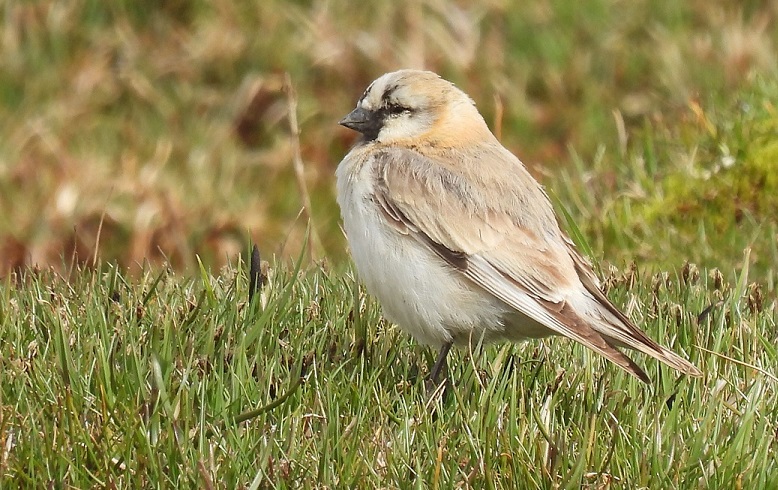 Blanford's Snowfinch at Tso Kar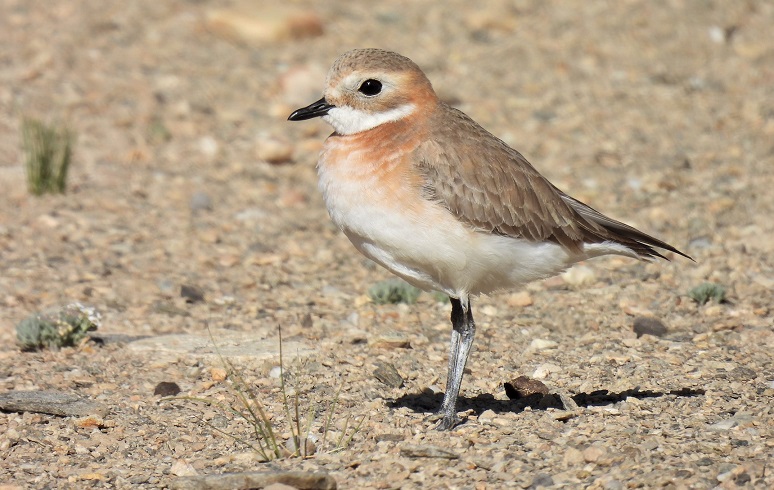 Tibetan Sand Plover at Tso Kar
To the south of the main lake is Startsapuk Tso, a freshwater lake and the most productive wetland area we found in Ladakh. We saw a wide variety of waterbirds including Great Crested Grebe, Black-necked Grebe, Grey Heron, Bar-headed Goose, Ruddy Shelduck, Common Pochard, Red-crested Pochard, Mallard, Northern Shoveler, Tibetan Sand Plover, Black-tailed Godwit, Black-winged Stilt, Brown-headed Gull and both Common Tern and Whiskered Tern.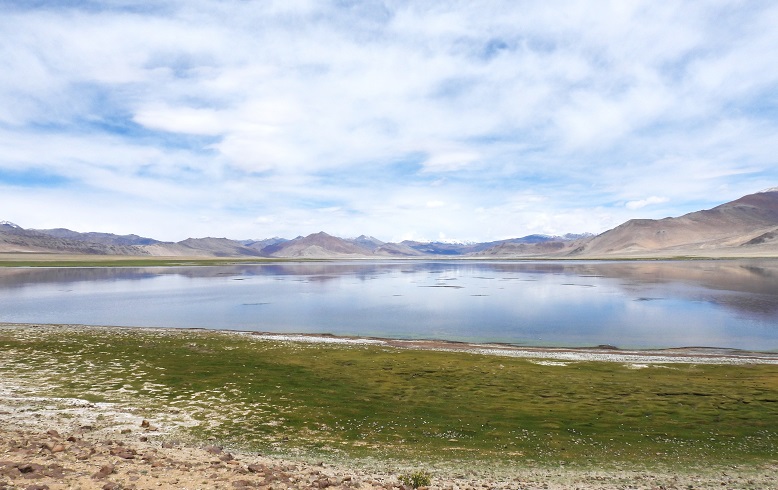 Startsapuk Tso
We still had two key species to find so on the morning of our final full day at Tso Kar we were up early scanning the mountain slopes surrounding the lake. Success came relatively quickly and we enjoyed good views of Tibetan Snowcock, hardy birds that inhabit one of the most hostile environments on earth.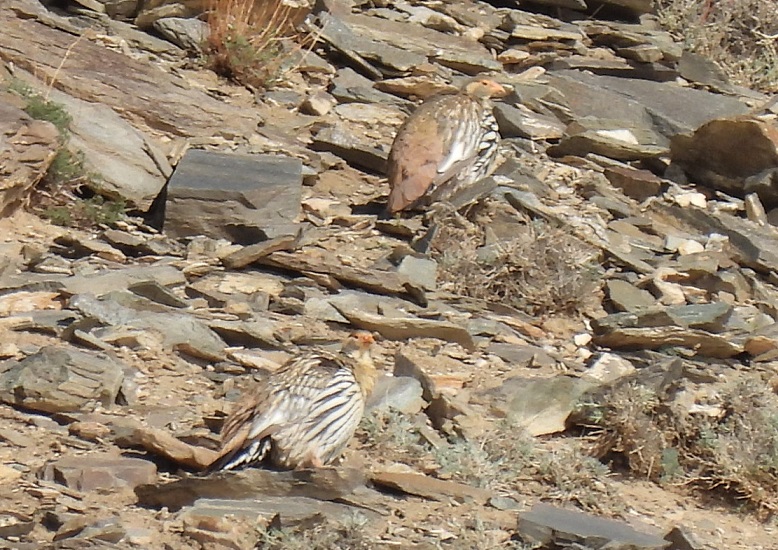 Tibetan Snowcocks at Tso Kar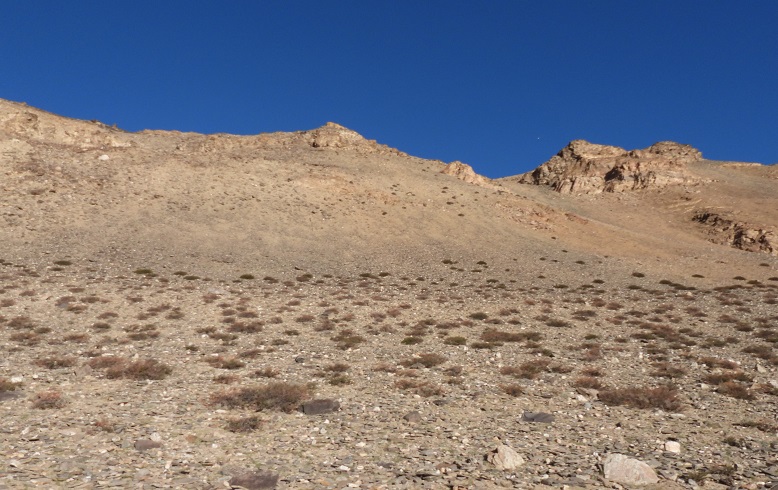 Tibetan Snowcock habitat
We spent the rest of the day looking for Tibetan Sandgrouse which is no mean feat given that they wander far and wide across the vast high altitude deserts. While searching we found our third Saker Falcon of the trip along with several Upland Buzzards, Black-winged and Blanford's Snowfinches as well as a huge flock of around 300 Brandt's Mountain Finches. However, as good as the birding had been it was beginning to appear that our search for the sandgrouse would end in failure. But amazingly, the following morning, as we departed Tso Kar for the final time, we spotted six birds feeding 200 metres from roadside. Success! There was a huge sense of relief as we savoured wonderful views of the world's highest altitude sandgrouse species.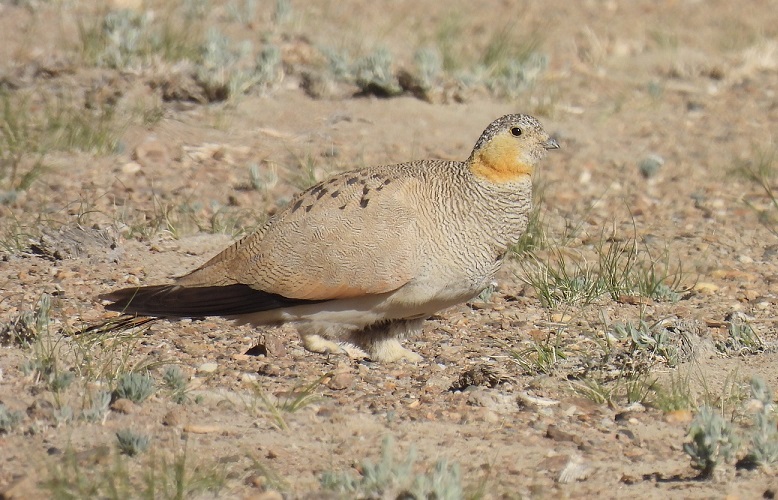 Tibetan Sandgrouse at Tso Kar
We then continued our journey back towards Leh and remained on the lookout for any interesting habitat for a spot of roadside birding. A few miles before reaching Rumtse we checked a patch of Caragana bushes beside a stream. This proved to be a productive area where we found my last new bird of the trip, Brown Accentor.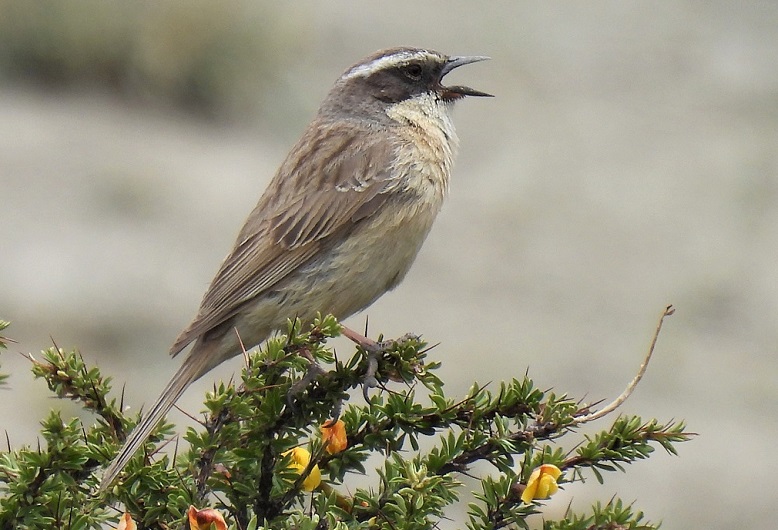 Brown Accentor near Rumstse
After returning to Delhi the following morning, a couple of hours were spent in Lodhi Garden in the heart of New Delhi for some final birding. Close views of common Indian birds were enjoyed including Red-naped Ibis, Yellow-footed Green Pigeon, Little Swift, Indian Pied Starling, Jungle Babbler, Oriental Magpie Robin and the ubiquitous Black Kites.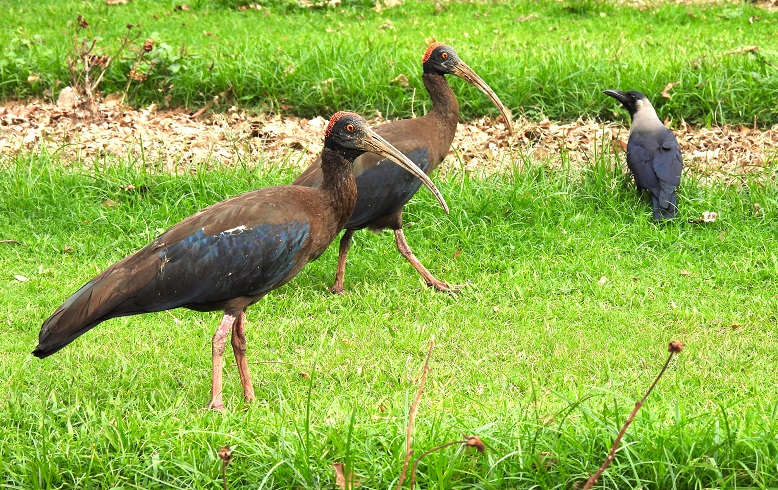 Red-naped Ibises and House Crow at Lodhi Garden, New Delhi
During our 12 days in Ladakh we saw a total of 80 bird species plus two heard only (see list below). Ladakh is a beautiful and remote area of India with many highly localised species. I can't wait to return!
Written by Brian Stretch
Bar-headed Goose
Ruddy Shelduck
Northern Shoveler
Mallard
Red-crested Pochard
Common Pochard
Common Merganser
Tibetan Partridge
Tibetan Snowcock
Himalayan Snowcock - heard only
Chukar
Great Crested Grebe
Black-necked Grebe Grebe
Rock Pigeon
Hill Pigeon
Oriental Turtle Dove
Tibetan Sandgrouse
Grey-bellied Cuckoo
Common Cuckoo - heard only
Common Swift
Eurasian Moorhen
Eurasian Coot
Black-necked Crane
Black-winged Stilt
Tibetan Sand Plover
Black-tailed Godwit
Common Redshank
Brown-headed Gull
Whiskered Tern
Common Tern
Grey Heron
Cattle Egret
Indian Pond Heron
Bearded Vulture
Himalayan Griffon
Golden Eagle
Upland Buzzard
Eurasian Eagle Owl
Little Owl
Eurasian Hoopoe
Eurasian Kestrel
Eurasian Hobby
Saker Falcon
Indian Golden Oriole
Eurasian Magpie
Red-billed Chough
Yellow-billed Chough
Carrion Crow
Common Raven
Ground Tit
Horned Lark
Hume's Lark
Tibetan Lark
Oriental Skylark
Eurasian Crag Martin
Barn Swallow
Common House-Martin
Tickell's Leaf Warbler
Mountain Chiffchaff
White-browed Tit-Warbler
Lesser Whitethroat
White-throated Dipper
Bluethroat
White-winged Redstart
Black Redstart
Blue Rock Thrush
Desert Wheatear
Robin Accentor
Brown Accentor
House Sparrow
Black-winged Snowfinch
Blanford's Snowfinch
Citrine Wagtail
White Wagtail
Common Rosefinch
Great Rosefinch
Mongolian Finch
Plain Mountain Finch
Black-headed Mountain Finch
Twite
Red-fronted Serin
Rock Bunting
Learn more about the trip to Ladakh in this webinar kindly hosted by Asian Adventures