Birding Northern India - 2019
Saturday, 6 April 2019 | Admin
Flying from Birmingham via a brief stop at Amritsar we arrived in Delhi on 10th March 2019. It was a little too late in the day to do any serious birding although we saw a few common birds including Ring-necked Parakeet, Bank and Common Mynas and the ubiquitous Black Kites on our way to the hotel.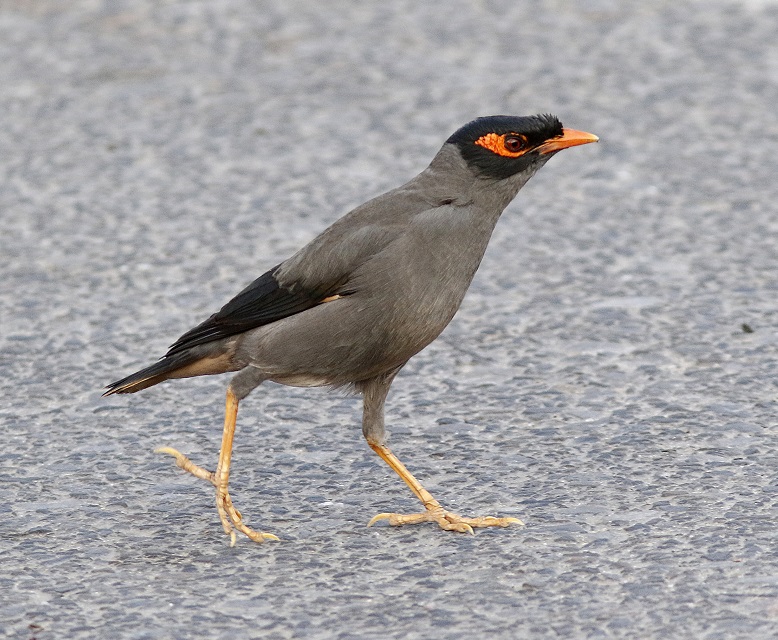 Bank Myna at Delhi International Airport. Picture: Andy Warr
We rose early the following morning in order to board our 6am train from New Delhi Railway Station to Kathgodam, located at the foot of the Himalayan foothills in the state of Uttarakhand. The train departed on time and as we eased out of the platform it was beginning to get light and the first of many Black Kites were noted. During our 5 1/2 hour journey across the neighbouring states of Uttar Pradesh and Uttarakhand we saw many conspicuous birds including Indian Roller, Black Drongo, Black-headed Ibis and Sarus Crane.
Upon arrival at Kathgodam railway station we were collected by our driver for the two hour journey to the small mountain village of Pangot where we would be based at Jungle Lore Birding Lodge for the next four nights. As soon as we entered the gardens at Jungle Lore there were birds everywhere, the most conspicuous being White-throated Laughingthrushes that would glide in large formations around the lodge on the lookout for handouts by the kitchen staff. We met up with Deepak Kumar who would be our guide for the remainder of our time in India. He was keen to show us a female Golden Bush Robin that was wintering in the gardens and we were soon rewarded with good but brief views as it fed around a small horse manure heap. The remainder of the day was spent in the gardens enjoying the many common species associated with the area including Red-billed Blue Magpie, Black-throated Tit, Black-headed Jay, Grey-winged Blackbird, Grey-hooded Warbler, Grey Treepie, Himalayan and Red-vented Bulbuls, Grey Bushchat, Oriental Turtle Dove, Grey-backed Shrike, Verditer Flycatcher, Chestnut-crowned and Streaked Laughingthrushes and Spot-winged Grosbeak.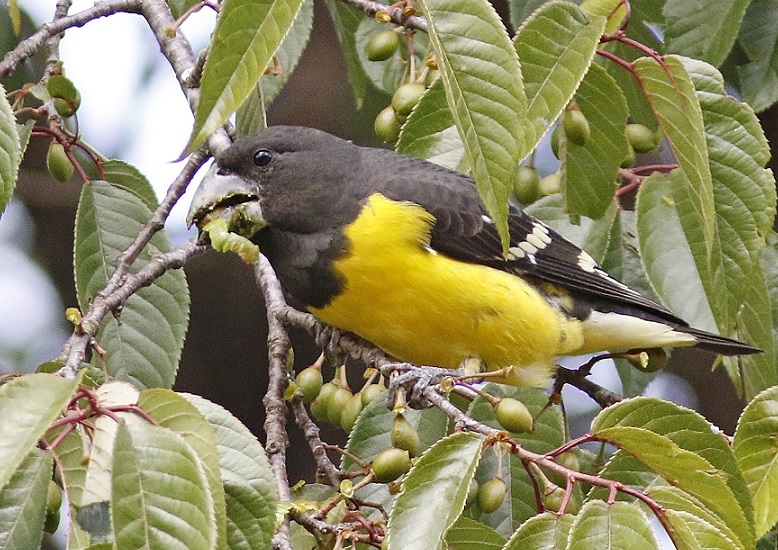 Male Spot-winged Grosbeak at Jungle Lore Birding Lodge, Pangot. Picture: Andy Warr
Early the next day we were out on the road climbing higher in to the forested foothills in search of some of the key target species of the area. We were soon rewarded with our first sightings of Kalij Pheasants along with a couple of Chestnut-bellied Rock Thrushes and a brief Rufous-gorgeted Flycatcher. We continued slowly along the track on the lookout for our first major target, Koklass Pheasant, and it wasn't too long before Deepak's sharp eyes located a male and two females feeding just ahead of the vehicle. Pulling up quietly we were afforded good views as they fed unconcerned before slowly moving on.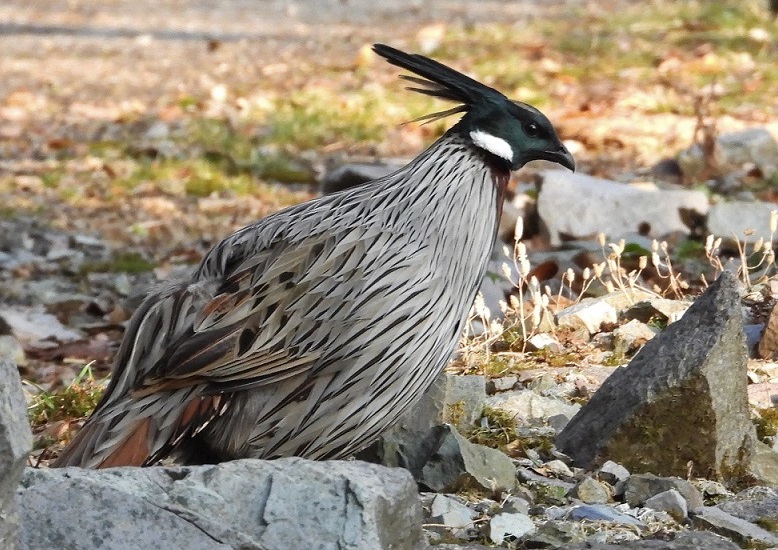 Male Koklass Pheasant at Pangot. Picture: Brian Stretch
It was also time for us to move on and we headed to a well known site for Cheer Pheasant. Restricted to the western Himalaya, this elusive species is one of the main attractions for visiting the area but despite careful scanning of their favoured steep grassy slopes we were unsuccessful. However, there were plenty of good birds to be seen including Altai Accentor, Upland Pipit, Eurasian Jay, Large-billed Crow, Bar-tailed Treecreeper, Rock Bunting and the first of many Himalayan Vultures. We retraced our route back towards Jungle Lore and stumbled upon more good birds including Himalayan, Rufous-bellied and Brown-fronted Woodpeckers, Black Bulbul, Blue Whistling Thrush, Coal Tit, Long-tailed Minivet and an unexpected Black-faced Warbler.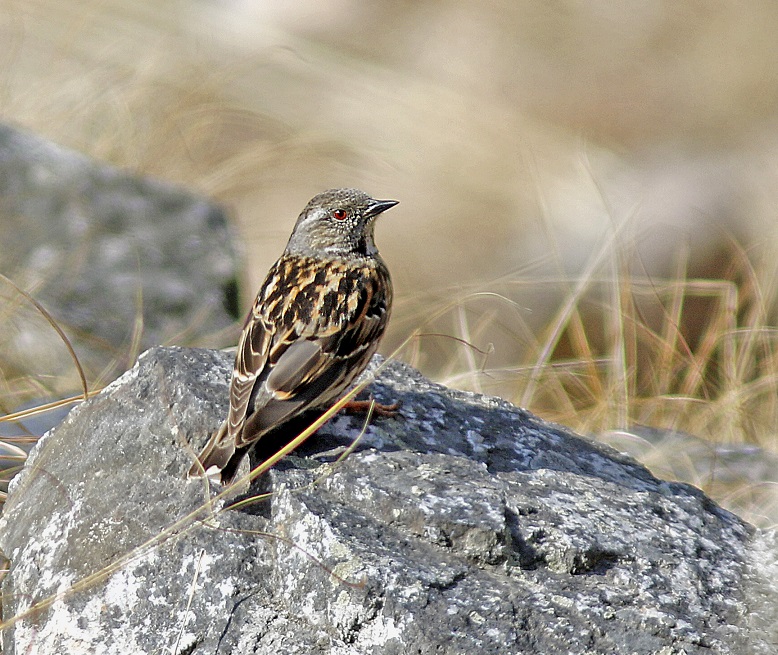 Altai Accentor near Pangot. Picture: Andy Warr
Later that day we spent the afternoon at lower elevations in an area of cleared slopes and cultivated land. Here we encountered many of the species we had already seen at Jungle Lore as well as plenty of new ones for the trip including Lemon-rumped, Tytler's Leaf and Hume's Leaf Warblers, Siberian Chiffchaff, Green-backed and Himalayan Black-lored Tits, Black-chinned Babbler, Oriental White-eye, Grey-breasted and Striated Prinias, Yellow-breasted Greenfinch, Common Rosefinch, Blue-capped Redstart, Russet Sparrow, Long-tailed Shrike, Ashy Drongo, Siberian Stonechat, Common Myna, Purple Sunbird, Jungle Babbler, White-capped Water Redstart, Rufous-breasted Accentor and best of all, a stunning male Rufous-breasted Niltava. We finished the day in a nearby valley and as we walked along the track we encountered Slaty-headed Parakeet, Rusty-cheeked Scimitar Babbler, Lesser Yellownape and the species we'd hoped for, Grey-crowned Prinia. They are only found in the Himalaya where they have a very fragmented distribution and appear to be in serious decline so we felt privileged not only to have seen two together but to have obtained such good views.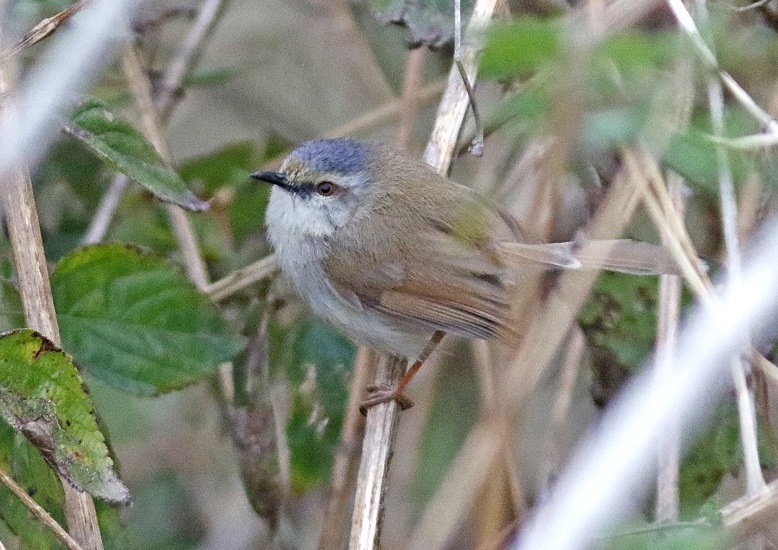 Grey-crowned Prinia near Pangot. Picture: Andy Warr
The following morning we were again out birding early and returned to search for the Cheer Pheasants. This time we were successful with a party of three birds providing remarkably good views for several minutes before they flew off out of sight. Other birds seen in the immediate vicinity included several Rufous Sibia, Green-tailed Sunbird, White-tailed Nuthatch and a male Black-throated Thrush. We then moved on to a new location where an area of small cultivated terraces surrounded by wooded valleys proved very productive. As we walked down the steep track a wooded valley was teeming with birdlife including Ashy-throated and Buff-barred Warblers, Grey-headed Canary Flycatcher, Himalayan Woodpecker, Bar-tailed Treecreeper and Mistle Thrush while the around the terraces we encountered our first Pink-browed Rosefinches, Blue-fronted Redstart and a brief Black-throated Accentor. We spent the remainder of day slowly making our way back to Jungle Lore, partly walking and driving. We obtained brief views of a Green Shrike Babbler and a stunning male Himalayan Bluetail while also logging a Goldcrest, two Eurasian Jays, three Black Eagles, a tree full of Chestnut Thrushes and White-collared Blackbirds and finally to end the day, our first Spotted Forktail.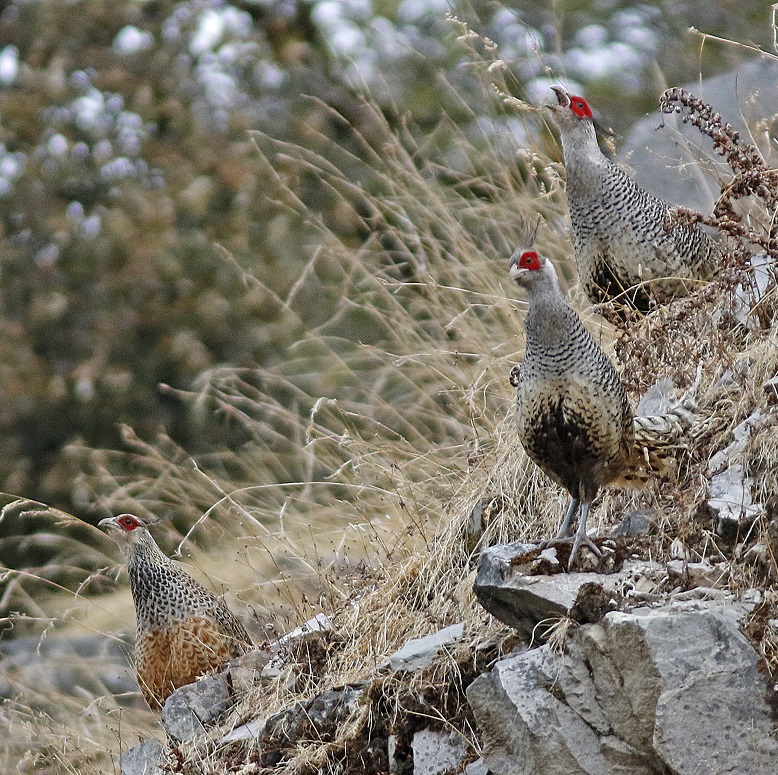 Cheer Pheasants near Pangot. Picture: Andy Warr
The following morning we headed to Nainital and along the way saw a couple of Koklass Pheasants, a Kalij Pheasant and several Blue Whistling Thrushes. Once we arrived at our first birding site just outside Nainital, new birds came thick and fast as we walked a route downhill through a rocky valley interspersed with small trees and dwellings. Ultramarine Flycatcher, Rufous-chinned Laughingthrush, Red-billed Leiothrix, Red-breasted Parakeet, Scaly-bellied Woodpecker and a small flock of Red-fronted Serins were the highlights. We then moved on to some nearby roadside waterfalls where we saw our first Plumbeous Water Redstart along with White-capped Water Redstarts and a Spotted Forktail.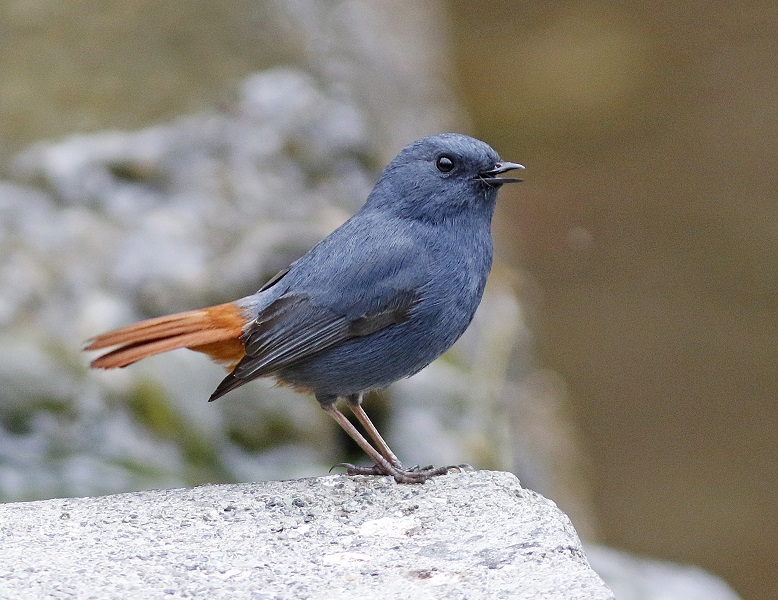 Plumbeous Water Redstart near Nainital. Picture: Andy Warr
The following day, for the most part, was fairly uneventful as the weather turned against us although it came good in the end when we heard news of a Brown Wood Owl roosting by the road not too far from Jungle Lore. We quickly made our way to the site where a good number of birders were already gathered and we joined them to savour superb views of this impressive owl. Heading back towards Jungle Lore we were also fortunate to see our first Long-billed Thrush perched up above the road.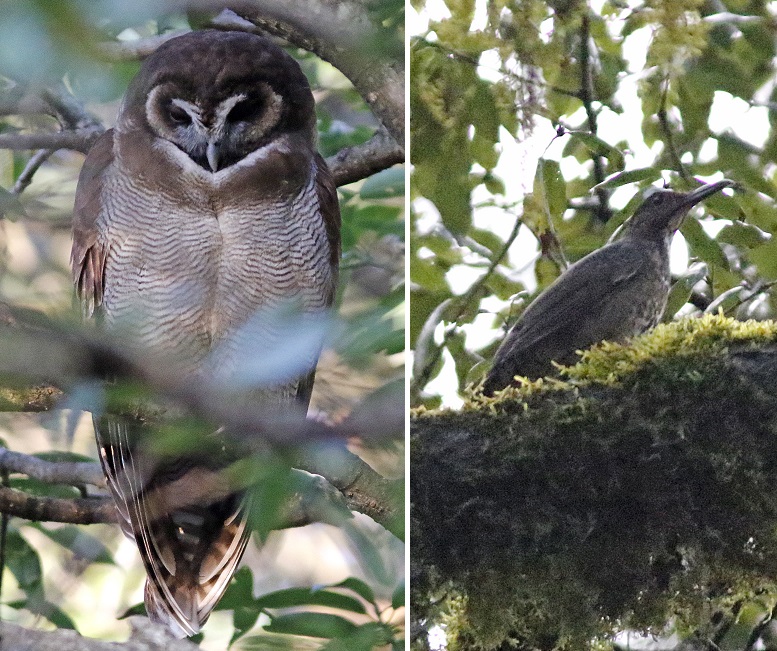 Brown Wood Owl and Long-billed Thrush near Pangot. Pictures: Andy Warr
Another early start was made the following day where we spent our time exploring the valley around Ghuggu Kham as far as Saur. With a very cold start, birding was initially slow but as the day warmed up activity improved and we saw a good variety of species including our first Fire-tailed Sunbird, Whiskered Yuhina, Great Barbet and a flock of around 100 Plain Mountain Finches. A flock of c20 Red-fronted Serins was also welcome while other highlights included Mountain Hawk Eagle, Himalayan Vulture, Spot-winged Grosbeak, Striated Prinia, Eurasian Crag Martin, Chestnut-headed Bee-eater, Long-tailed Minivet, White-tailed Nuthatch and a Eurasian Sparrowhawk.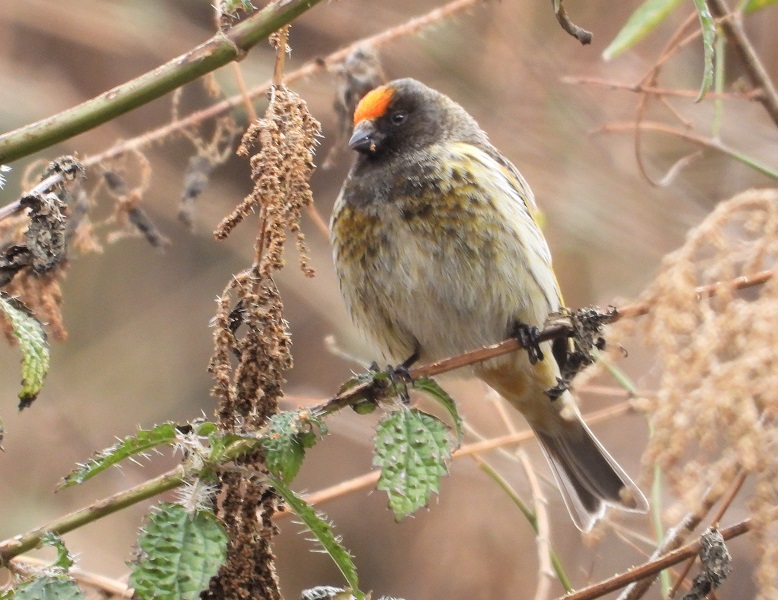 Male Red-fronted Serin near Pangot. Picture: Brian Stretch
Our final morning at Pangot was spent at Jungle Lore for a dawn watch at the feeding station where a smart male Black Francolin was present along with the more numerous Kalij Pheasants. Other highlights within the grounds including a Rusty-cheeked Scimitar Babbler, Hoopoe and a flock of eleven Red-breasted Parakeets. Jungle Lore Birding Lodge is a fantastic place to stay, particularly if you are a birder as you'll be staying in the heart of prime birding habitat - there are always birds to see! Sadly, it was time to leave but we were looking forward to visiting our next destination at Jageshwar and en-route we paused at nearby Kilbury Forest where we logged Lesser Yellownape, Himalayan and Rufous-bellied Woodpeckers, White-tailed Nuthatch and many Eurasian Jays.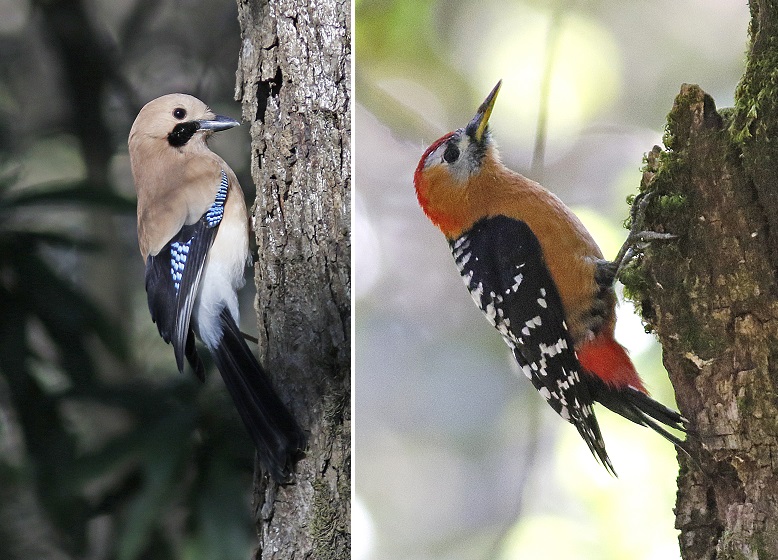 Eurasian Jay and Rufous-bellied Woodpecker at Kilbury Forest. Pictures: Andy Warr
The birding continued as we travelled towards Jageshwar and we saw an Alpine Swift, Little Swift, Grey-throated Martin, Chestnut-headed Bee-eater, both Plumbeous and White-capped Water Redstarts, Mountain Hawk Eagle, Steppe Eagle and Himalayan Vulture.
Jageshwar is located north of Pangot and therefore closer to the mighty Himalaya range. We stayed at the very comfortable Van Serai lodge, perfectly located within walking distance of some excellent birding. Our first morning provided spectacular views across to the snow capped peaks and offered an impressive back drop to our mornings birding. A Koklass Pheasant was heard but remained unseen while a nice selection of species that were becoming more familiar to us were seen including Ultramarine Flycatcher, Green-backed Tit, Grey-headed Canary Flycatcher, Lemon-rumped Warbler, Brown-fronted Woodpecker, Black-throated Thrush, Oriental Turtle Dove and c55 Common Wood Pigeons – our only sighting of this very familiar bird from back home. Later in the day we spent some time birding along the river on the east side of Jageshwar which was extremely productive. Here we saw Asian Barred Owlet, Crested Kingfisher, Brown-flanked Bush Warbler, Small Niltava, Ultramarine Flycatcher, Yellow-bellied Fantail, Himalayan Bluetail, Rufous-gorgeted Flycatcher, Black-chinned Babbler, Grey-headed Canary Flycatcher and Bar-tailed Treecreeper amongst many others.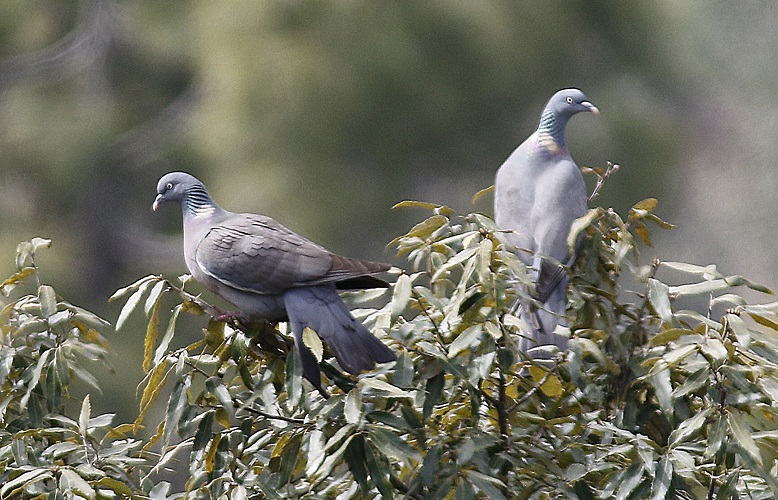 Common Wood Pigeons at Jageshwar. Picture: Andy Warr
The following morning we again started our birding at the Vridh Jageshwar Temple and then descended on foot to Jageshwar. This is a very scenic route and offered a similar range of species to that seen earlier in our trip including Upland Pipit, Himalayan Bluetail, Long-tailed Minivet, Yellow-breasted Greenfinch but also some new for the trip including Ashy Drongo, Spangled Drongo and, best of all, a fly through immature Goshawk. It was then time to leave Jageshwar and head to Sattal where a different range of species awaited us.
After a few days of birding in the Himalaya it soon becomes apparent that elevation is everything. Unlike Pangot and Jageshwar that are located at elevations between 1800 and 2000m, Sattal lies at around 1400m and offers a more diverse range of species. We commenced our birding along a stream adjacent to the Bhatelia - Dhanachuli - Bhimtal Road and this area was incredibly productive. We saw our first Speckled Piculet, Blue-throated Barbet and Slaty-backed Forktail, while other species such as Yellow-bellied Fantail, Himalayan Bluetail, Lemon-rumped Warbler and Blue Whistling Thrush were familiar species from Pangot and Jageshwar. A little further on we walked alongside the Gaula River where we were treated to great views of Crested Kingfisher and White-capped Water Redstart while in the adjacent trees and bushes we noted Grey-breasted Prinia, White-throated Fantail, Russet Sparrow, Grey Bushchat, Pied Bushchat, Siberian Stonechat along with our first Abberant Bush Warbler and Himalayan Rubythroat. After such a great start we had high expectations for our first full day of birding in the Sattal area and it didn't disappoint.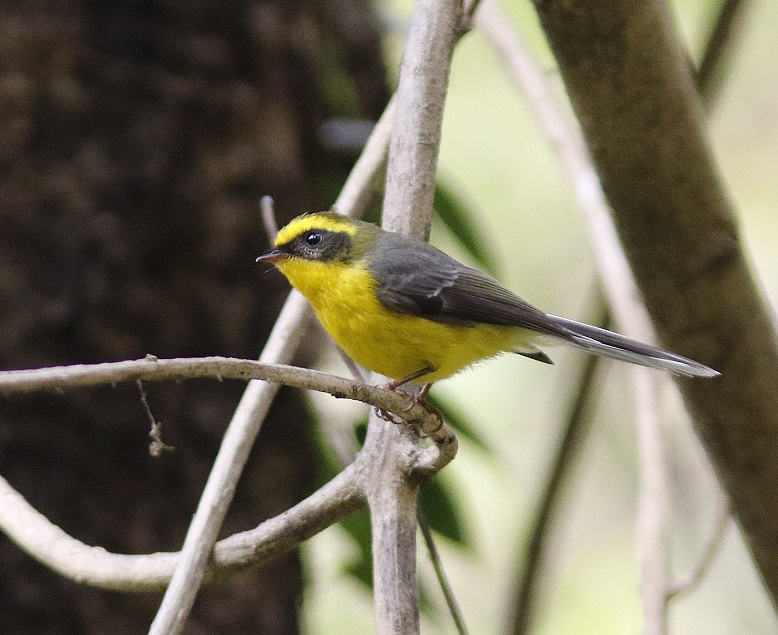 Yellow-bellied Fantail near Sattal. Picture: Andy Warr
We commenced our days birding near the Graphic Era Hill University - Bhimtal Campus and slowly made our way on foot and by car towards Purna Tal. Birds were everywhere and at times it was difficult to know which way to look next! We recorded 57 species with new birds being Slaty-blue Flycatcher, Crimson Sunbird, Blue-winged Siva, Fire-breasted Flowerpecker, Fulvous-breasted Woodpecker, Blyth's Leaf Warbler, Scarlet Minivet, Short-billed Minivet, Black-winged Cuckooshrike, Whistler's Warbler, Brown Bullfinch, Tickell's Thrush, Greater Yellownape and Chestnut-headed Tesia.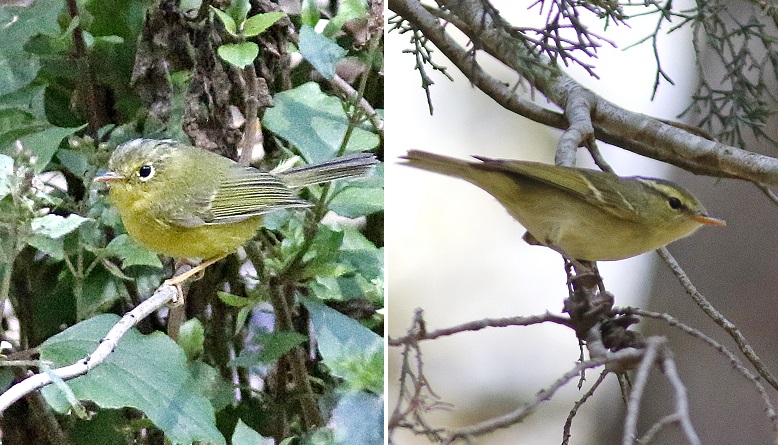 Whistler's Warbler (left) and Blyth's Leaf Warbler at Sattal. Pictures: Andy Warr
We spent a pleasant mornings birding in the Shyamkhet area where saw a good range of species including Dusky Warbler, European Goldfinch (of the distinctive local form), Bonelli's Eagle, Steppe Eagle, Mountain Hawk Eagle, Black-winged Kite and our first Grey-headed Woodpecker. We then made a return visit to Gaula River and saw two Crested Kingfishers and our first Brown Dippers. We spent a good deal of time watching the latter species and established that at least five birds were present, including four juveniles. Later that afternoon we headed up to Ramgarh in search of a male Red-throated Thrush that had been seen in recent days. We had no luck with the thrush but did see our first Grey-sided Bush Warbler and Mountain Bulbul together with very good views of Himalayan Buzzard.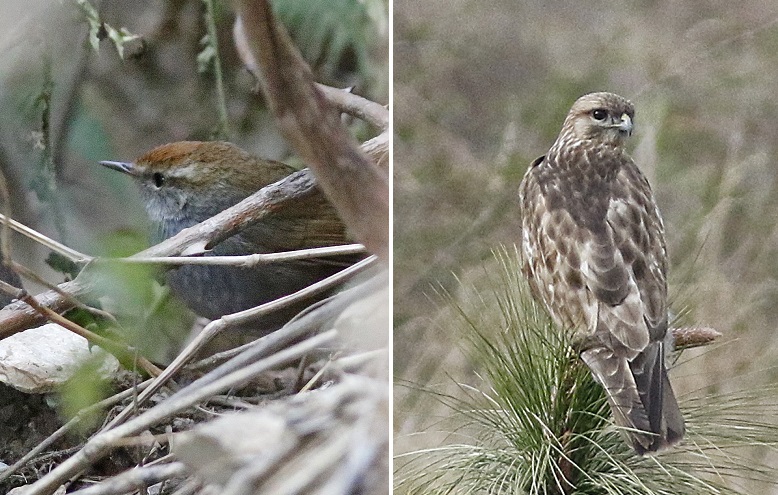 Grey-sided Bush Warbler and Himalayan Buzzard at Ramgarh. Pictures: Andy Warr
The following day we made a morning visit to the Methodist Bird Hide near Sattal. This offers birders and photographers alike a great opportunity to watch many of the common birds of the area at close quarters. Over a couple of hours we saw twenty-five species including our first encounter with White-crested Laughingthrush as well as our only Emerald Dove of the trip.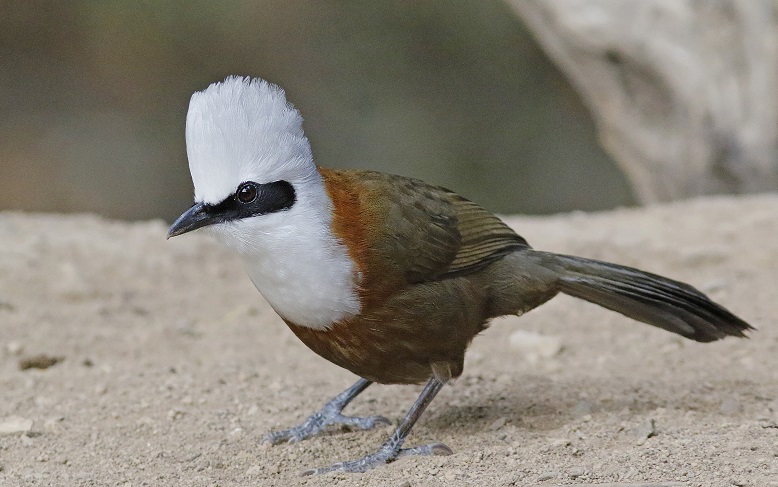 White-crested Laughingthrush at Sattal. Picture: Andy Warr
In the afternoon we made a return visit to the birding trail at Purna Tal and saw a pair of
Brown Wood Owls
while other species included both
Long-tailed
and
Scarlet Minivets
,
Chestnut-bellied Nuthatch
,
Ultramarine Flycatcher
,
Greater Yellownape
and brief views of a
Chestnut-headed Tesia
. We also heard a Scaly-breasted Wren Babbler although it refused to provide satisfactory views but we ended the day with good views an unexpected species, a
Dark-sided Thrush
.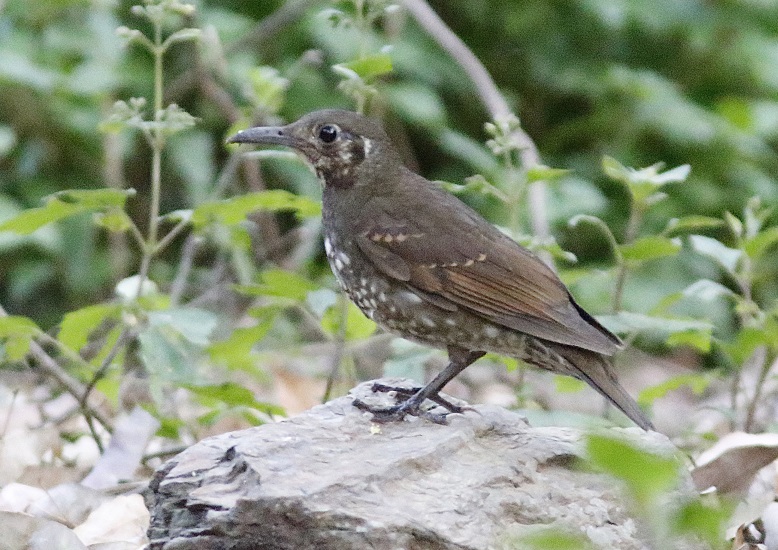 Dark-sided Thrush at Sattal. Picture: Andy Warr
It was our last morning in the Sattal area and armed with better information we made another attempt for the male Red-throated Thrush and this time we were successful. Favouring livestock paddocks between Kuleti and Ramgarh it gave us great views. A rare bird this far west it provided a fitting end to our time in the Himalayan foothills.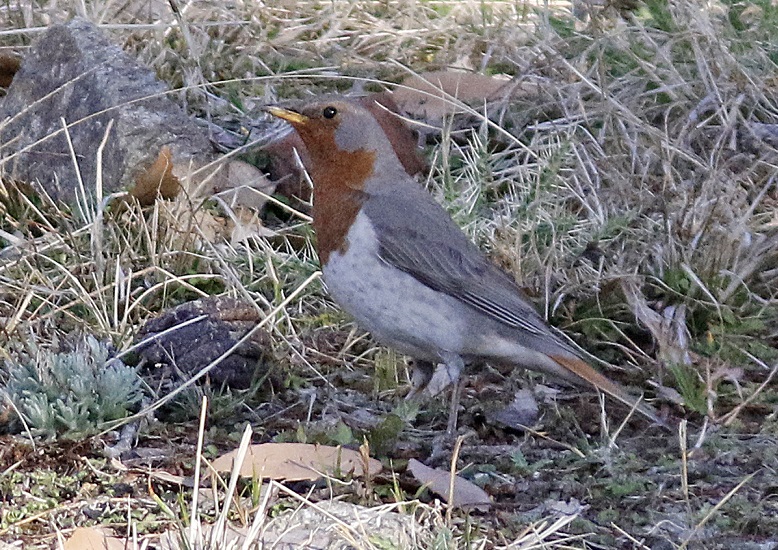 Red-throated Thrush near Ramgarh. Picture: Andy Warr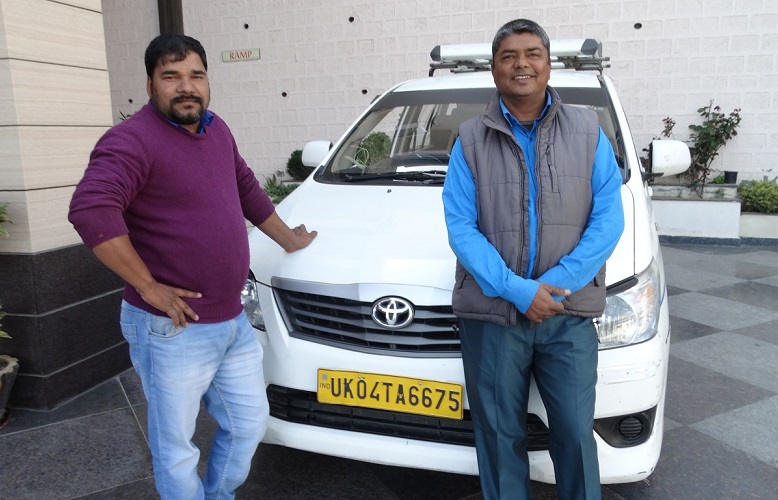 Jagdish Chandra (our driver) and Deepak
Sultanpur lies to the south-west of Delhi and is a popular destination for birders when in the capital as it's easily accessible from the airport, so if you have a spare day or even just a few hours, it's well worth a visit. We decided to spend a day in the area first visiting Sultanpur Flats before moving on to the nearby Sultanpur National Park. The flats host a range of open country species and we saw plenty of larks including Indian Bushlark, Greater Short-toed Lark, Crested Lark and Ashy-crowned Sparrow-lark. Other species included Black Francolin, Great Grey Shrike, Brown Rock Chat, Large Grey Babbler, Yellow-wattled Lapwing and best of all, our main target, Indian Courser.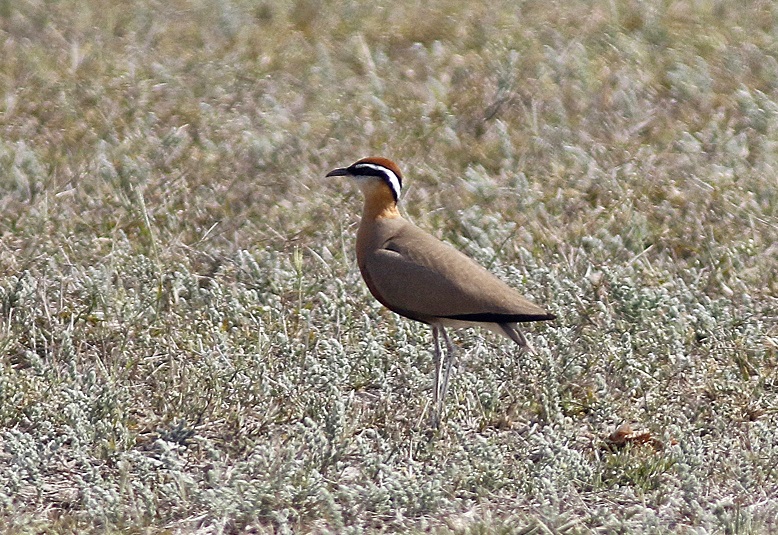 Indian Courser at Sultanpur Flats. Picture: Andy Warr
We then moved on to the national park which is a relatively small wetland surrounded by trees and scrub hosting a wide range of species. We were too late in the season for the over-wintering Brooks's Leaf Warblers which had departed for their breeding grounds but we saw Hume's Leaf Warbler, Greenish Warbler, plenty of Siberian Chiffchaffs and several Red-breasted Flycatchers in the wooded areas. Another speciality of this reserve is Sind Sparrow which is now resident having spread eastwards from the Indus valley towards Delhi along irrigation canals. We had good views of a pair while Common Woodshrike, Hoopoe, Lesser Whitethroat, Common Tailorbird, Plain Prinia and Black Drongo were also noted. Our attention then turned to the main wetland where there were still good numbers of wintering wildfowl as well as the usual array of herons (Indian Pond, Grey and Purple), egrets (Great, Intermediate and Little), ibises (Glossy, Black-necked and Red-naped), a pair of Sarus Cranes, Oriental Darter, Pheasant-tailed Jacana and a fly-over Booted Eagle. Waders were well represented with several White-tailed Plovers being the highlight.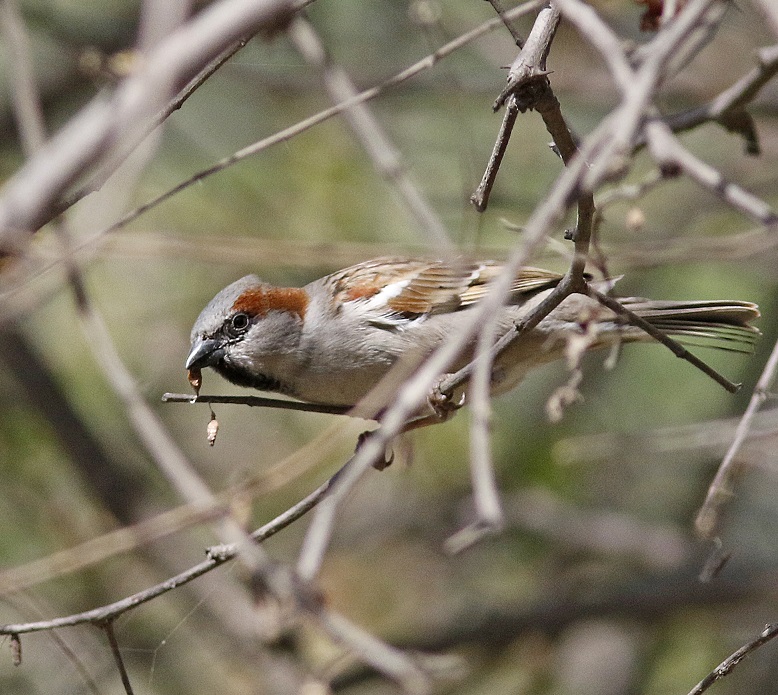 Male Sind Sparrow at Sultanpur National Park. Picture: Andy Warr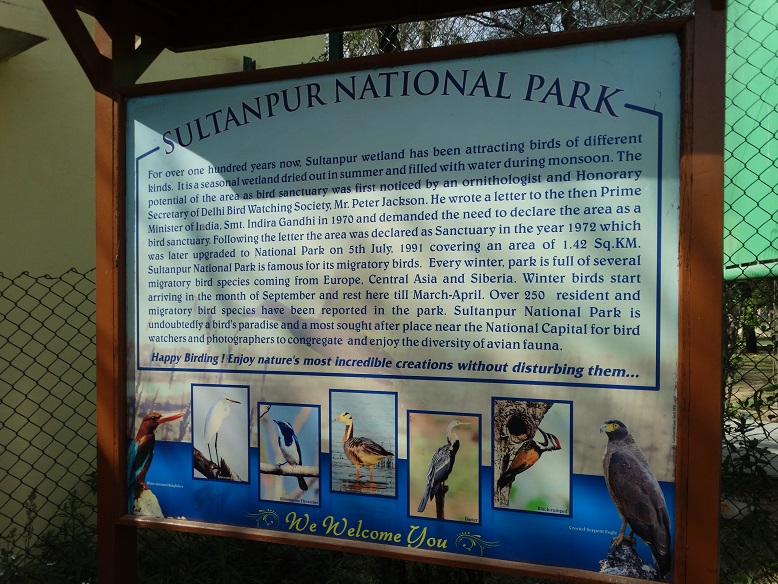 Sultanpur National Park information board
Due to a change in our return flight, as a result of heightened tensions between India and Pakistan, we had a couple of extra days for birding around Delhi. This provided us with the opportunity for a full days birding at Okhla Bird Sanctuary and the following morning at Surajpur Bird Sanctuary. Okhla is situated along the Yamuna River and straddles the Delhi-Uttar Pradesh border. Once we had arranged our permits, we spent the morning birding the marshy area near the north entrance to the reserve. We saw a wide variety of species here including Bluethroat, Common Rosefinch, Rosy Pipit, Citrine Wagtail, Indian Paradise Flycatcher, Marsh Sandpiper, Black-necked Stork, Greater Flamingo, Egyptian Vulture, Bar-headed Goose, Ruddy Shelduck, Whiskered Tern and also two specialities of this part of the reserve; Yellow-bellied Prinia and Striated Babbler. The afternoon was spent walking along the footpath that follows the east side of the Yamuna River to the reserve's south entrance. The wildfowl numbers were truly remarkable with large rafts of Garganey, Northern Shoveler, Gadwall, Common Teal and Northern Pintail along with smaller numbers of Common Pochard and Tufted Duck as well as four Ferruginous Duck. Other species noted included Grey-throated Martin, Brown-headed Barbet, Yellow-footed Green Pigeon and a roosting flock of at least 20 Night Herons.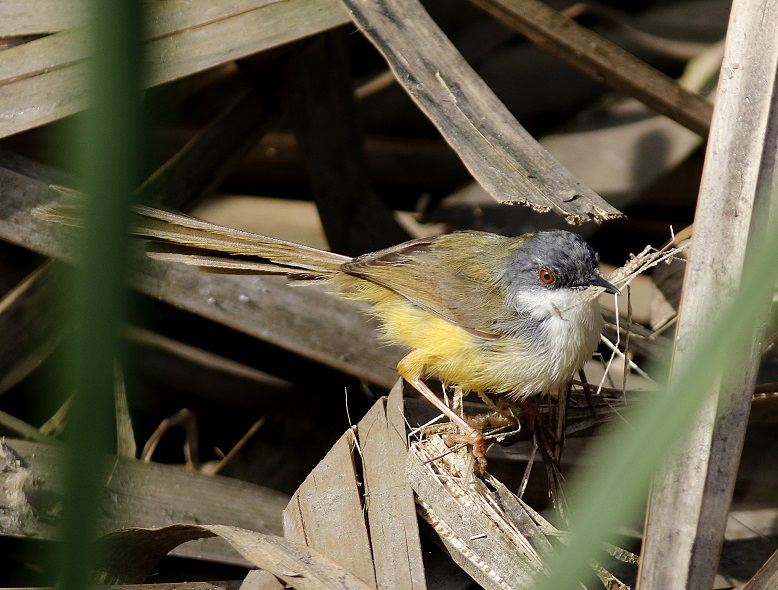 Yellow-bellied Prinia at Okhla Bird Sanctuary. Picture: Andy Warr
The following day we spent the morning at Surajpur Wetland which is located to the south-east of Delhi in Uttar Pradesh. The numbers of wildfowl and waders present here was truly incredible. Northern Shoveler dominated with perhaps more than one thousand present along with several hundred Northern Pintail and smaller numbers of Common Teal, Garganey, Indian Spot-billed Duck and three Ferruginous Duck. Waders were well represented with White-tailed Plover, Marsh Sandpiper, Temminck's Stint and Spotted Redshank being the most notable. Other species included Greater Spotted Eagle, Greater Flamingo, Black-necked Stork, Woolly-necked Stork, Sarus Crane, Zitting Cisticola, Wryneck, Tawny Pipit, Striated Babbler, Hoopoe, Indian Roller, Citrine Wagtail, Siberian Stonechat, Indian Silverbill, Indian Robin, Long-tailed Shrike, Yellow-footed Green Pigeon and Grey-throated Martin.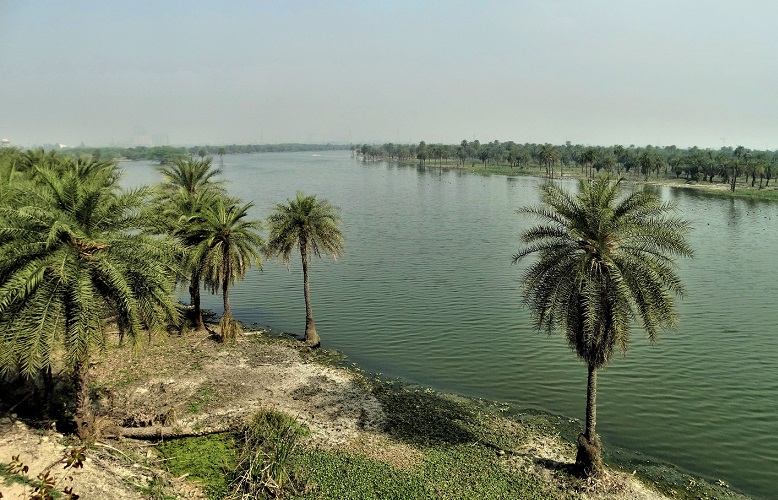 Our last birding session was at Lodhi Garden in the heart of New Delhi where we saw a range of common Indian birds including Indian Grey Hornbill, Brown-headed Barbet, Yellow-footed Green Pigeon and a Hume's Leaf Warbler. It was then time for us to head to Delhi International Airport to catch our flight down to Bangalore from where we would take a direct flight back to London. It was a fantastic trip and I would like to take this opportunity to thank Deepak for showing us so many amazing birds in truly stunning scenery. Also thank you to Mohit, Iqbal and the rest of the team at Asian Adventures for their professionalism particularly in assisting us with our change of return flight schedule and arranging additional accommodation at short notice. Finally, thanks to Andy Warr for the use of his excellent photographs and company.
Written by Brian Stretch
List of species seen during the trip:
1. Bar-headed Goose Anser indicus
2. Greylag Goose Anser anser
3. Ruddy Shelduck Tadorna ferruginea
4. Red-crested Pochard Netta rufina
5. Common Pochard Aythya ferina
6. Ferruginous Duck Aythya nyroca
7. Tufted Duck Aythya fuligula
8. Garganey Spatula querquedula
9. Northern Shoveler Spatula clypeata
10. Gadwall Mareca strepera
11. Eurasian Wigeon Mareca penelope
12. Indian Spot-billed Duck Anas poecilorhyncha
13. Northern Pintail Anas acuta
14. Common Teal Anas crecca
15. Comb Duck Sarkidiornis melanotos
16. Indian Peafowl Pavo cristatus
17. Black Francolin Francolinus francolinus
18. Grey Francolin Francolinus pondicerianus
19. Cheer Pheasant Catreus wallichii
20. Kalij Pheasant Lophura leucomelanos
21. Koklass Pheasant Pucrasia macrolopha
22. Greater Flamingo Phoenicopterus roseus
23. Little Grebe Tachybaptus ruficollis
24. Rock Dove Columba livia
25. Common Wood Pigeon Columba palumbus
26. Oriental Turtle Dove Streptopelia orientalis
27. Eurasian Collared Dove Streptopelia decaocto
28. Red Collared Dove Streptopelia tranquebarica
29. Spotted Dove Streptopelia chinensis
30. Laughing Dove Streptopelia senegalensis
31. Yellow-footed Green Pigeon Treron phoenicopterus
32. Emerald Dove Chalcophaps indica
33. Alpine Swift Tachymarptis melba
34. Little Swift Apus affinis
35. Greater Coucal Centropus sinensis
36. Asian Koel Eudynamys scolopaceus
37. White-breasted Waterhen Amaurornis phoenicurus
38. Purple Swamphen Porphyrio porphyrio
39. Common Moorhen Gallinula chloropus
40. Common Coot Fulica atra
41. Sarus Crane Antigone antigone
42. Painted Stork Mycteria leucocephala
43. Asian Openbill Anastomus oscitans
44. Woolly-necked Stork Ciconia episcopus
45. Black-necked Stork Ephippiorhynchus asiaticus
46. Cinnamon Bittern Ixobrychus cinnamomeus
47. Black-crowned Night Heron Nycticorax nycticorax
48. Indian Pond Heron Ardeola grayii
49. Cattle Egret Bubulcus ibis
50. Grey Heron Ardea cinerea
51. Purple Heron Ardea purpurea
52. Great Egret Ardea alba
53. Intermediate Egret Ardea intermedia
54. Little Egret Egretta garzetta
55. Black-headed Ibis Threskiornis melanocephalus
56. Red-naped Ibis Pseudibis papillosa
57. Glossy Ibis Plegadis falcinellus
58. Little Cormorant Microcarbo niger
59. Great Cormorant Phalacrocorax carbo
60. Indian Cormorant Phalacrocorax fuscicollis
61. Oriental Darter Anhinga melanogaster
62. Pied Avocet Recurvirostra avosetta
63. Black-winged Stilt Himantopus himantopus
64. Little Ringed Plover Charadrius dubius
65. Yellow-wattled Lapwing Vanellus malabaricus
66. Red-wattled Lapwing Vanellus indicus
67. White-tailed Lapwing Vanellus leucurus
68. Pheasant-tailed Jacana Hydrophasianus chirurgus
69. Bronze-winged Jacana Metopidius indicus
70. Black-tailed Godwit Limosa limosa
71. Ruff Calidris pugnax
72. Temminck's Stint Calidris temminckii
73. Little Stint Calidris minuta
74. Common Snipe Gallinago gallinago
75. Green Sandpiper Tringa ochropus
76. Spotted Redshank Tringa erythropus
77. Common Greenshank Tringa nebularia
78. Common Redshank Tringa totanus
79. Wood Sandpiper Tringa glareola
80. Marsh Sandpiper Tringa stagnatilis
81. Barred Buttonquail Turnix suscitator
82. Indian Courser Cursorius coromandelicus
83. Whiskered Tern Chlidonias hybrida
84. Black-winged Kite Elanus caeruleus
85. Egyptian Vulture Neophron percnopterus
86. Himalayan Vulture Gyps himalayensis
87. Mountain Hawk Eagle Nisaetus nipalensis
88. Black Eagle Ictinaetus malaiensis
89. Greater Spotted Eagle Clanga clanga
90. Steppe Eagle Aquila nipalensis
91. Bonelli's Eagle Aquila fasciata
92. Booted Eagle Hieraaetus pennatus
93. Western Marsh Harrier Circus aeruginosus
94. Shikra Accipiter badius
95. Eurasian Sparrowhawk Accipiter nisus
96. Northern Goshawk Accipiter gentilis
97. Brahminy Kite Haliastur indus
98. Black Kite Milvus migrans
99. Himalayan Buzzard Buteo refectus
100. Asian Barred Owlet Glaucidium cuculoides
101. Spotted Owlet Athene brama
102. Brown Wood Owl Strix leptogrammica
103. Indian Grey Hornbill Ocyceros birostris
104. Common Hoopoe Upupa epops
105. Northern Wryneck Jynx torquilla
106. Speckled Piculet Picumnus innominatus
107. Black-rumped Woodpecker Dinopium benghalense
108. Greater Yellow-naped Woodpecker Chrysophlegma flavinucha
109. Lesser Yellow-naped Woodpecker Picus chlorolophus
110. Grey-headed Woodpecker Picus canus
111. Scaly-bellied Woodpecker Picus squamatus
112. Fulvous-breasted Woodpecker Dendrocopos macei
113. Brown-fronted Woodpecker Dendrocopos auriceps
114. Himalayan Woodpecker Dendrocopos himalayensis
115. Rufous-bellied Woodpecker Dendrocopos hyperythrus
116. Great Barbet Psilopogon virens
117. Brown-headed Barbet Psilopogon zeylanicus
118. Blue-throated Barbet Psilopogon asiaticus
119. Coppersmith Barbet Psilopogon haemacephalus
120. Green Bee-eater Merops orientalis
121. Chestnut-headed Bee-eater Merops leschenaulti
122. Indian Roller Coracias benghalensis
123. Common Kingfisher Alcedo atthis
124. Crested Kingfisher Megaceryle lugubris
125. White-throated Kingfisher Halcyon smyrnensis
126. Common Kestrel Falco tinnunculus
127. Peregrine Falcon Falco peregrinus
128. Slaty-headed Parakeet Psittacula himalayana
129. Plum-headed Parakeet Psittacula cyanocephala
130. Red-breasted Parakeet Psittacula alexandri
131. Rose-ringed Parakeet Psittacula krameri
132. Long-tailed Minivet Pericrocotus ethologus
133. Scarlet Minivet Pericrocotus flammeus
134. Black-winged Cuckooshrike Lalage melaschistos
135. Green Shrike-babbler Pteruthius xanthochlorus
136. Common Woodshrike Tephrodornis pondicerianus
137. Black Drongo Dicrurus macrocercus
138. Ashy Drongo Dicrurus leucophaeus
139. Bronzed Drongo Dicrurus aeneus
140. Hair-crested Drongo (Spangled Drongo) Dicrurus hottentottus
141. White-throated Fantail Rhipidura albicollis
142. Long-tailed Shrike Lanius schach
143. Grey-backed Shrike Lanius tephronotus
144. Great Grey Shrike Lanius excubitor
145. Rufous Treepie Dendrocitta vagabunda
146. Grey Treepie Dendrocitta formosae
147. Red-billed Blue Magpie Urocissa erythroryncha
148. Eurasian Jay Garrulus glandarius
149. Black-headed Jay Garrulus lanceolatus
150. House Crow Corvus splendens
151. Large-billed Crow (& sub: Jungle Crow) Corvus macrorhynchos
152. Indian Paradise-flycatcher Terpsiphone paradisi
153. Fire-breasted Flowerpecker Dicaeum ignipectus
154. Purple Sunbird Cinnyris asiaticus
155. Fire-tailed Sunbird Aethopyga ignicauda
156. Black-throated Sunbird Aethopyga saturata
157. Green-tailed Sunbird Aethopyga nipalensis
158. Crimson Sunbird Aethopyga siparaja
159. Orange-bellied Leafbird Chloropsis hardwickii
160. Altai Accentor Prunella himalayana
161. Rufous-breasted Accentor Prunella strophiata
162. Black-throated Accentor Prunella atrogularis
163. Indian Silverbill Euodice malabarica
164. House Sparrow Passer domesticus
165. Sind Sparrow Passer pyrrhonotus
166. Russet Sparrow Passer cinnamomeus
167. Tree Pipit Anthus trivialis
168. Olive-backed Pipit Anthus hodgsoni
169. Rosy Pipit Anthus roseatus
170. Upland Pipit Anthus sylvanus
171. Paddyfield Pipit Anthus rufulus
172. Tawny Pipit Anthus campestris
173. Yellow Wagtail Motacilla flava
174. Grey Wagtail Motacilla cinerea
175. Citrine Wagtail Motacilla citreola
176. White Wagtail Motacilla alba
177. Spot-winged Grosbeak Mycerobas melanozanthos
178. Common Rosefinch Erythrina erythrina
179. Pink-browed Rosefinch Carpodacus rodochroa
180. Brown Bullfinch Pyrrhula nipalensis
181. Plain Mountain Finch Leucosticte nemoricola
182. Yellow-breasted Greenfinch Chloris spinoides
183. European Goldfinch Carduelis carduelis
184. Red-fronted Serin Serinus pusillus
185. Rock Bunting Emberiza cia
186. Fairy-fantail (Yellow-bellied Fantail) Chelidorhynx hypoxanthus
187. Grey-headed Canary-flycatcher Culicicapa ceylonensis
188. Coal Tit Periparus ater
189. Green-backed Tit Parus monticolus
190. Cinereous Tit Parus cinereus
191. Himalayan Black-lored Tit Machlolophus xanthogenys
192. Ashy-crowned Sparrow Lark Eremopterix griseus
193. Indian Bush Lark Mirafra erythroptera
194. Greater Short-toed Lark Calandrella brachydactyla
195. Crested Lark Galerida cristata
196. Zitting Cisticola Cisticola juncidis
197. Striated Prinia Prinia crinigera
198. Grey-crowned Prinia Prinia cinereocapilla
199. Grey-breasted Prinia Prinia hodgsonii
200. Yellow-bellied Prinia Prinia flaviventris
201. Ashy Prinia Prinia socialis
202. Plain Prinia Prinia inornata
203. Common Tailorbird Orthotomus sutorius
204. Clamorous Reed Warbler Acrocephalus stentoreus
205. Red-rumped Swallow Cecropis daurica
206. Barn Swallow Hirundo rustica
207. Eurasian Crag Martin Ptyonoprogne rupestris
208. Grey-throated Martin Riparia chinensis
209. Mountain Bulbul Ixos mcclellandii
210. Black Bulbul Hypsipetes leucocephalus
211. Red-whiskered Bulbul Pycnonotus jocosus
212. Himalayan Bulbul Pycnonotus leucogenis
213. Red-vented Bulbul Pycnonotus cafer
214. Hume's Leaf Warbler Abrornis humei
215. Lemon-rumped Warbler Abrornis chloronotus
216. Buff-barred Warbler Abrornis pulcher
217. Ashy-throated Warbler Abrornis maculipennis
218. Dusky Warbler Phylloscopus fuscatus
219. Common Chiffchaff Phylloscopus collybita
220. Tickell's Leaf Warbler Phylloscopus affinis
221. Whistler's Leaf Warbler Seicercus whistleri
222. Greenish Leaf Warbler Seicercus trochiloides
223. Blyth's Leaf Warbler Seicercus reguloides
224. Grey-hooded Leaf Warbler Seicercus xanthoschistos
225. Grey-sided Bush Warbler Cettia brunnifrons
226. Chestnut-headed Tesia Cettia castaneocoronata
227. Black-faced Warbler Abroscopus schisticeps
228. Brown-flanked Bush Warbler Horornis fortipes
229. Aberrant Bush Warbler Horornis flavolivaceus
230. Black-throated Tit Aegithalos concinnus
231. Lesser Whitethroat Curruca curruca
232. Whiskered Yuhina Yuhina flavicollis
233. Oriental White-eye Zosterops palpebrosus
234. Rusty-cheeked Scimitar Babbler Erythrogenys erythrogenys
235. Black-chinned Babbler Cyanoderma pyrrhops
236. Striated Laughing-thrush Grammatoptila striata
237. Large Grey Babbler Argya malcolmi
238. Striated Babbler Argya earlei
239. Jungle Babbler Turdoides striata
240. White-crested Laughing-thrush Garrulax leucolophus
241. Rufous-chinned Laughing-thrush Garrulax rufogularis
242. White-throated Laughing-thrush Garrulax albogularis
243. Streaked Laughing-thrush Trochalopteron lineatum
244. Chestnut-crowned Laughing-thrush Trochalopteron erythrocephalum
245. Rufous Sibia Heterophasia capistrata
246. Red-billed Leiothrix Leiothrix lutea
247. Blue-winged Minla (Blue-winged Siva) Siva cyanouroptera
248. Goldcrest Regulus regulus
249. Bar-tailed Treecreeper Certhia himalayana
250. Chestnut-bellied Nuthatch Sitta castanea
251. White-tailed Nuthatch Sitta himalayensis
252. Velvet-fronted Nuthatch Sitta frontalis
253. Asian Pied Starling Gracupica contra
254. Common Myna Acridotheres tristis
255. Bank Myna Acridotheres ginginianus
256. Jungle Myna Acridotheres fuscus
257. Brown Dipper Cinclus pallasii
258. Indian Robin Saxicoloides fulicatus
259. Oriental Magpie Robin Copsychus saularis
260. Rufous-bellied Niltava Niltava sundara
261. Small Niltava Niltava macgrigoriae
262. Asian Verditer Flycatcher Eumyias thalassinus
263. Bluethroat Luscinia svecica
264. Slaty-backed Forktail Enicurus schistaceus
265. Spotted Forktail Enicurus maculatus
266. Blue Whistling Thrush Myophonus caeruleus
267. White-tailed Rubythroat Calliope pectoralis
268. Golden Bush Robin Tarsiger chrysaeus
269. Himalayan Bluetail Tarsiger rufilatus
270. Red-breasted Flycatcher Ficedula parva
271. Rufous-gorgeted Flycatcher Ficedula strophiata
272. Ultramarine Flycatcher Ficedula superciliaris
273. Slaty-blue Flycatcher Ficedula tricolor
274. Blue-fronted Redstart Adelura frontalis
275. Blue-capped Redstart Adelura coeruleocephala
276. Plumbeous Water Redstart Rhyacornis fuliginosa
277. White-capped Water Redstart Chaimarrornis leucocephalus
278. Black Redstart Phoenicurus ochruros
279. Chestnut-bellied Rock Thrush Monticola rufiventris
280. Siberian Stonechat Saxicola maurus
281. Pied Bush Chat Saxicola caprata
282. Grey Bush Chat Saxicola ferreus
283. Brown Rock Chat Oenanthe fusca
284. Dark-sided Thrush Zoothera marginata
285. Long-billed Thrush Zoothera monticola
286. Mistle Thrush Turdus viscivorus
287. Grey-winged Blackbird Turdus boulboul
288. Tickell's Thrush Turdus unicolor
289. White-collared Blackbird Turdus albocinctus
290. Chestnut Thrush Turdus rubrocanus
291. Black-throated Thrush Turdus atrogularis
292. Red-throated Thrush Turdus ruficollis