Birding Western India - 2018
16 August 2018 | Admin
Arriving in Delhi during the morning of January 29th 2018 I was keen to check-in to my hotel as quickly as possible and head out for a spot of birding in one of the local parks. Apparently, Delhi has the second highest bird list of any of the world's major cities and Lodhi Garden, located in the heart of New Delhi, would provide me with a convenient way of reintroducing myself to some of the common birds of India as well as the possibility of a few new species. The birds soon came thick and fast and while Black Kite, Indian Grey Hornbill, White-throated Kingfisher, Common Myna, Red-vented Bulbul, Jungle Babbler, Alexandrine and Ring-necked Parakeets were all familiar species from two previous visits to India, a number of new species came surprisingly easily including Yellow-footed Green Pigeon, Pied Myna and, unexpectedly, two Red-naped Ibis. The following day was largely spent at Delhi Zoo, another green oasis in the heart of the city and ideal for seeing many common Indian birds due to the wide variety of habitats provided for the captive animals. The various pools provide safe nesting for good numbers of Painted Storks which offer very close views and careful scrutiny of the colony also revealed a few Indian Pond and Black-crowned Night Herons while huge numbers of Black Kites circled overhead. A wintering flock of White Pelicans was also present and again provided amazingly close views and a few Indian Stone Curlews were located in the Cape Buffalo enclosure along with plenty of Indian Peafowl. Passerines were well represented and included Hume's Leaf Warbler, Eastern Black Redstart, Red-breasted Flycatcher and Oriental White-eye. Species more familiar to British birders included Little Grebe, Little and Great Egrets, Grey Heron, Common Moorhen, Common Coot, Eurasian Teal, Green Sandpiper, Grey Wagtail and Eurasian Collared Dove. Just as I was about to leave, a dark morph Booted Eagle provided close views over the Painted Stork colony as it flew back and forth under a volley of abuse from the local House Crows - a fitting end to an enjoyable day.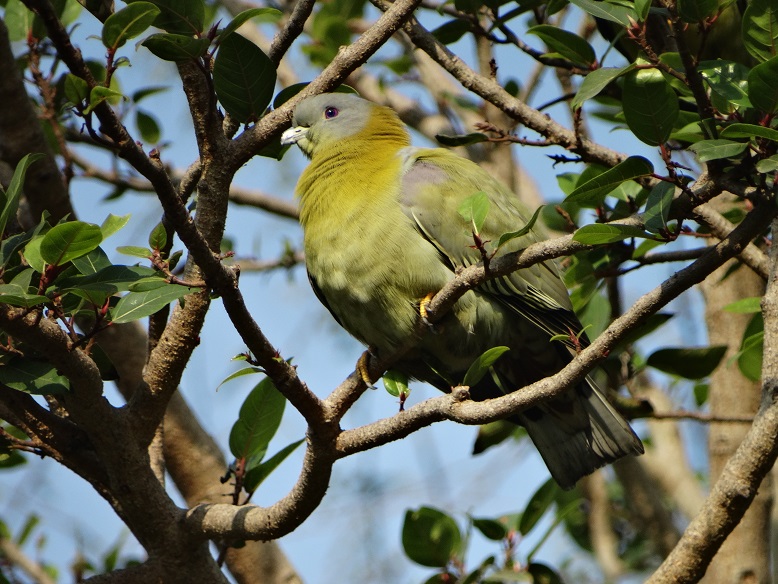 Yellow-footed Green Pigeon at Lodhi Garden, New Delhi
Next day I was back at Delhi airport for a flight to the holy city of Amritsar, located 250 miles north-northwest of Delhi. A large park near the city centre offered many hours of birding entertainment over a couple of days with a similar range of species to that encountered in Delhi although Red Collared Dove was new. A few new trip birds were also located, including Spotted Owlet, Spotted Dove, Coppersmith Barbet and a pair of Black-rumped Flamebacks that afforded astonishingly close views as they busily excavated a nest hole. As great as the birding had been in Delhi and Amritsar, the real reason for being in India was about to become a reality - the beginning of an epic road journey through the states of Punjab, Rajasthan and Gujarat, finishing with a brief visit to Maharashtra.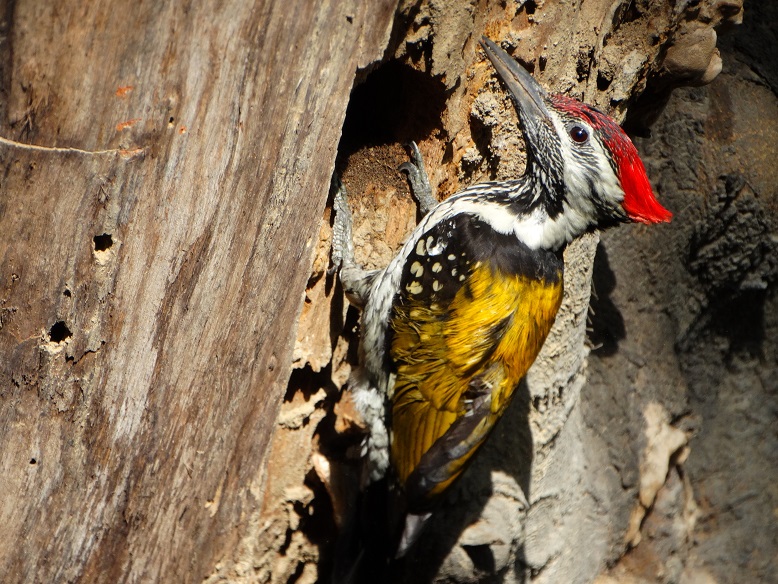 Male Black-rumped Flameback at Amritsar, Punjab
Our first port of call was Harike, in Punjab, a vast wetland surrounded by fertile agricultural land. Upon arriving, it soon became apparent the area was teeming with birdlife and it was hard to know in which direction to look. However, we were here to look for two species in particular and headed to a large stand of Elephant Grass where we were soon treated to great views of the first, Rufous-vented Grass Babbler, closely followed by the second, but far more elusive Jerdon's Babbler. The former has an extremely limited range within Pakistan and India, while the latter, of the western form 'scindicum' was previously believed to occur only in the Indus Valley of Pakistan until it was discovered at Harike by Indian birders as recently as 2012. With our two main targets located it was time to enjoy the impressive supporting cast which included White-tailed Stonechat, Striated Grassbird, Striated Babbler, Yellow-bellied, Graceful and Plain Prinias, Paddyfield Warbler, Siberian Chiffchaff, Bluethroat, Rosy and Water Pipits, Citrine Wagtail, Hen Harrier, White-tailed Plover, Bar-headed Goose and Grey Francolin.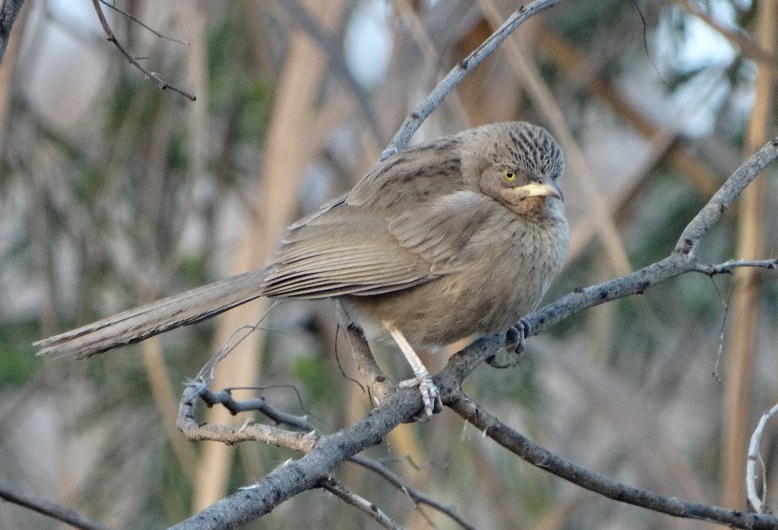 Striated Babbler at Harike, Punjab
Later in the day we visited a site further along the Sutlej River and after some searching located another key target, the range restricted Sind Sparrow. A flock of thirteen birds provided close views as they fed on seed heads just above us. The immediate area also provided further new species for the trip including Indian Spot-billed and Ferruginous Ducks, Red-crested Pochard, Indian, Little and Great Cormorants, Oriental Darter, River and Whiskered Terns, Red Avadavat, Grey-throated Martin and Ashy Prinia. We then returned to Amritsar for an early evening visit to the magnificent Golden Temple.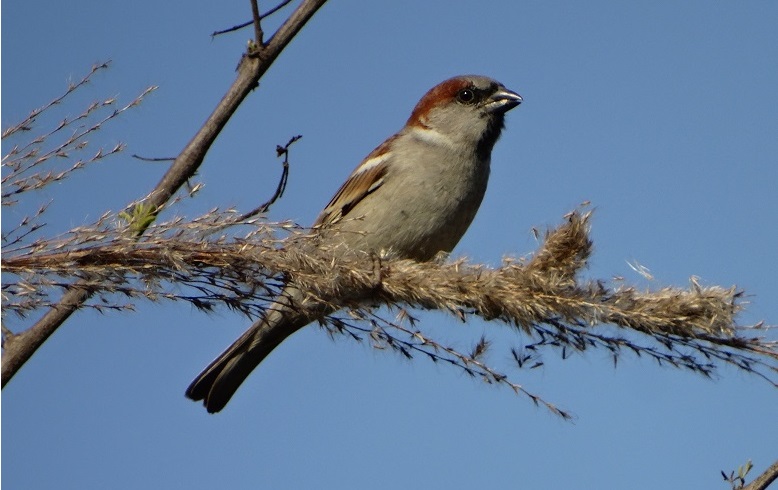 Male Sind Sparrow at Harike, Punjab
The following day was largely spent travelling the 325 miles south to Bikaner in Rajasthan, although we did revisit Harike briefly en route. A small roadside marsh provided us with views of Black Bittern, Yellow-eyed Babbler, White-crowned Penduline Tit, Moustached Warbler and Mountain Chiffchaff amongst the more regular species. As we continued south and left Punjab behind, the landscape became gradually drier and as we entered the state of Rajasthan the true enormity of the mighty Thar Desert became apparent. Although we were keen to reach Bikaner in time for dinner we continued to log new species for our trip lists including Long-legged and Oriental Honey Buzzards, Steppe Eagle, Egyptian Vulture, Demoiselle Crane, Laughing Dove, Indian Roller, Desert and Variable Wheatears, Tawny Pipit and a pair of Laggar Falcons which gave great views with one sat on its nest positioned in a traffic sign above the road while its mate circled overhead.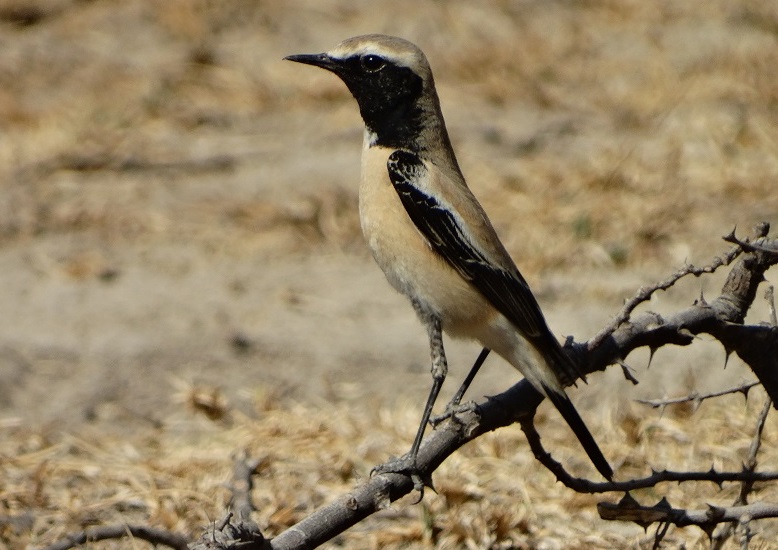 Male Desert Wheatear in Rajasthan
The next morning we travelled 100 miles east to the Tal Chhapar area and birded an area of old thorn forest where we hoped to see Indian Spotted Creeper. Although it took considerable time to locate, the effort was well worth it and we enjoyed outstanding views of this thinly distributed species. During our search we also found many other good birds including White-bellied Minivet, Yellow-crowned Woodpecker, Large Grey Babbler, Common Woodshrike, Indian Silverbill and Rufous-fronted Prinia. Later in the day we visited the nearby wildlife sanctuary, a beautiful area of flat grassland reminiscent of the African savanna. The primary aim of the sanctuary is to conserve a handsome member of the antelope family, the Blackbuck, which thankfully is very common and easy to see here. We also located our first Stoliczka's Bushchat, an endangered species with a restricted range, along with Pallid Harrier, Booted and Steppe Eagles, Long-legged Buzzard and Brown Rock Chat.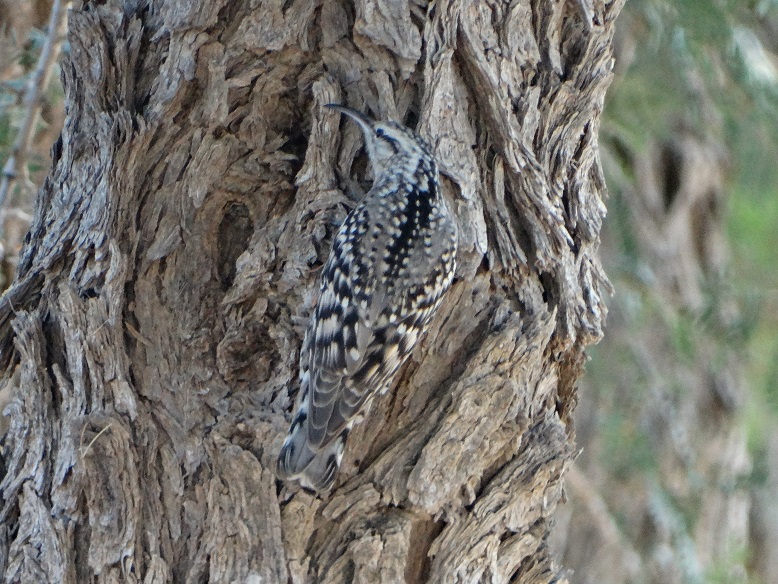 Indian Spotted Creeper at Tal Chhapar, Rajasthan
The following day we made a dawn visit to the famous carcass dump on the outskirts of Bikaner, a magnet for wintering raptors. The sight (and smells!) of hundreds of raptors feeding on camel and cattle carcasses in the early morning light was a truly unforgettable experience. Steppe Eagles and Egyptian Vultures predominated while small numbers of Eurasian Griffon and Cinereous Vultures along with two or three Eastern Imperial Eagles were also present. Interestingly, amongst the hundreds of Egyptian Vultures (belonging to the nominate subspecies), we located one of the resident subspecies, 'ginginianus'. This form is smaller and lacks a dark bill tip and according to preliminary results of an on-going research project is a potential split. Despite this impressive raptor spectacle, the main reason for our visit was to see a rather more humble species, the globally-threatened Yellow-eyed Dove. They are a sparingly distributed winter visitor to the plains of north-western India and we were fortunate to see around 250 birds. Other species included Red-naped Ibis, Southern Grey Shrike, Brahminy Starling, Common Babbler, Greater Short-toed Lark and Desert, Isabelline and Variable Wheatears, including one of the latter of the black-bellied morph 'opistholeuca'.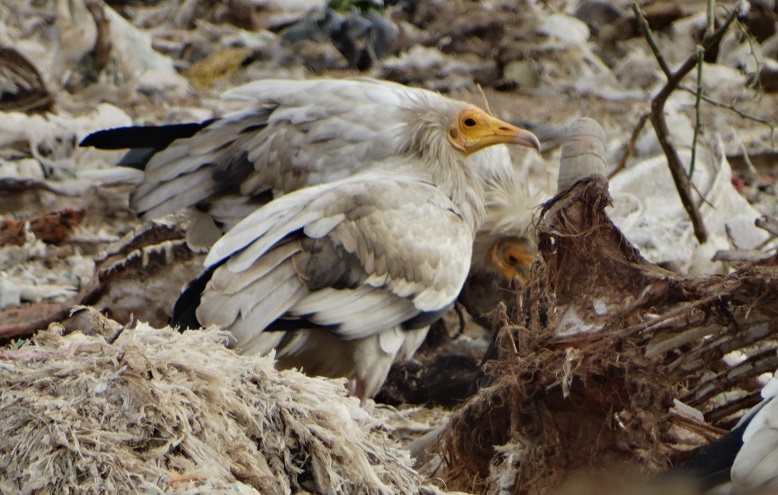 Egyptian Vulture (subspecies, 'ginginianus') at Bikaner Carcass Dump, Rajasthan
From Bikaner we continued our journey across the Thar Desert to the remote village of Khichan, famed for its wintering population of Demoiselle Cranes. However, on arriving at one of the cranes regular drinking pools, it soon became apparent that none were present due to the presence of a Bonelli's Eagle that was dining on a Rock Dove, until it was chased off by a Tawny Eagle! Thanks to the aid of a local crane expert, we located a flock of 500 cranes at another pool nearby and here we also saw Bar-headed Geese, Chestnut-bellied Sandgrouse and Grey-throated Martins. We then continued west to the historic city of Jaisalmer, our base for the next three nights, full of anticipation for the birding that lay ahead in nearby Desert National Park (DNP).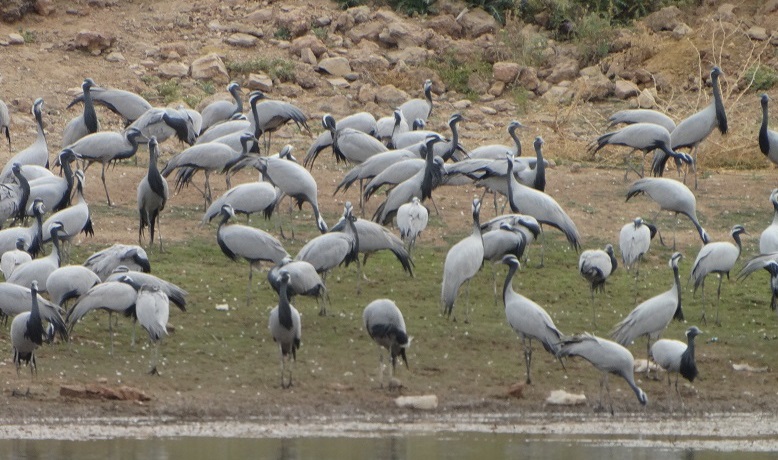 Demoiselle Cranes at Khichan, Rajasthan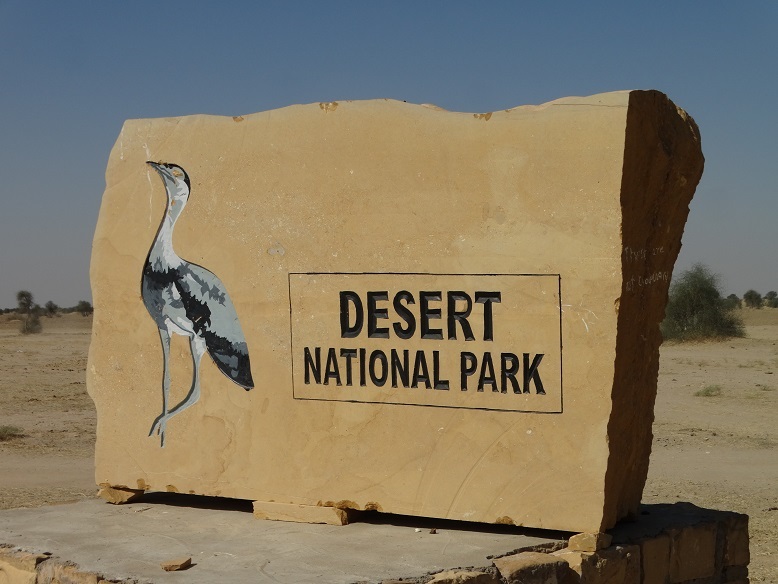 DNP is the last remaining stronghold for Great Indian Bustard, a species that was formerly widespread across Indian grasslands but now critically endangered due to habitat loss, collisions with overhead power cables and wind turbines, illegal hunting and trampling of nests by domestic livestock. With almost no breeding reported for many years, the surviving population of around 125 birds is mainly of ageing adults with the very real prospect that the species will become extinct within the next few years. Our search began just after dawn at the Sudasari Enclosure within DNP, and with no cattle grazing in this area, good grasslands stretch for two to three miles in every direction. After walking to an area of raised ground it wasn't too long before the real reason many of us were on this tour became apparent - views of our very first Great Indian Bustard! The bird was walking in tall grass about two kilometres away and with further scanning it became apparent we were actually watching not one, but a group of three bustards. Later in the morning, as we slowly walked back to the visitor centre, we obtained closer views of the same group of bustards and watched them for a while before they took flight. Other birds included Tawny Eagle, Chestnut-bellied Sandgrouse, Black-crowned Sparrow-lark, Long-billed Pipit, Asian Desert Warbler, three Stoliczka's Bushchats and a male Variable Wheatear of the white-crowned morph 'capistrata', apparently the scarcest of the three morphs that occur.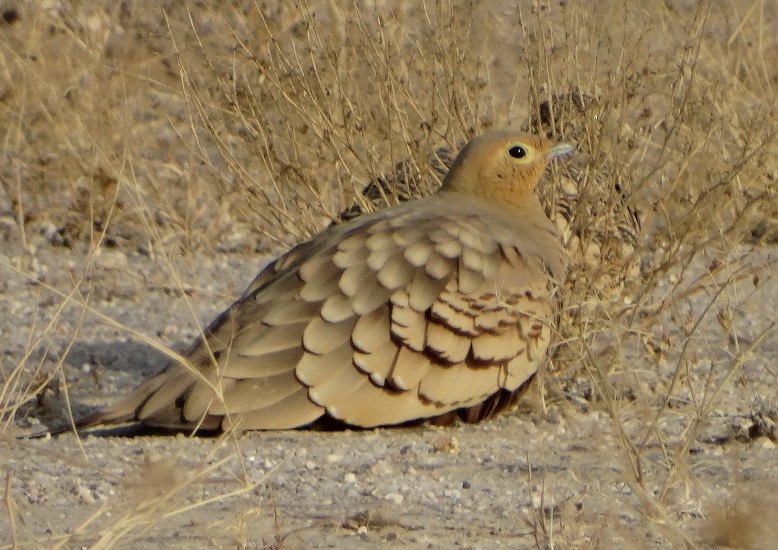 Male Chestnut-bellied Sandgrouse at Desert National Park, Rajasthan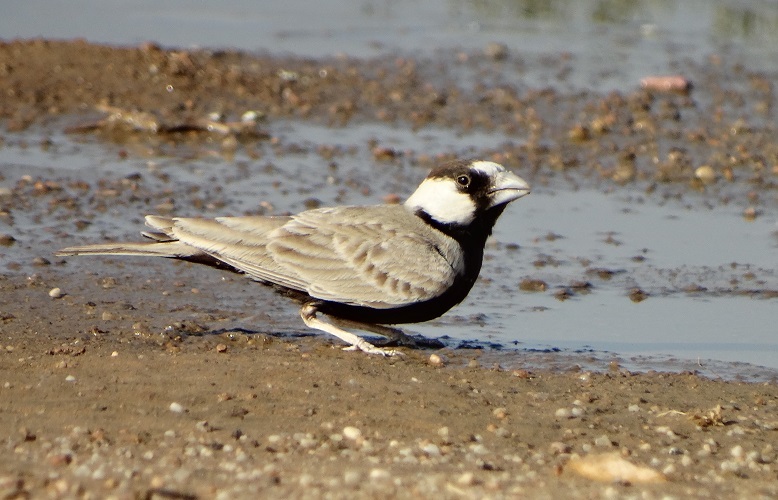 Male Black-crowned Sparrow-lark at Desert National Park, Rajasthan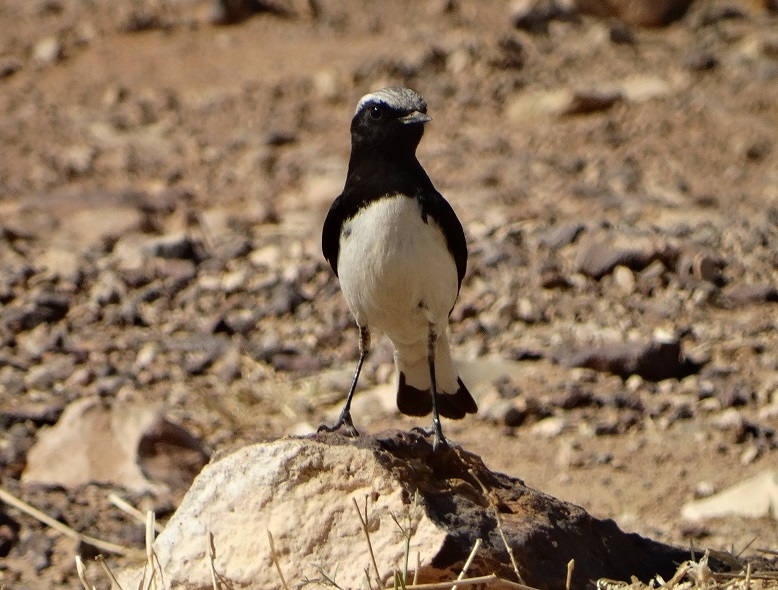 Male Variable Wheatear (white-crowned morph 'capistrata') at Desert National Park, Rajasthan
Later that afternoon we visited Akal Wood Fossil Park, an area of rocky habitat with small stands of trees where further good birds were found including Desert Whitethroat, White-browed Fantail, Masked Wagtail, Desert Lark, Red-tailed Wheatear and Striolated Bunting. The following day we returned to DNP, visiting a different area, again hoping for further views of Great Indian Bustard. We checked a watering hole where thousands of House Sparrows of the migratory subspecies 'bactrianus'/'parkini' (showing some yellow on the bill) were present. They are winter visitors to the area and live a different life from their more urban cousins of the subspecies 'indicus' (showing an entirely black bill), which occupy the towns and cities of India. Other birds encountered included our first Indian White-rumped Vultures as well as further Eurasian Griffon, Egyptian and Cinereous Vultures, another Stoliczka's Bushchat, good numbers of Black-crowned Sparrow-larks, several large flocks of Bimaculated Larks, Variable Wheatears, three 'Punjab' Ravens and finally, after some prolonged scanning from another area of raised ground, a group of four Great Indian Bustards. Later we returned to Akal Wood Fossil Park where we saw a similar range of species to the previous visit but with the addition of Trumpeter Finch.
Next day we headed south and then east on a long and tortuous journey to the remote village of Siana. This area offers an opportunity to see some difficult to find species in the sparsely inhabited area of rocky hills and plains that surround the village. We encountered many species during our stay including Red-necked Falcon, Indian Eagle Owl, Common Quail, Indian Thick-knee, Dusky Crag Martin, Ashy-crowned Sparrow-lark, White-bellied Minivet, Grey-necked, Striolated, Black-headed and White-capped Buntings, Sykes's Warbler, Cinereous Tit, yet another four Stoliczka's Bushchats and two Indian Vultures, including one at a nest site located high up on a cliff face.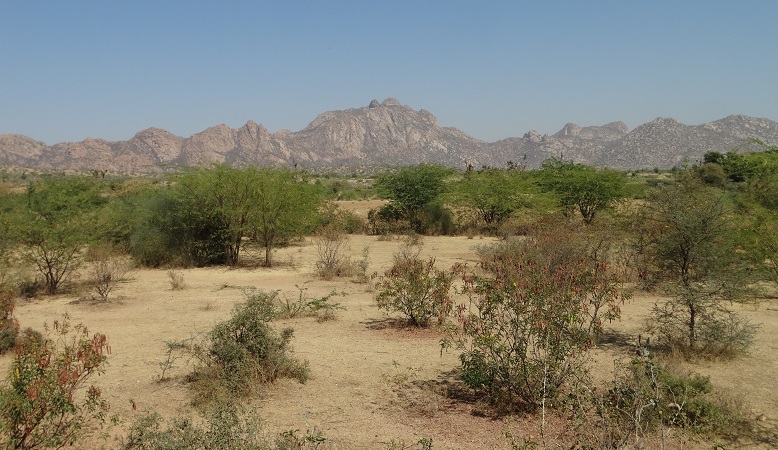 Semi-desert surrounding Siana, Rajasthan
Following our success at Siana it was time to head further south and on to Mount Abu. This is the best known site for the rare Green Avadavat which we located soon after arriving and despite being very mobile, they provided great views. Other birds here included Common Buzzard, White-bellied Drongo, Indian Black-lored Tit, White-spotted Fantail, Sulphur-bellied Warbler, Crested Bunting and Brown Rock Chat. Next morning we spent a couple of hours birding the densely forested mid-elevations of the mountain, where we had brief views of Red Spurfowl, exceptional views of Indian Scimitar Babbler, as well as Grey-headed Canary Flycatcher, Oriental White-eye and Yellow-eyed Babbler. Our visit to Mount Abu was over all too soon and it was now time to leave Rajasthan behind and head to our next destination in the neighbouring state of Gujarat. During our journey, good birds continued to be seen, the undoubted highlight being a Sarus Crane on a roadside marsh. This majestic species is becoming increasingly scarce across India and was an unexpected bonus.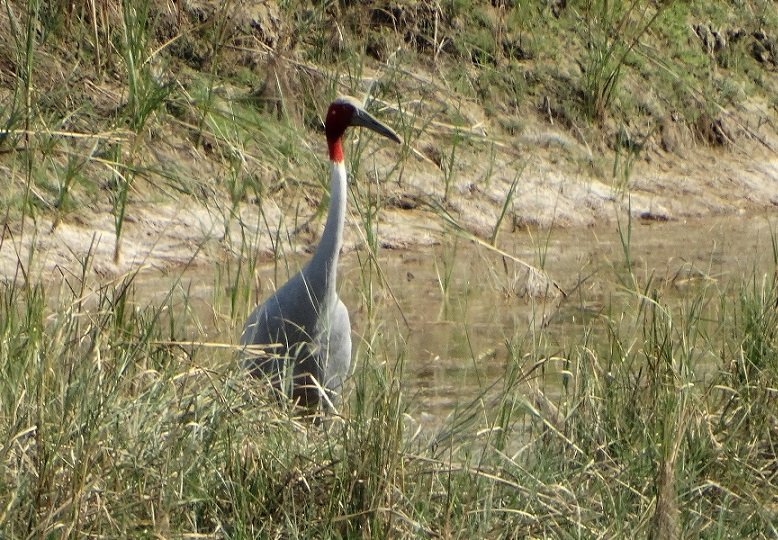 Sarus Crane, Rajasthan
We arrived at the Desert Coursers Camp, located near Zainabad on the edge of the vast salt flats of the Little Rann of Kutch, late in the afternoon. We were greeted by the owner of the camp, Mr Malik, who was keen to show us a very special bird, a Eurasian Scops Owl, a rarity in India, along with one of the more regular Pallid Scops Owls, both of which were wintering in the camp grounds. Afterwards we headed out in open top vehicles to the Little Rann of Kutch and en-route logged Cotton Pygmy Goose, Montagu's Harrier and a few Common Cranes. We waited until dusk before commencing the search for our main target species, Sykes's Nightjar. Mr Malik announced that it usually takes approximately twenty minutes to locate the first individual and if we were lucky we may also encounter Indian Nightjar, although on average they could only be expected for every ten Sykes's. The search involved us being driven around the favoured areas at some considerable speed, the driver steering and changing gear with one hand while holding a spotlight in the other, scanning the ground for the reflection of a nightjar's eyes. However, a couple of hours later and we were nightjar-less, much to the dismay of the group, but probably more so for Mr Malik who clearly felt a strong sense of pride in showing birders 'his' nightjars. He was certainly not going to allow us to return to the camp until we had seen Sykes's Nightjar and so the search continued. Fortunately, our luck changed and amazingly the first nightjar we located was an Indian which gave really close views. Satisfied with our encounter, we soldiered on and were eventually rewarded with not one, but two Sykes's Nightjars, one of which provided astonishingly close views on the ground. Our long night drive also produced two Macqueen's Bustards in flight, Short-eared Owl, Bengal Fox and a rare encounter with an Indian Hedgehog before we made a hasty retreat back to camp for a very late dinner.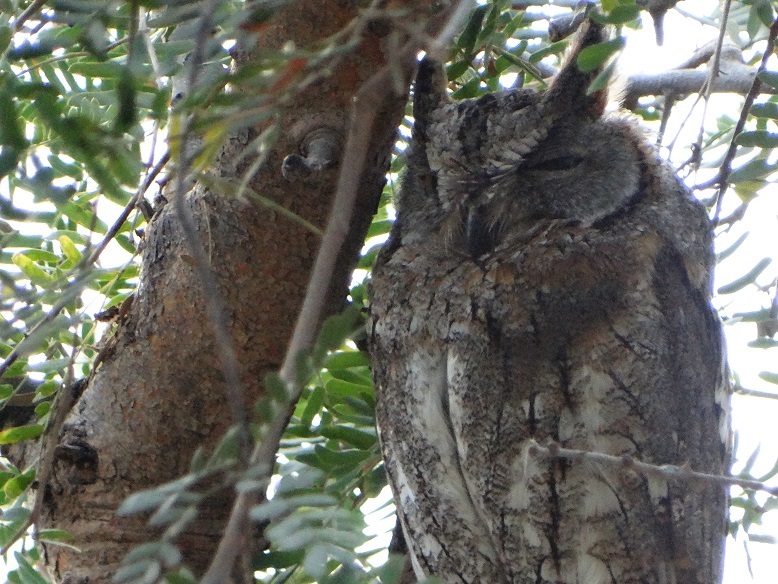 Eurasian Scops Owl at Little Rann of Kutch, Gujarat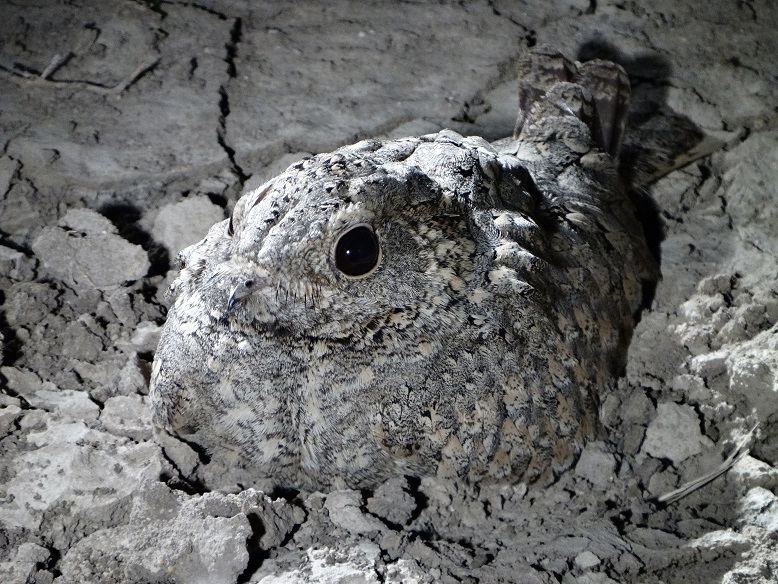 Sykes's Nightjar at Little Rann of Kutch, Gujarat
Next morning we were out early, returning to the Little Rann of Kutch in our quest for day time views of Macqueen's Bustard, a winter visitor to this part of India from Central Asia and another bustard species in trouble due to habitat change and hunting. However, despite many hours of bumping around in the back of a truck with our faces thickly covered in dust, our search ended in vain. Back at camp for a clean-up followed by lunch, two Purple-rumped Sunbirds entertained us and were an unexpected addition to our trip list. In the afternoon some of our group returned to the area we had searched in the morning and on the way out we saw several Bay-backed Shrikes and Rufous-tailed Larks. This time luck was on our side and we successfully located two Macqueen's Bustards and also had good views of Long-legged and White-eyed Buzzards. Buoyed by our success we then headed out in to the vastness of the salt flats to an area of remote salt pans and after a short while located another welcome target species, the localised Sand Lark, of the prominently streaked 'krishnakumarsinhji' subspecies. Listening to the lark singing against a completely silent background, in such a dry, featureless landscape where the horizon and sky often appeared to merge in to one, was a truly magical moment. We then returned to the vehicle and as we headed back towards camp at high speed across the salt flats reflecting on a successful afternoon, we were greeted by the sight of Mr Malik sat in his vehicle. As we pulled up alongside, he casually announced 'anyone for tea?'! On our last morning in the Zainabad area we were treated to very brief views of a Sirkeer Malkoha while thousands of Demoiselle Cranes filled the sky as they spread out over the plains from their roosting area. We then visited nearby Navra Talav Lake, a superb wetland that makes the average British wetland look like a village pond. It was full of herons, egrets, flamingos, cranes, pelicans, wildfowl and waders for as far as the eye could see, while the dryer areas surrounding the lake held shrikes and wheatears. Headline birds here included Great Thick-knee, White-tailed and Pacific Golden Plovers, Marsh and Wood Sandpipers, Temminck's Stint, Collared and Small Pratincoles, Dalmatian Pelican, Greater Flamingo, Woolly-necked Stork, Greater Spotted and Tawny Eagles, Desert and Isabelline Wheatears, Citrine Wagtail and Isabelline Shrike. Sadly, it was time to leave this bird rich area and head for the Bhuj region of western Gujarat, where further good birding awaited us.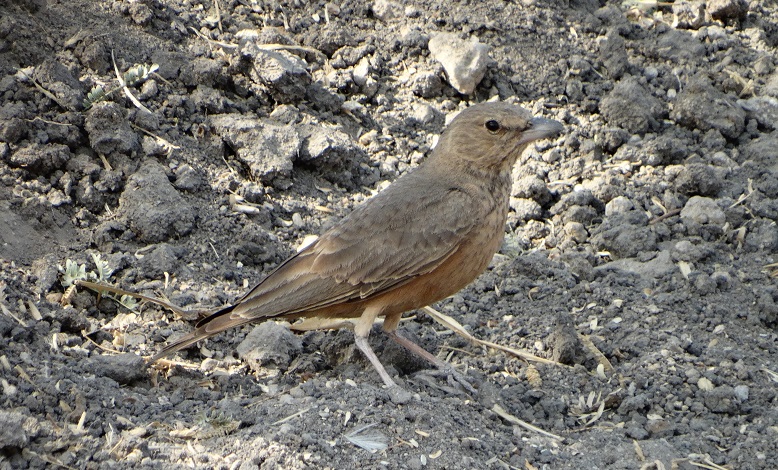 Rufous-tailed Lark at Little Rann of Kutch, Gujarat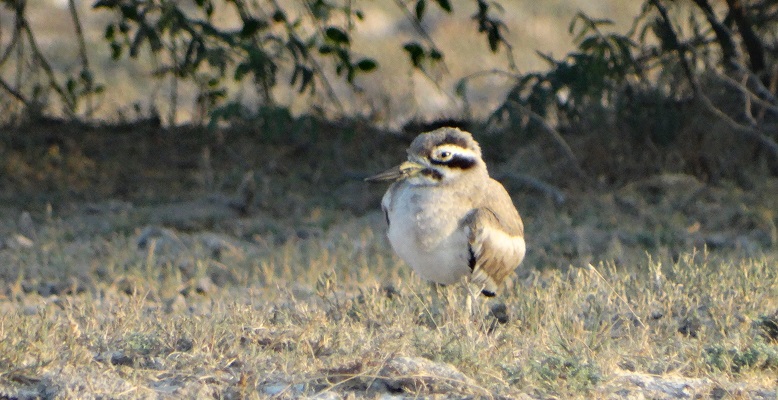 Great Thick-knee at Navra Talav Lake, Gujarat
We reached our base at CEDO (Centre for Desert and Ocean) near Nakhatrana late in the afternoon and a short spell of birding in the immediate vicinity produced plenty of common birds including Brown Rock Chat, Grey-breasted Prinia, Tawny Pipit and the wonderful sound of Asian Koel. Another early start next morning found ourselves walking along the Khawda road, searching for one of the 'star' birds of the trip, the Grey Hypocolius. We had excellent views of five or six birds as they fed on the berries of the Peelu trees (salvadora persica) that occur along the roadside while we also saw our first Marshall's Iora and a male Black-headed Bunting. Later we visited a pool which held good numbers of birds including River and Whiskered Terns, Marsh and Wood Sandpipers, Yellow-wattled Lapwing, Temminck's Stint and Chestnut-bellied Sandgrouse. Nearby, we were treated to really good views of a singing Indian Bush Lark while at another pool we saw Red-naped Ibis, Painted Stork and yet another Temminck's Stint. The afternoon saw us visiting new areas in search of Painted Sandgrouse and we found several obliging individuals by the side of the road. We also visited a traditional site for Sykes's Lark, an Indian endemic, seeing at least five individuals, while a little further along a dusty track we obtained brief but good views of Barred Buttonquail out in the open. Later we visited an area of thorn forest, the domain of the highly localised and critically endangered White-naped Tit and were fortunate to locate two vocal birds which performed exceptionally well for us.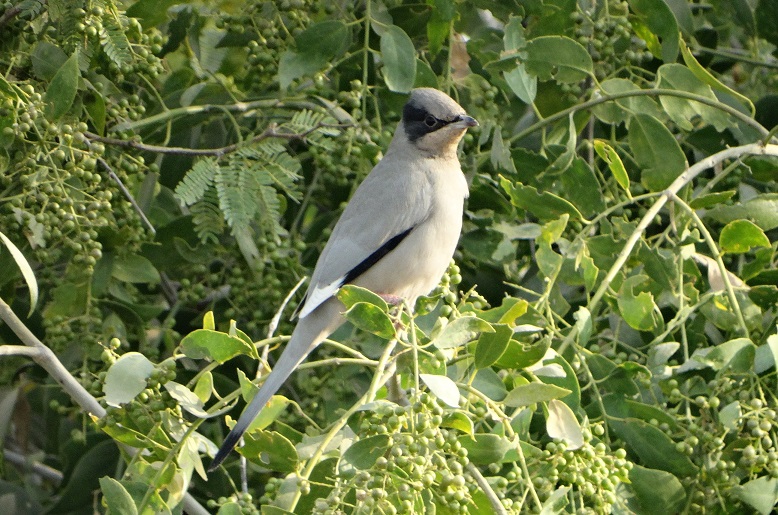 Male Grey Hypocolius
Early next morning we headed north and visited a small wetland which held Streaked Weaver, Clamorous Reed Warbler, Bluethroat and Brown Shrike. We eventually reached the Great Rann of Kutch, a vast arid area in the north-west of Gujarat extending over the border to Pakistan. We visited the Banni grasslands located along the southern edge and were soon watching our target bird, Spotted Sandgrouse. We counted around sixty individuals visiting a watering hole while Southern Grey Shrike, Desert Wheatear and both Crested and Greater Short-toed Larks were also present. Later we visited another area in search of Cream-coloured Courser and eventually located a flock of five individuals.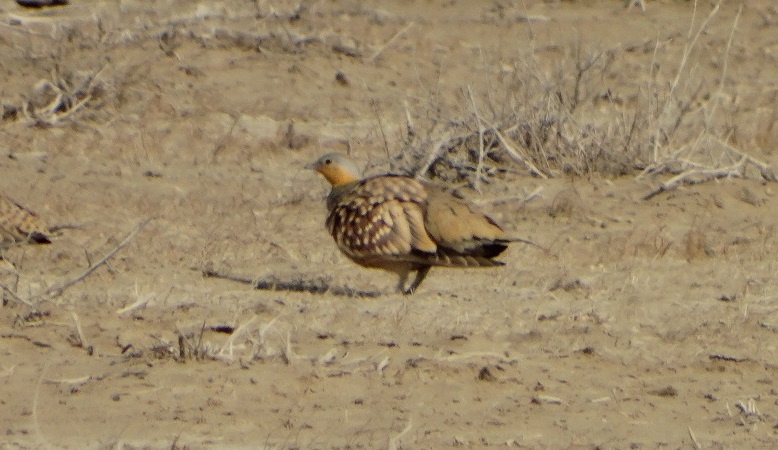 Spotted Sandgrouse at Great Rann of Kutch, Gujarat
After a very successful morning we headed south and en route to the coast paid a brief visit to Rudramata Dam Reservoir where we had distant views of two Black-necked Storks which completely dwarfed a Grey Heron nearby, while we also noted an Asian Openbill, Spoonbill and our only Osprey of the trip. After a couple of hours we arrived on the Modhva coast near Mandvi just as the tide started to recede. We headed for the beach and quickly added a number of species to our ever growing trip list including Caspian, Lesser Crested and Little Terns, Brown-headed, Great Black-headed and Slender-billed Gulls as well as two forms of Lesser Black-backed Gull. Waders were well represented including Kentish, Lesser and Greater Sand Plovers but there was one species we really wanted to see and the main reason for our visit to this stretch of coast, the amazing looking Crab-plover. We counted no less than 13 individuals roosting amongst the gulls or feeding in the surf. Further up the beach we located five Sand Larks while Indian Courser involved considerably more effort, but after driving and scanning the nearby fallow fields we managed to locate a single bird which gave great views.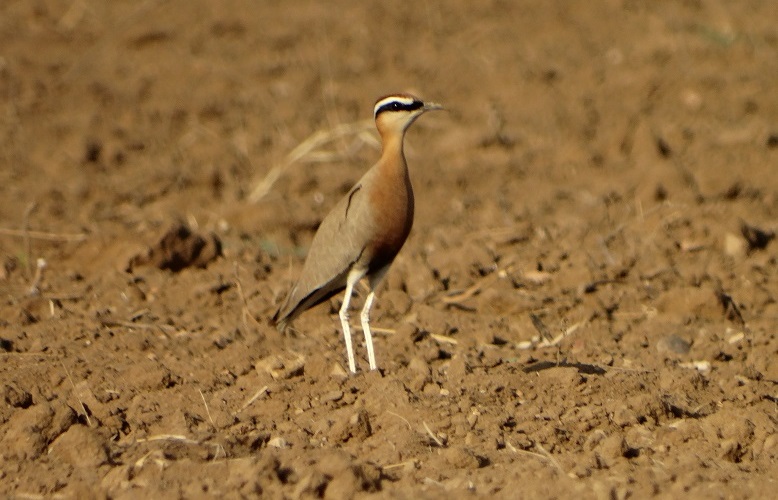 Indian Courser at Mandvi, Gujarat
Our last morning in the Bhuj region had come all too quickly but there were still two target species which this area had yet to reveal: Sirkeer Malkoha and Rock Bush Quail. Our search in the thorn forest for the Malkoha proved successful with good views of this often secretive species. We also saw White-naped Tit, Indian Bush Lark, Marshall's Iora, Small Minivet, Common Woodshrike, Sykes's and Eastern Orphean Warblers, Ashy-crowned Sparrow-lark and Grey-necked Bunting. Later we had great views of a family party of Rock Bush Quails, a couple of Marshall's Ioras and a singing Jungle Prinia. Back at CEDO, a short birding session produced good numbers of Siberian Chiffchaffs and Lesser Whitethroats and a brief Brown Shrike. It was then time to leave Gujarat and head to Bhuj airport for a short flight to Mumbai, This vast city, one of the most populous in the world, has notoriously congested roads which we experienced first-hand, eventually reaching our hotel in Nasik just after midnight. After such a shattering journey, we had a relatively late start and headed to Tansa Wildlife Sanctuary, seeing Blue Rock Thrush and four Dusky Crag Martins en route. Our main target species at Tansa was Forest Owlet, a species considered extinct until it was rediscovered in north-west Maharashtra in 1997 after a gap of 113 years. We were extremely fortunate to find this owlet relatively quickly, hiding amongst large leaves in the mid-canopy and we spent some time admiring this very rare bird.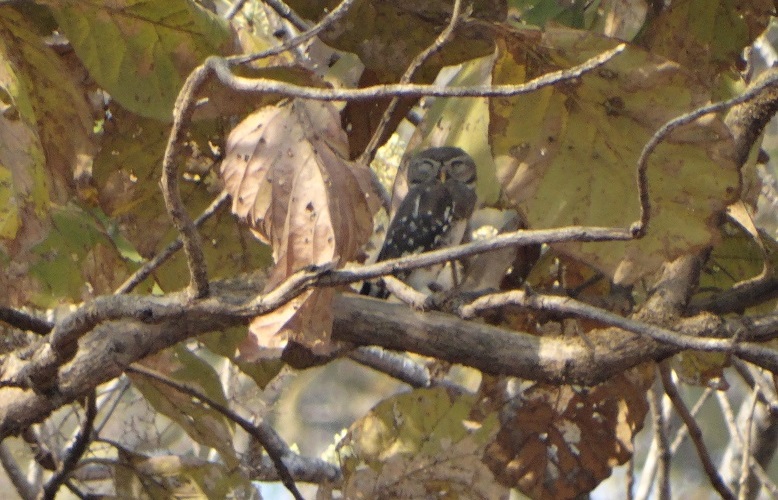 Forest Owlet at Tansa Wildlife Sanctuary, Maharashtra
Later in the day we found many good birds, including Vigors's Sunbird, White-eyed Buzzard, Crested Treeswift, Asian Palm Swift, Alpine Swift, Brown-capped Pygmy, White-naped and Yellow-crowned Woodpeckers, Common Iora, Greater Racket-tailed Drongo, Black-naped Monarch, Indian Paradise Flycatcher, Cinereous Tit, Eurasian Crag Martin, Sulpur-bellied and Western Crowned Leaf Warblers, Common Woodshrike, Golden-fronted Leafbird, Taiga Flycatcher, Thick-billed and Pale-billed Flowerpeckers and a stunning male Blue-capped Rock Thrush. After sunset we spent some time searching for Mottled Wood Owl and managed to hear the distant calls of three different birds, also seeing a Savanna Nightjar briefly in the process. By now it was getting late but on the way back to the hotel we decided to check one more owl territory and struck lucky with a magnificent pair of Mottled Wood Owls that performed amazingly well. On our final morning we returned to Tansa and spent a couple of hours birding a forested area which produced, amongst others, a White-naped Woodpecker, two Indian Paradise Flycatchers and a superb male Malabar Trogon - a fitting end to what had been a hugely enjoyable and successful trip recording no fewer than 330 bird species. Brian Stretch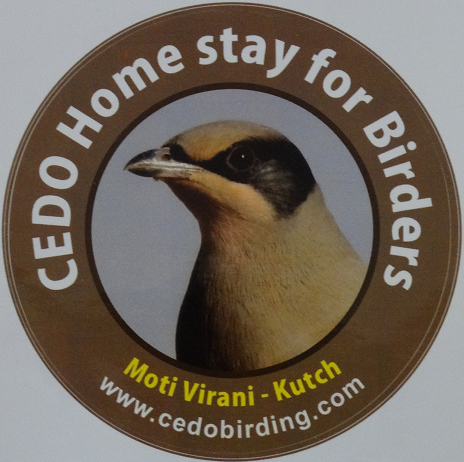 The Centre for Desert and Ocean Camp (CEDO) is highly recommended as a base when staying in Gujarat. Operated by professional naturalists who know the best sites and their wildlife. For further information, click on the image above.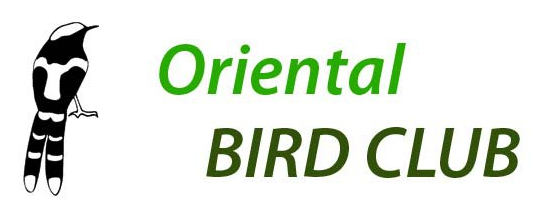 The Oriental Bird Club is a UK registered charity for birders and ornithologists around the world who are interested in birds of the Oriental region and their conservation.