Birding Goa, India - 2016
26 July 2016 | Admin
The Indian state of Goa is often considered an ideal destination as an introduction to Oriental birding. It is easily accessible from the UK, very safe and welcoming with, at least during the period November to March, a pleasant climate and most importantly the birding is superb.
Andy Warr and I spent two weeks birding around North Goa earlier this year. We flew with Thomson's from Gatwick on one of their comfortable Boeing Dreamliner aircraft, the flight taking just under 10 hours. Even though it was dark when we arrived in the early hours of January 28th, birding started as soon as we stepped out of Dabolim Airport. House Crows could be heard calling in trees while we waited for our bus to the Marinha Dourada Hotel. Located at Arpora, this hotel has been a firm favourite with birders for the past two decades and although it is now in need of upgrading it does provide an ideal base. This is due to it being within easy walking distance of many key birding sites, including Arpora Woods, Baga Hill and Baga Fields while the hotel grounds and nearby pools can also be very productive.
It was dawn by the time we arrived at the hotel, and once checked in we were off birding. Concentrating our efforts around the hotel grounds and adjacent pools we were soon familiarising ourselves with some of the commoner birds of the area including White-browed Wagtail, White-throated and Stork-billed Kingfishers, Brahminy and Black Kites, Booted Eagle, Osprey, Shikra, Barn, Red-rumped and Wire-tailed Swallows, Scaly-breasted and White-rumped Munias, Ashy Drongo, Oriental Magpie Robin, Alexandrine, Plum-headed and Ring-necked Parakeets, Common Tailorbird, Asian Koel, Red-whiskered Bulbul, Blue-tailed and Green Bee-eaters, Jungle Myna, Asian Paradise and Asian Brown Flycatchers, Southern Coucal, White-cheeked Barbet, Long-tailed Shrike, Indian Yellow Tit, Greenish and Blyth's Reed Warblers, Rufous Treepie, Chestnut-tailed and Rose-coloured Starlings, Purple-rumped Sunbird, White-breasted Waterhen, Indian Pond and Striated Herons, Cattle, Great White, Intermediate and Little Egrets and Little Cormorant. Surprisingly, it was here where we saw our only Pale-billed Flowerpecker of the trip.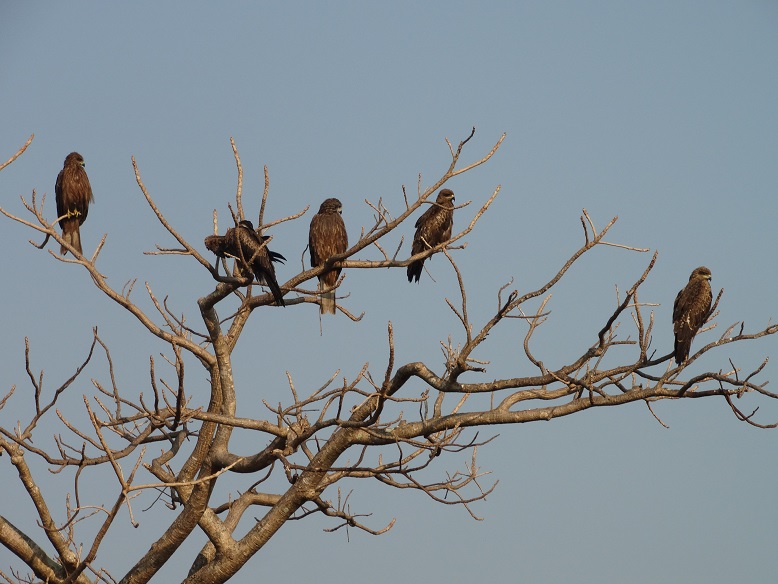 Black Kites at Baga Hill. Picture: Brian Stretch
Black Kites at Baga Hill. Filmed by Brian Stretch
Our daily routine often started around dawn at 6am and continued through to late morning by which time birding became less productive as birds were more elusive during the heat of the day. Occasionally we would plough on, especially when in more open areas or by water as there was always something to see. Late afternoon to dark at around 6pm was always a magical time as birds again became more conspicuous as they headed off to roost for the night.
Over the following two days we explored the aforementioned local hotspots of Baga Hill, Baga Fields and Arpora Woods. The former site brought us our first endemic of the trip, the stunning Vigor's Sunbird around the gardens along the route up the hill along with numerous Purple and Purple-rumped Sunbirds. Our first Indian Peafowl of the trip was also seen along the summit ridge, together with Indian Robin, Indian Golden Oriole, Rose-coloured Starling, Common Myna, Thick-billed and Nilgiri Flowerpeckers, Golden-fronted and Jerdon's Leafbirds, Tickell's Blue Flycatcher, White-browed Bulbul, White-spotted Fantail, Spotted Dove, Small Minivet, Common Iora, Coppersmith Barbet, Little Swift and Oriental Honey Buzzard. Nearby, Baga Fields is an extensive area of damp grassland, cultivated fields and scrubby margins and provided our first views of Black Drongo, Indian Roller, Pied Bushchat, Brown Shrike, Siberian Stonechat, Malabar Lark, Paddyfield Pipit, Plain Prinia and Pintail Snipe together with more familiar European species including Marsh Harrier, Hoopoe, Red-rumped Swallow, Tree Pipit, Bluethroat and Zitting Cisticola. Arpora Woods provided more arboreal species including Loten's Sunbird, Bar-winged Flycatcher Shrike, Common Woodshrike, Chestnut-headed Bee-eater and Ashy Woodswallow, while the nearby pools offered a good selection of waders including Lesser Sand Plover, Red-wattled Lapwing, Pacific Golden Plover, Marsh Sandpiper, Wood Sandpiper and Temminck's Stint.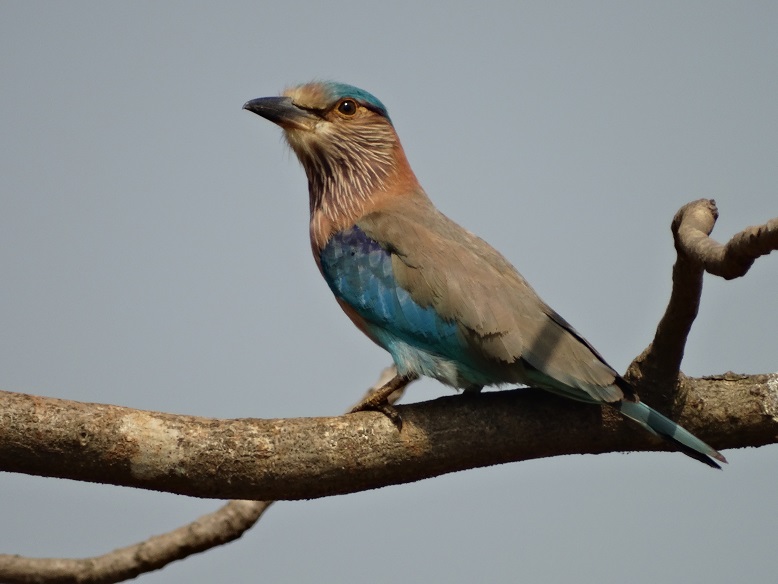 Indian Roller at Arpora. Picture: Brian Stretch
The time had arrived for what we anticipated would be the highlight of the trip, four days in the mountains and jungles of the Western Ghats, staying at the famous Backwoods Camp. We were collected from the hotel at 4.30am along with six other birders who were also staying at the Marinha Dourada: David Ousey, Bob Kenworthy, Steve Brown, Billy Jackson, Mark Gibson and Dougie Dickson. Two hours later we arrived in birding paradise and as soon as we stepped off the mini-bus there were birds everywhere: Orange Minivet, Malabar Grey Hornbill, Blyth's Starling, Grey-breasted Prinia, Spangled Drongo, Brown-capped Pygmy Woodpecker, Black-hooded Oriole, Crested Treeswift, Chestnut-shouldered Petronia, Brown-headed Barbet and the state bird of Goa, Flame-throated Bulbul. Once settled in to our chalets and fortified by a Backwoods breakfast we were taken on a guided walk around the camp by Leio, one of the camp's founding partners. Within minutes we were watching Greater Flameback, Orange-headed Thrush, Sri Lankan Frogmouth, Black-naped Oriole, Yellow-browed Bulbul, Golden-fronted Leafbird, Crested Serpent Eagle, Indian Swiftlet and Malabar Parakeet. We also made our first visit to the wonderful Tambdi Surla Temple, set amongst pristine jungle habitat. Here we noted our first Malabar Whistling Thrush, Indian Blue Robin, White-bellied Blue Flycatcher, Malabar Barbet and Mountain Imperial Pigeon while Black and Legge's Hawk Eagles were seen over a distant ridge. On our return to Backwoods Camp we were dropped off at the start of the entrance track to walk the remainder of the route and while doing so we saw three flyover Great Hornbills. The real purpose of the exercise though was to provide us with views of one of the 'stars of the show': Indian Pitta. After several minutes we were afforded good views as a single bird fed along the track. On a subsequent visit to Tambdi Surla we visited after dusk and had good views of a perched Jerdon's Nightjar.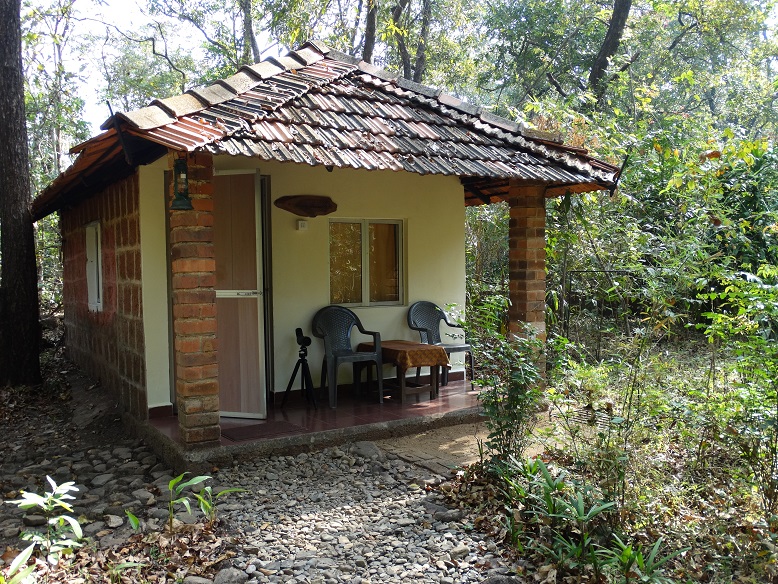 Chalet at Backwoods Camp. Picture: Brian Stretch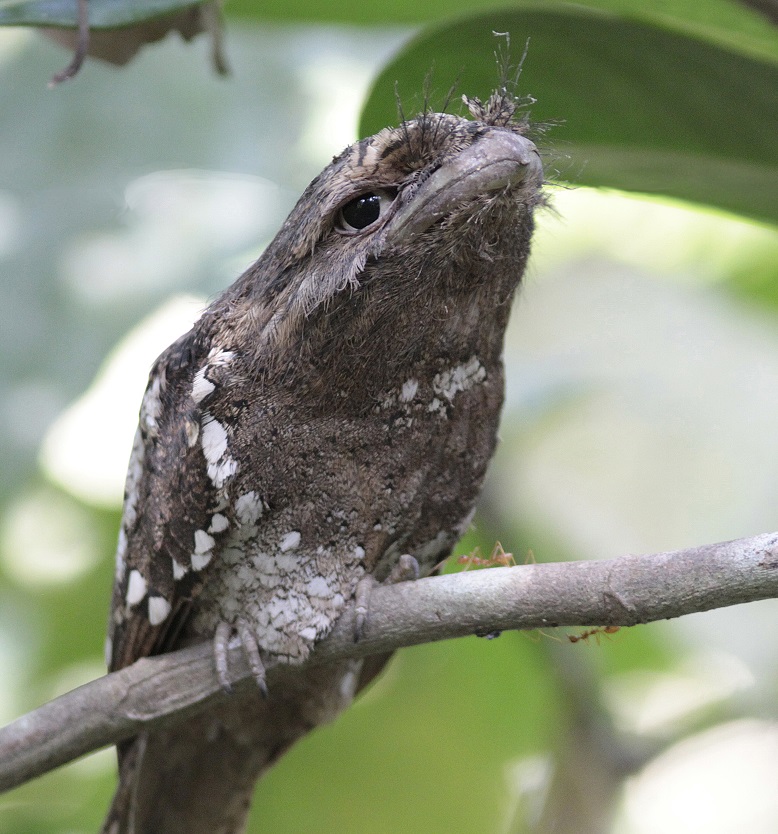 Sri Lankan Frogmouth at Backwoods Camp. Picture: Andy Warr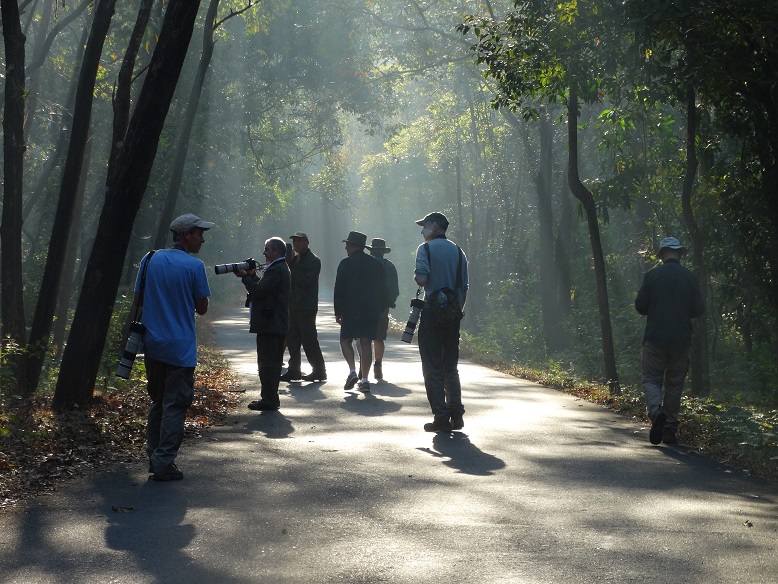 Birding near Backwoods Camp. Picture: Brian Stretch
Spangled Drongo at Backwoods Camp. Filmed by Brian Stretch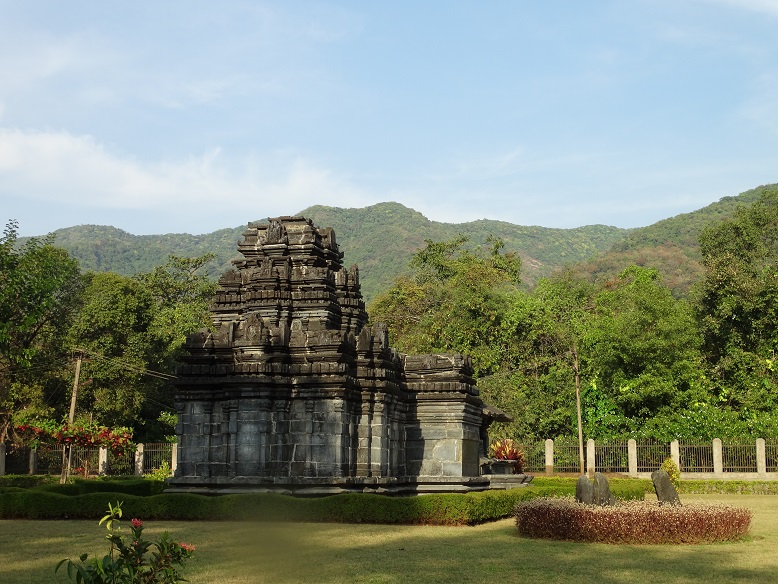 Tambdi Surla Temple. Picture: Brian Stretch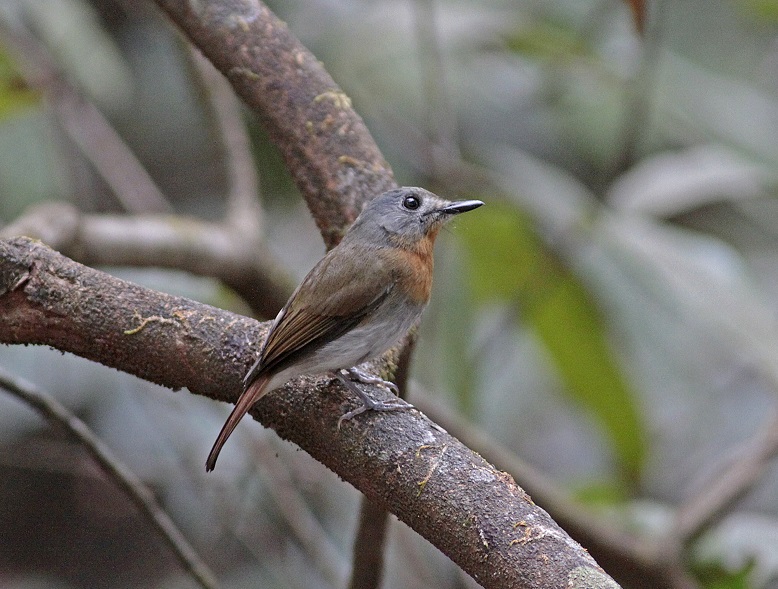 Female White-bellied Blue Flycatcher at Tambdi Surla. Picture: Andy Warr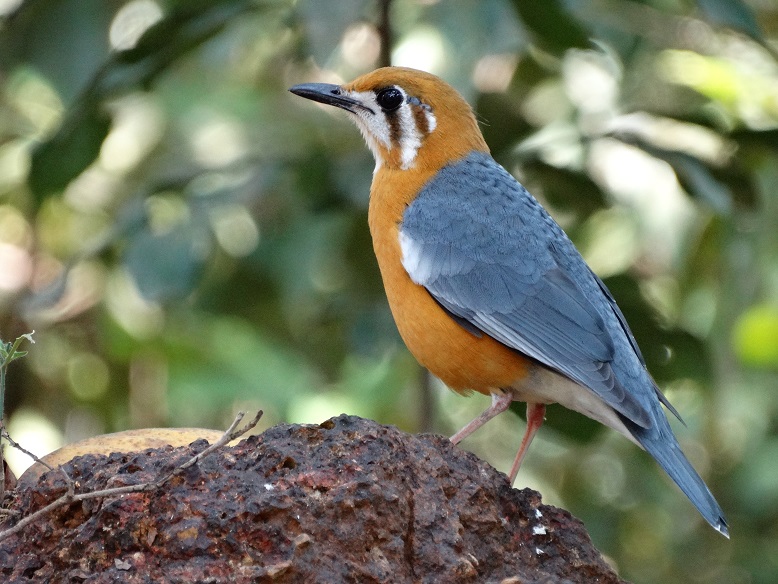 Orange-headed Thrush at Backwoods Camp. Picture: Brian Stretch
The daily routine at Backwoods Camp is tea or coffee and biscuits at 6.30am then out birding until around 10am, back for breakfast then out again until lunch at around 1pm. The afternoon is then free to either bird the local area or rest before another trip late afternoon/early evening before dinner. We took several walks in the surrounding jungle and clearings which yielded Nilgiri Blackbird, Heart-spotted and White-bellied Woodpeckers, Black-rumped Flameback, Brown-cheeked Fulvetta, Dark-fronted and Puff-throated Babblers, Chestnut-headed Bee-eater, Greater Racket-tailed Drongo, Syke's and Western Crowned Warblers, Black-naped Monarch, Vernal Hanging Parrot, Grey-fronted Green Pigeon, Asian Fairy Bluebird and a superb male Malabar Trogan.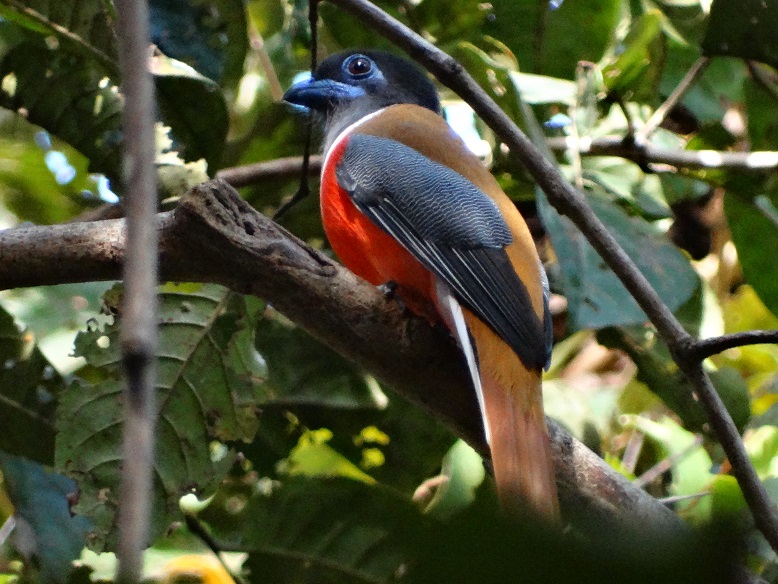 Male Malabar Trogan at Backwoods Camp. Picture: Brian Stretch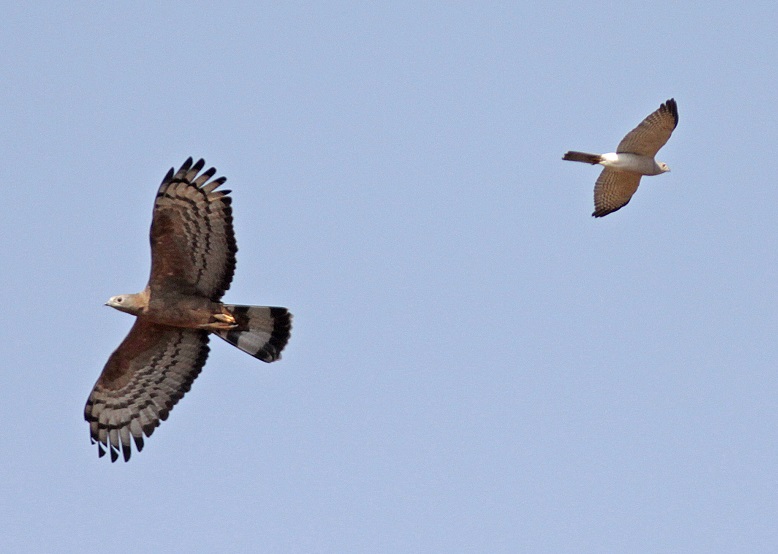 Oriental Honey Buzzard and Shikra near Backwoods Camp. Picture: Andy Warr
We also spent a morning at nearby Bondla Wildlife Sanctuary, which in common with Backwoods Camp, forms part of the wider protected area of Bhagwan Mahaveer Wildlife Sanctuary. This was to be the most productive area we visited with highlights including Crested Hawk Eagle, Little Spiderhunter, Tawny-bellied Babbler, Dusky Crag Martin, Verditer Flycatcher, Bronzed Drongo, Velvet-fronted Nuthatch, Brown-breasted Flycatcher, White-rumped Shama and the most colourful bird of the trip, Oriental Dwarf Kingfisher. We returned to the camp where the good birding continued with Asian Palm Swift, Grey-headed Bulbul and Rufous-bellied Eagle being further additions to our burgeoning trip list.
Sadly, our time at Backwoods had come to an end but it had been a fabulous experience and we said our goodbyes to Leio and his team before returning to Arpora. We spent the remainder of the day in the grounds of the Biera Mar Hotel at Baga, a well know haunt for visiting birders. The gardens overlook some superb marshland habitat and provide one of the best chances of seeing Cinnamon Bittern. An elusive bird was seen but not the hoped for Painted Snipe for which this marsh was once famed.
There are several local taxi drivers cum bird guides who, for a very modest fee, will show visiting birders some of the scarcer and harder to find species, saving a great deal of time and effort when the former is at a premium. Therefore we enlisted the services of one such guide, 'Rayman' who collected us from the hotel one afternoon and took us to see a White-eyed Buzzard and a Brown Fish Owl.
White-eyed Buzzard near Arpora. Filmed by Brian Stretch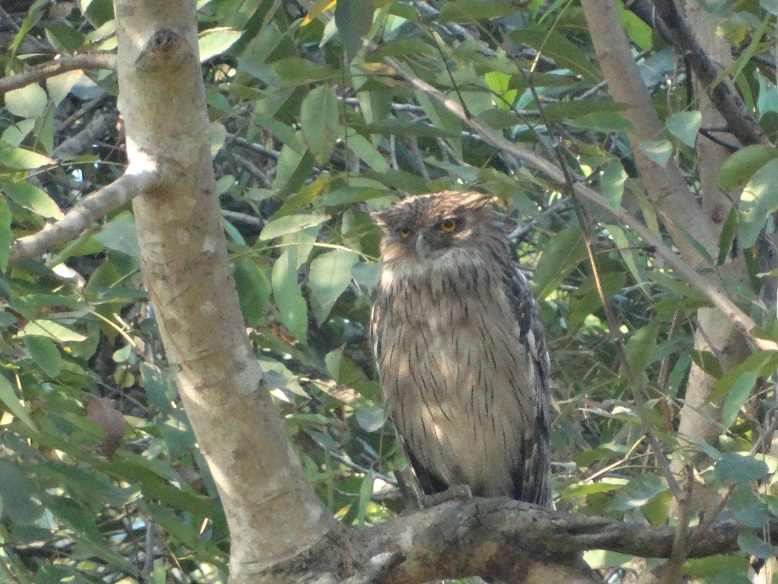 Brown Fish Owl near Calungute. Picture: Brian Stretch
For larophiles, Morjim Beach is a must visit location with the familiar Black-headed Gull found alongside both Slender-billed and Brown-headed Gulls. Larger species were represented by Steppe, Heuglin's and the mighty Great Black-headed Gull, many of which were in their stunning breeding plumage. However during our visit many of the gulls were roosting on distant sandbanks in the Chapora River mouth so we hastily chartered a boat to enable us to obtain closer views. We also noted small numbers of Gull-billed, Greater and Lesser Crested Terns and a single Western Reef Egret. Back on the beach we had great views of Kentish Plover alongside Greater and Lesser Sand Plovers while just behind the beach is a network of sand dunes and beach huts. This is a regular wintering site for Bay-backed Shrike which we saw well along with Barred Buttonquail, Brahminy Starling and a totally unexpected flyover Black-naped Oriole.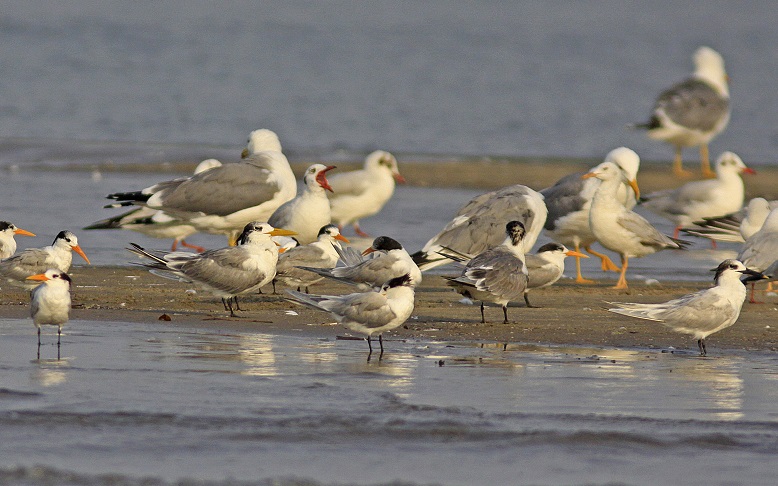 Greater Crested, Lesser Crested & Sandwich Terns with Brown-headed, Slender-billed & Steppe Gulls at Morjim. Picture: Andy Warr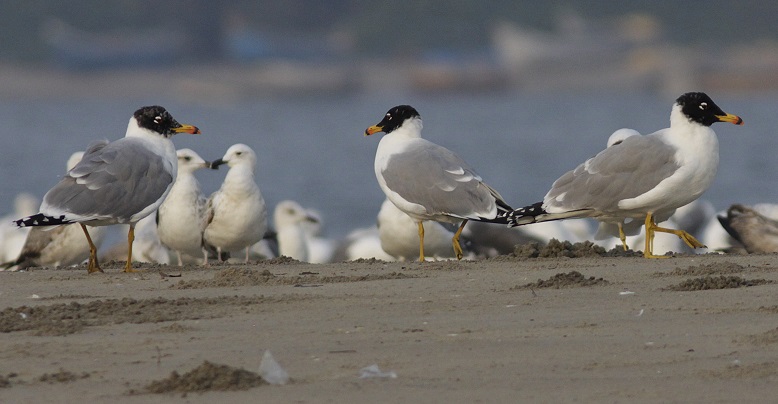 Great Black-headed Gulls at Morjim with Heuglin's and Steppe Gulls behind. Picture: Andy Warr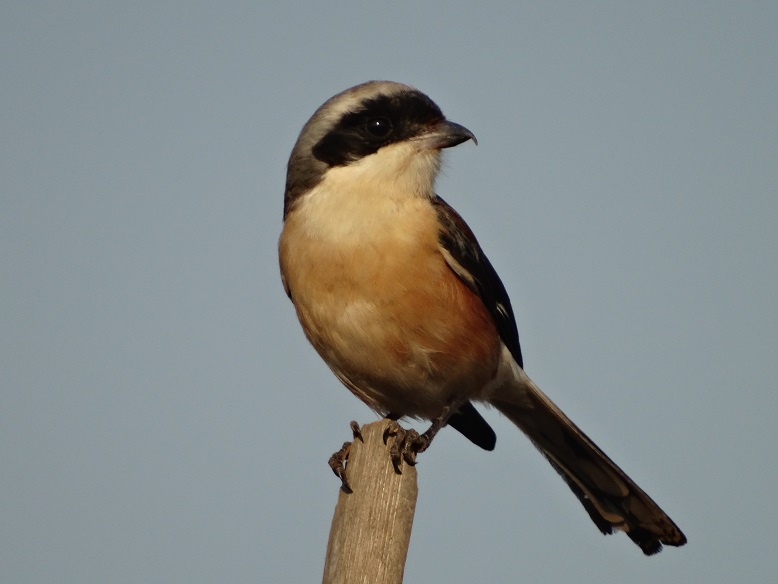 Bay-backed Shrike at Morjim. Picture: Brian Stretch
Bay-backed Shrike at Morjim. Filmed by Brian Stretch
We also visited nearby Siolim Marsh, a vast wetland teeming with birds, many viewable at close range from the causeway that dissects the area. Our target bird here was the increasingly scarce River Tern and we were fortunate to see two birds along with Painted and Woolly-necked Storks, Black-headed and Glossy Ibises, Pied Kingfisher and Pheasant-tailed Jacana amongst large numbers of wetland species. Later that day we returned to the hotel to find two Indian Scops Owls were again roosting in a clump of bamboo near the kitchens, providing incredibly close views.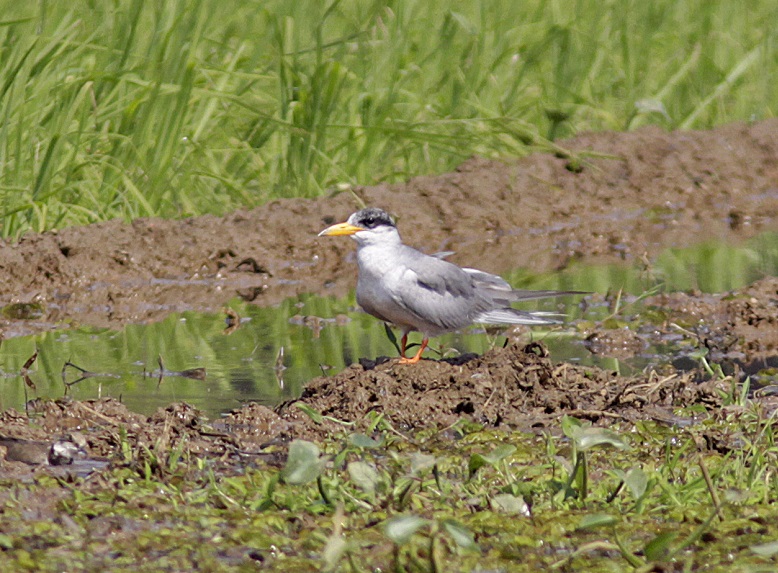 River Tern at Siolim. Picture: Andy Warr
River Tern at Siolim. Filmed by Brian Stretch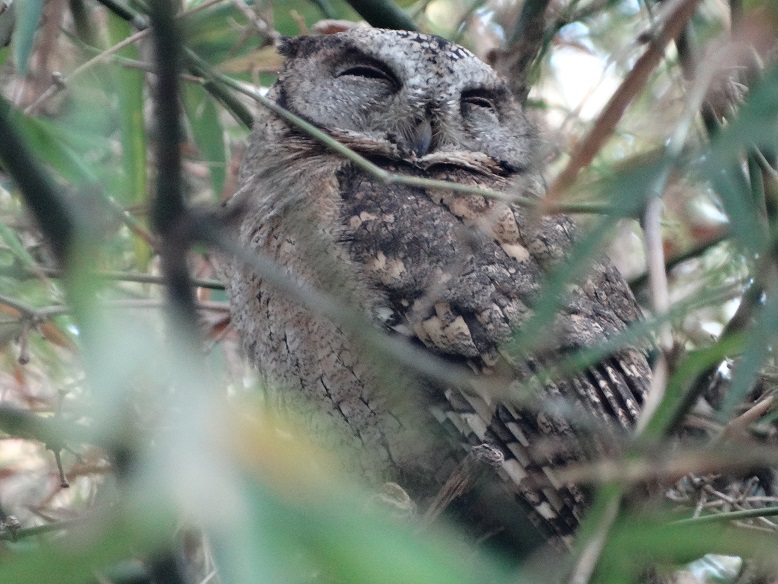 Indian Scops Owl at Marinha Dourada Hotel. Picture: Brian Stretch
Following another visit to Baga Hill we were walking back to our hotel when I decided to take a look over the wall of an overgrown garden. Remarkably, the first bird I saw was an Indian Pitta just 20 feet away, sat motionless in a shaded hollow where it remained long enough for Andy to obtain the image below.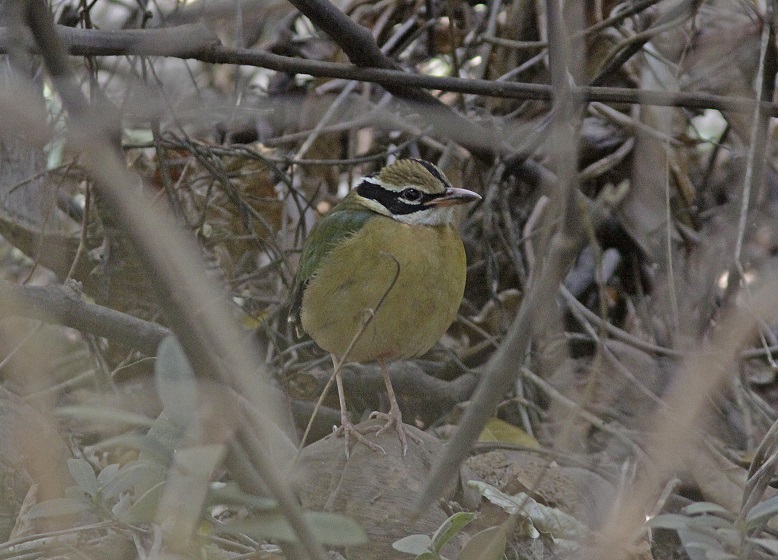 Indian Pitta near Baga Hill. Picture: Andy Warr
Carambolim is another vast, bird rich area, comprising a large lake, extensive marshes, paddy fields and woodland. Good numbers of Indian Spot-billed Duck, Ruddy Shelduck, Purple Swamphen, Indian and Little Cormorants were noted along with a wide selection of waders, ibises, herons, egrets and storks, while a single Indian Spotted Eagle and Citrine Wagtail were seen. The woodland area apparently has roosting Brown Hawk Owl and in common with many birders we failed to locate any although we did see several Indian Peafowl and a Greater Spotted Eagle.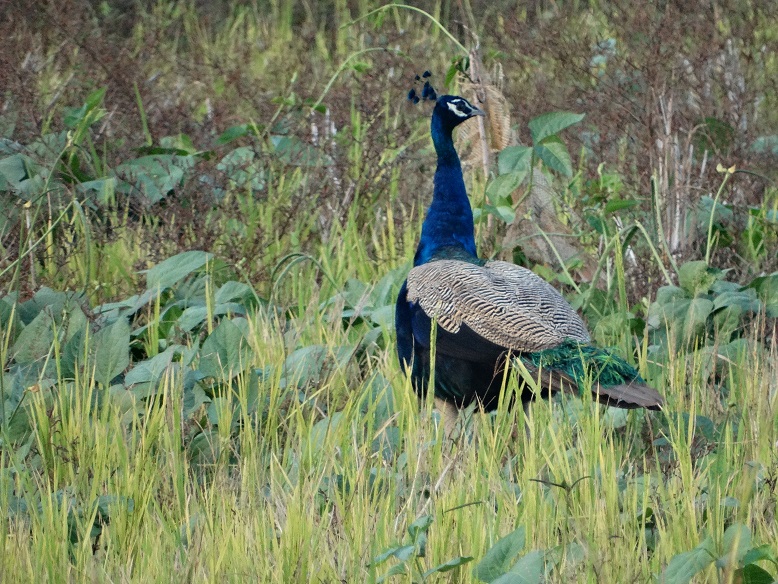 Indian Peafowl at Carambolim. Picture: Brian Stretch
Another early start saw us at Dona Paula, located just south of the state capital, Panjim. This is a recognised site for Ashy-crowned Sparrow Lark and although we drew a blank with this species, we obtained stunning views of a pair of Yellow-wattled Lapwing while two Oriental Skylarks and several Indian Robins were also seen. Nearby Santa Cruz marsh is a truly amazing wetland with large numbers of cormorants, herons, egrets, storks, wildfowl and waders present and here we recorded new birds for the trip including Lesser Adjutant, Watercock, Paddyfield Warbler and a rare visitor to Goa, White-tailed Plover.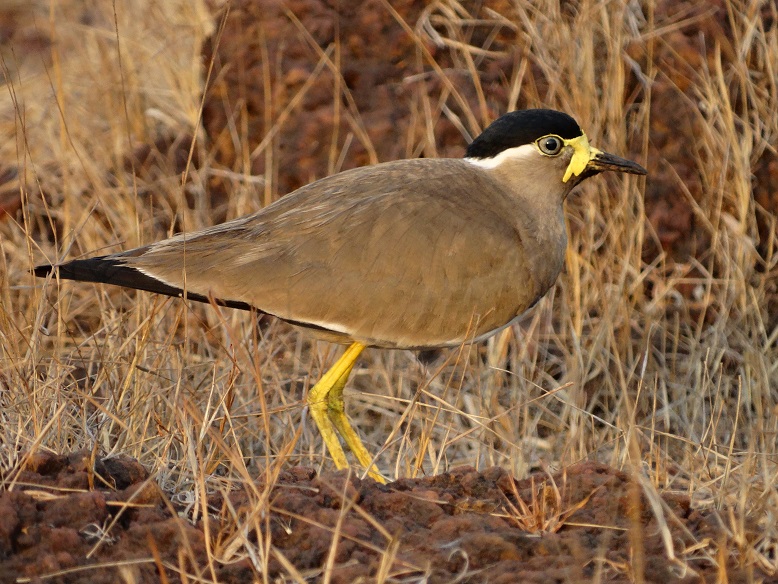 Yellow-wattled Lapwing at Dona Paula. Picture: Brian Stretch
Black-winged Kite at Arpora. Filmed by Brian Stretch
A return trip to Bondla, around a one and a half hour drive from the coast, again lived up to expectations with fantastic views of Forest Wagtail, White-rumped Shama and a pair of Malabar Trogans in the same view as an Oriental Dwarf Kingfisher (!) while three new prized species were also found: a pair of Blue-bearded Bee-eaters, Indian Grey Hornbill and Besra.
Blue-eared Bee-eater at Bondla. Filmed by Brian Stretch
When in Goa a boat trip along the River Zuari is a must. Specially organised 'kingfisher cruises' depart on specific dates, bookable through Backwoods Camp and our trip had been arranged for our last day in Goa. We met up with Leio for the 8am departure and were soon on our way to search for our two target kingfishers, Black-capped and Collared. These were duly seen along with Stork-billed, White-throated and Common Kingfishers while bonus birds included Slaty-breasted Rail, Indian Great Reed Warbler and the beautifully plumaged Orange-breasted Green Pigeon (sadly, I have since learnt that Mr Kamath passed away in July, so the future of the river cruises is currently uncertain). On our return from the cruise we stopped off at Batim Lake where a wide range of waterfowl were present including huge numbers of Lesser Whistling Ducks and forty or so Garganey. Later in the day we visited Mayem Lake with 'Rayman' where we saw our final new species of the trip, Jungle Nightjar; two birds were roosting in trees near the edge of the lake. A Crested Hawk Eagle, Little Spiderhunter and several Orange-breasted Green Pigeons were also noted here before it was time to head to the airport for our flight back to London.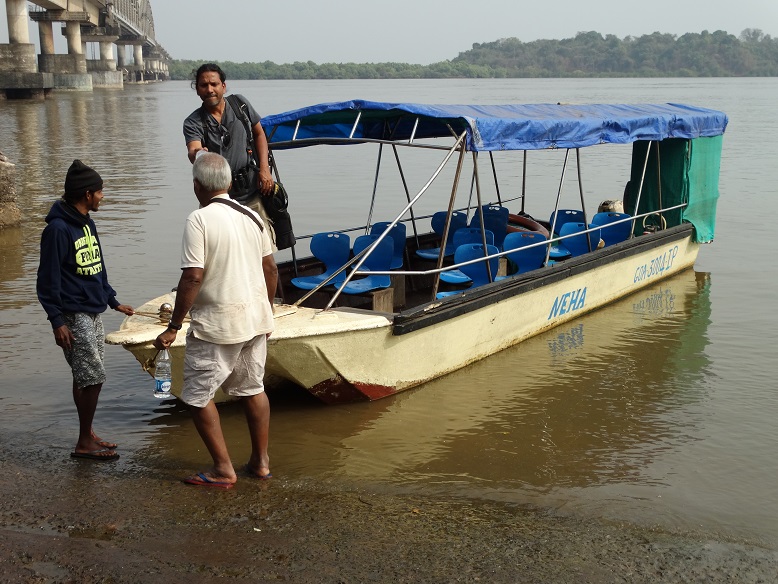 The river cruise boat with Leio onboard and Mr Kamath (right)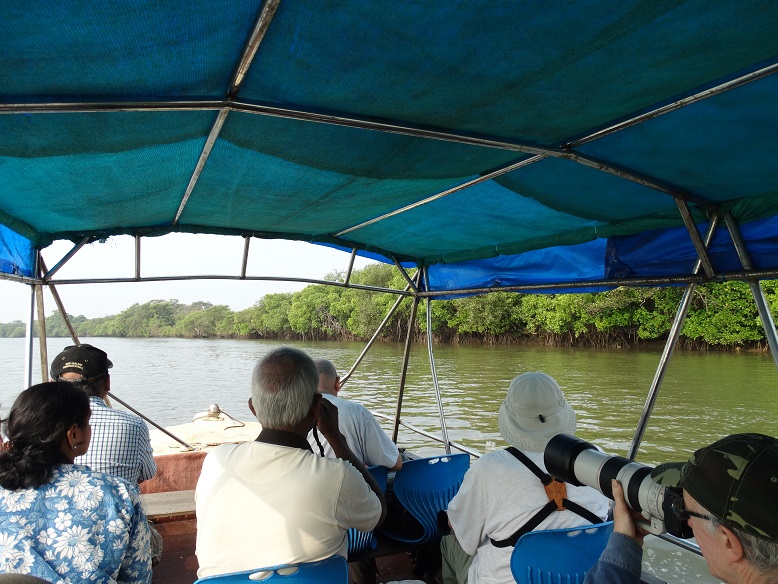 Cruising along the River Zuari with Mr Katmath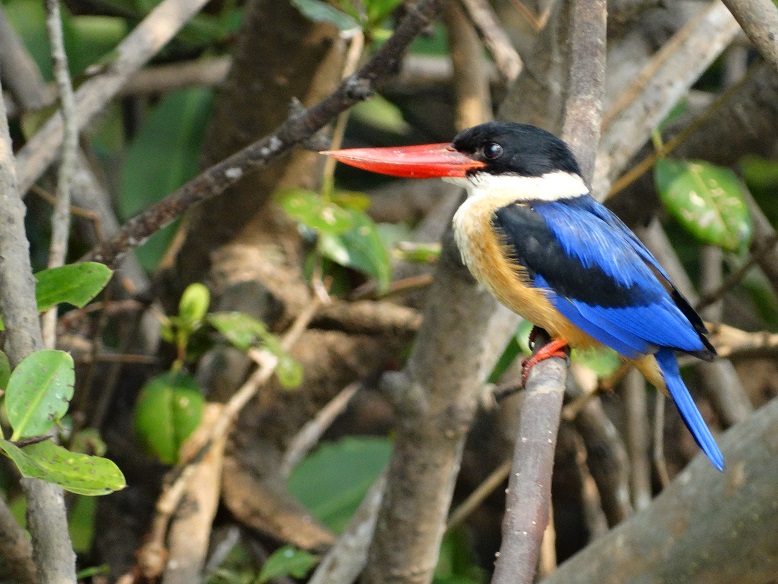 Black-capped Kingfisher on the River Zuari. Picture: Brian Stretch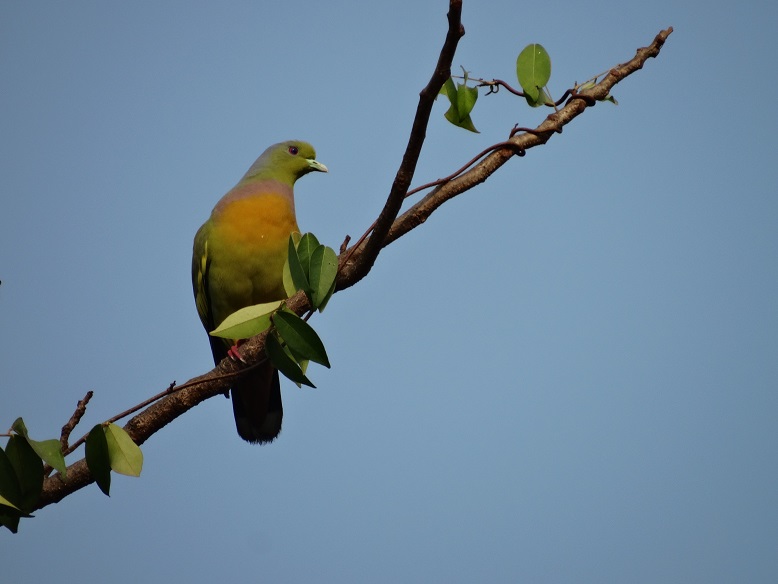 Orange-breasted Green Pigeon beside the River Zuari. Picture: Brian Stretch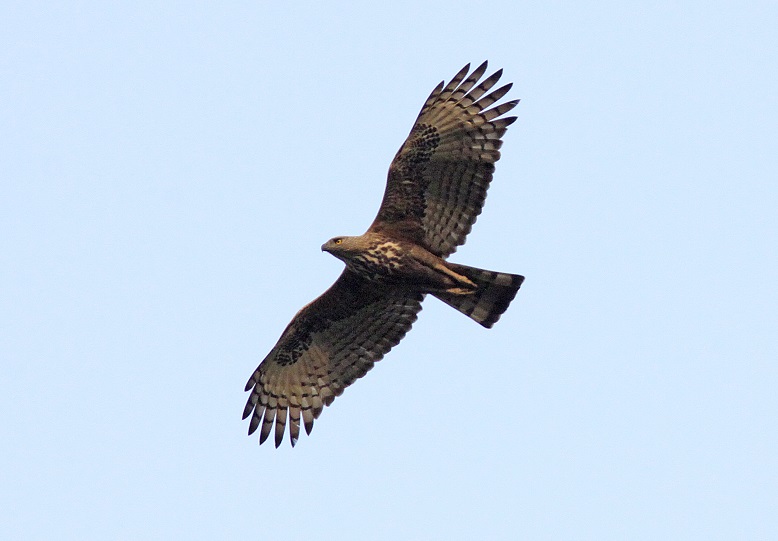 Crested Hawk Eagle at Maem Lake. Picture: Andy Warr
Jungle Nightjar at Maem Lake. Filmed by Brian Stretch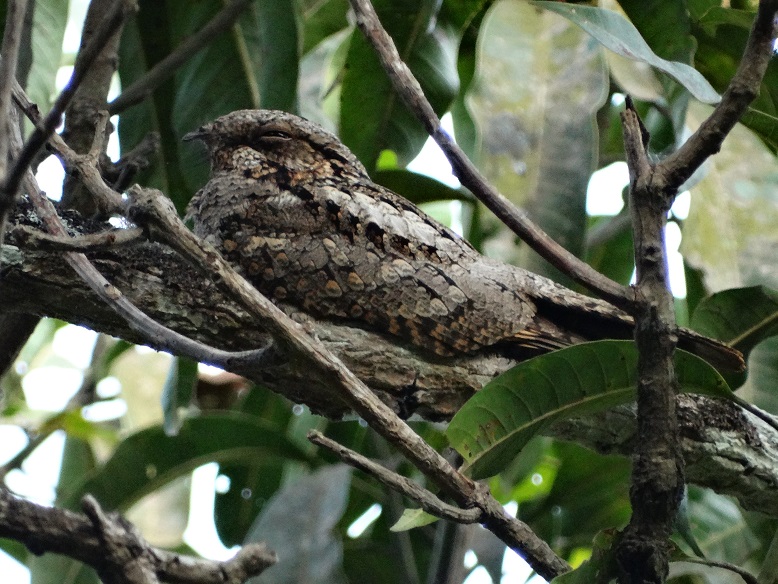 Jungle Nightjar at Maem Lake. Picture: Brian Stretch
In two weeks we had clocked up 250 species, some familiar, many unfamiliar. We could have spent whole days at many of the key sites we visited, rather than just an hour or two and there were many sites we simply didn't have time to explore. For any birder contemplating a trip to Goa for the first time I can't recommend it highly enough. It is home to an amazing array of birds and other wildlife, set amongst fabulous scenery with friendly people and is a great cultural experience in its own right. In fact we enjoyed it so much we are now planning a return visit in January 2017.
Written by Brian Stretch
Trip list:
Barred Buttonquail Turnix suscitator
Grey Junglefowl Gallus sonneratii
Indian Peafowl Pavo cristatus
Lesser Whistling Duck Dendrocygna javanica
Ruddy Shelduck Tadorna ferruginea
Gadwall Anas strepera
Eurasian Wigeon Anas penelope
Spot-billed Duck Anas poecilorhyncha
Northern Shoveler Anas clypeata
Northern Pintail Anas acuta
Garganey Anas querquedula
Common Teal Anas crecca
Eurasian Wryneck Jynx torquilla
Brown-capped Pygmy Woodpecker Dendrocopus nanus
White-bellied Woodpecker Dryocopus javensis
Black-rumped Flameback Dinopium benghalense
Greater Flameback Chrysocolaptes lucidus
Heart-spotted Woodpecker Hemicircus canente
Indian Pitta Pitta brachyura
Brown-headed Barbet Psilopogon zeylanicus
White-cheeked Barbet Psilopogon viridis
Malabar Barbet Psilopogon malabaricus
Coppersmith Barbet Psilopogon haemacephalus
Indian Grey Hornbill Ocyceros birostris
Malabar Grey Hornbill Ocyceros griseus
Malabar Pied Hornbill Anthracoceros coronatus
Great Hornbill Buceros bicornis
Common Hoopoe Upupa epops
Malabar Trogon Harpactes fasciatus
Indian Roller Coracias benghalensis
Common Kingfisher Alcedo atthis
Blue-eared Kingfisher Alcedo meninting
Oriental Dwarf Kingfisher Ceyx erithacus
Stork-billed Kingfisher Halcyon capensis
White-throated Kingfisher Halcyon smyrnensis
Black-capped Kingfisher Halcyon pileata
Collared Kingfisher Todiramphus chloris
Pied Kingfisher Ceryle rudis
Blue-bearded Bee-eater Nyctyornis athertoni
Green Bee-eater Merops orientalis
Blue-tailed Bee-eater Merops philippinus
Chestnut-headed Bee-eater Merops leschenaulti
Asian Koel Eudynamys scolopacea
Southern Coucal Centropus parroti
Vernal Hanging Parrot Loriculus vernalis
Alexandrine Parakeet Psittacula eupatria
Rose-ringed Parakeet Psittacula krameri
Plum-headed Parakeet Psittacula cyanocephala
Malabar Parakeet Psittacula columboides
Indian Swiftlet Collocalia unicolor
Asian Palm Swift Cypsiurus balasiensis
Little Swift Apus affinis
Crested Treeswift Hemiprocne coronata
Barn Owl Tyto alba
Indian Scops Owl Otus bakkamoena
Brown Fish Owl Ketupa zeylonensis
Spotted Owlet Athene brama
Sri Lanka Frogmouth Batrachostomus moniliger
Jungle Nightjar Caprimulgus indicus
Jerdon's Nightjar Caprimulgus atripennis
Rock Pigeon Columba livia
Spotted Dove Streptopelia chinensis
Orange-breasted Green Pigeon Treron bicincta
Grey-fronted Green Pigeon Treron affinis
Mountain Imperial Pigeon Ducula badia
Slaty-breasted Rail Gallirallus striatus
White-breasted Waterhen Amaurornis phoenicurus
Watercock Gallicrex cinerea
Purple Swamphen Porphyrio porphyrio
Common Moorhen Gallinula chloropus
Common Coot Fulica atra
Pintail Snipe Gallinago stenura
Common Snipe Gallinago gallinago
Eurasian Curlew Numenius arquata
Spotted Redshank Tringa erythropus
Redshank Tringa totanus
Marsh Sandpiper Tringa stagnatilis
Greenshank Tringa nebularia
Green Sandpiper Tringa ochropus
Wood Sandpiper Tringa glareola
Common Sandpiper Actitis hypoleucos
Sanderling Calidris alba
Temminck's Stint Calidris temminckii
Dunlin Calidris alpina
Ruff Philomachus pugnax
Pheasant-tailed Jacana Hydrophasianus chirurgus
Bronze-winged Jacana Metopidius indicus
Eurasian Oystercatcher Haematopus ostralegus
Black-winged Stilt Himantopus himantopus
Pacific Golden Plover Pluvialis fulva
Little Ringed Plover Charadrius dubius
Kentish Plover Charadrius alexandrinus
Lesser Sand Plover Charadrius mongolus
Greater Sand Plover Charadrius leschenaultii
Yellow-wattled Lapwing Vanellus malarbaricus
Red-wattled Lapwing Vanellus indicus
White-tailed Lapwing Vanellus leucurus
Steppe Gull Larus barabensis
Heuglin's Gull Larus heuglini
Great Black-headed Gull Larus ichthyaetus
Brown-headed Gull Larus brunnicephalus
Black-headed Gull Larus ridibundus
Slender-billed Gull Larus genei
Gull-billed Tern Gelochelidon nilotica
River Tern Sterna aurantia
Lesser Crested Tern Sterna bengalensis
Greater Crested Tern Sterna bergii
Sandwich Tern Sterna sandvicensis
Osprey Pandion haliaetus
Oriental Honey Buzzard Pernis ptilorhyncus
Black-shouldered Kite Elanus caeruleus
Black Kite Milvus migrans
Brahminy Kite Haliastur indus
White-bellied Sea Eagle Haliaeetus leucogaster
Crested Serpent Eagle Spilornis cheela
Eurasian Marsh Harrier Circus aeruginosus
Shikra Accipiter badius
Besra Accipiter virgatus
White-eyed Buzzard Butastur teesa
Black Eagle Ictinaetus malayensis
Indian Spotted Eagle Aquila hastata
Greater Spotted Eagle Aquila clanga
Booted Eagle Hieraaetus pennatus
Rufous-bellied Eagle Hieraaetus kienerii
Crested Hawk Eagle Nisaetus cirrhatus
Legge's Hawk Eagle Nisaetus kelaarti
Peregrine Falcon Falco peregrinus
Oriental Darter Anhinga melanogaster
Little Cormorant Phalacrocorax niger
Indian Cormorant Phalacrocorax fuscicollis
Little Egret Egretta garzetta
Western Reef Egret Egretta gularis
Grey Heron Ardea cinerea
Purple Heron Ardea purpurea
Great White Egret Casmerodius albus
Intermediate Egret Mesophoyx intermedia
Cattle Egret Bubulcus ibis
Indian Pond Heron Ardeola grayii
Striated Heron Butorides striatus
Black-crowned Night Heron Nycticorax nycticorax
Cinnamon Bittern Ixobrychus cinnamomeus
Glossy Ibis Plegadis falcinellus
Black-headed Ibis Threskiornis melanocephalus
Painted Stork Mycteria leucocephala
Asian Openbill Anastomus oscitans
Woolly-necked Stork Ciconia episcopus
Lesser Adjutant Leptoptilos javanicus
Indian Pitta Pitta brachyura
Asian Fairy Bluebird Irena puella
Jerdon's Leafbird Chloropsis jerdoni
Golden-fronted Leafbird Chloropsis aurifrons
Brown Shrike Lanius cristatus
Bay-backed Shrike Lanius vittatus
Long-tailed Shrike Lanius schach
Rufous Treepie Dendrocitta vagabunda
House Crow Corvus splendens
Jungle Crow Corvus macrorhynchos
Ashy Woodswallow Artamus fuscus
Indian Golden Oriole Oriolus kundoo
Black-naped Oriole Oriolus chinensis
Black-hooded Oriole Oriolus xanthornus
Small Minivet Pericrocotus cinnamomeus
Orange Minivet Pericrocotus flammeus
Bar-winged Flycatcher-shrike Hemipus picatus
White-spotted Fantail Rhipidura albogularis
Black Drongo Dicrurus macrocercus
Ashy Drongo Dicrurus leucophaeus
White-bellied Drongo Dicrurus caerulescens
Bronzed Drongo Dicrurus aeneus
Spangled Drongo Dicrurus hottentottus
Greater Racket-tailed Drongo Dicrurus paradiseus
Black-naped Monarch Hypothymis azurea
Asian Paradise Flycatcher Terpsiphone paradisi
Common Iora Aegithina tiphia
Common Woodshrike Tephrodornis pondicerianus
Malabar Whistling Thrush Myophonus horsfieldii
Orange-headed Thrush Zoothera citrina
Indian Blackbird Turdus simillimus
Asian Brown Flycatcher Muscicapa dauurica
Brown-breasted Flycatcher Muscicapa muttui
Red-breasted Flycatcher Ficedula parva
Verditer Flycatcher Eumyias thalassina
White-bellied Blue Flycatcher Cyornis pallipes
Tickell's Blue Flycatcher Cyornis tickelliae
Bluethroat Luscinia svecica
Indian Blue Robin Luscinia brunnea
Oriental Magpie Robin Copsychus saularis
White-rumped Shama Copsychus malabaricus
Indian Robin Saxicoloides fulicata
Siberian Stonechat Saxicola torquata
Pied Bushchat Saxicola caprata
Chestnut-tailed Starling Sturnus malabaricus
Blyth's Starling Sturnus blythii
Brahminy Starling Sturnus pagodarum
Rose-coloured Starling Sturnus roseus
Common Myna Acridotheres tristis
Jungle Myna Acridotheres fuscus
Velvet-fronted Nuthatch Sitta frontalis
Indian Yellow Tit Machlolophus aplonotus
Sand Martin Riparia riparia
Dusky Crag Martin Hirundo concolor
Barn Swallow Hirundo rustica
Wire-tailed Swallow Hirundo smithii
Red-rumped Swallow Hirundo daurica
Streak-throated Swallow Hirundo fluvicola
Grey-headed Bulbul Pycnonotus priocephalus
Flame-throated Bulbul Pycnonotus gularis
Red-whiskered Bulbul Pycnonotus jocosus
Red-vented Bulbul Pycnonotus cafer
White-browed Bulbul Pycnonotus luteolus
Yellow-browed Bulbul Iole indica
Zitting Cisticola Cisticola juncidis
Grey-breasted Prinia Prinia hodgsonii
Ashy Prinia Prinia socialis
Plain Prinia Prinia inornata
Paddyfield Warbler Acrocephalus agricola
Blyth's Reed Warbler Acrocephalus dumetorum
Indian Reed Warbler Acrocephalus brunnescens
Booted Warbler Hippolais caligata
Sykes's Warbler Hippolais rama
Common Tailorbird Orthotomus sutorius
Greenish Warbler Phylloscopus trochiloides
Western Crowned Warbler Phylloscopus occipitalis
Puff-throated Babbler Pellorneum ruficeps
Tawny-bellied Babbler Dumetia hyperythra
Dark-fronted Babbler Rhopocichla atriceps
Jungle Babbler Turdoides striatus
Brown-cheeked Fulvetta Alcippe poioicephala
Malabar Lark Galerida malabarica
Oriental Skylark Alauda gulgula
Thick-billed Flowerpecker Dicaeum agile
Pale-billed Flowerpecker Dicaeum erythrorhynchos
Nilgiri Flowerpecker Dicaeum concolor
Purple-rumped Sunbird Nectarinia zeylonica
Crimson-backed Sunbird Nectarinia minima
Purple Sunbird Nectarinia asiatica
Loten's Sunbird Nectarinia lotenia
Vigor's Sunbird Aethopyga vigorsii
Little Spiderhunter Arachnothera longirostra
House Sparrow Passer domesticus
Chestnut-shouldered Petronia Petronia xanthocollis
Forest Wagtail Dendronanthus indicus
White-browed Wagtail Motacilla maderaspatensis
Citrine Wagtail Motacilla citreola
Yellow Wagtail Motacilla flava
Grey Wagtail Motacilla cinerea
Richard's Pipit Anthus richardi
Paddyfield Pipit Anthus rufulus
Blyth's Pipit Anthus godlewskii
Tree Pipit Anthus trivialis
Baya Weaver Ploceus philippinus
White-rumped Munia Lonchura striata
Scaly-breasted Munia Lonchura punctulata